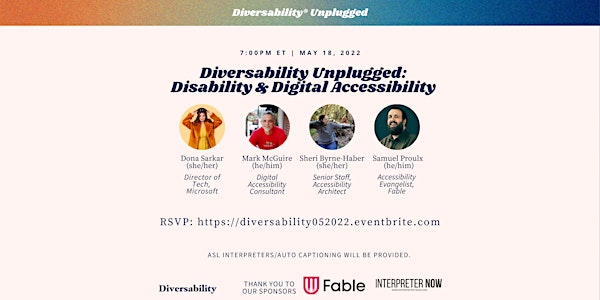 Diversability® Unplugged: Disability & Digital Accessibility
Join us for a panel discussion on disability & digital accessibility ahead of Global Accessibility Awareness Day (GAAD).
Refund Policy
Contact the organizer to request a refund.
Eventbrite's fee is nonrefundable.
About this event
As more content is being consumed digitally, more businesses are missing the opportunity to reach the Disability Community. 90% of websites are inaccessible to those relying on assistive technology, but it isn't just the disability community that is missing out; companies with inaccessible websites lose a reported 6.9 Billion dollars to competitors with accessible ones. This need creates a unique opportunity for advocacy to potentially lead to a new career.
Join us on Wednesday, May 18, from 7 pm - 8:30 pm ET for Diversability Unplugged: Disability & Digital Accessibility, in partnership with Fable. We will be celebrating Global Accessibility Awareness Day (May 19) through another powerhouse panel discussion centered around lived experience, advocacy and careers available in the accessibility space.
Our panel includes:
Dona Sarkar, Director of Tech, Microsoft
Mark Mcguire, Digital Accessibility Consultant
Sheri Byrne-Haber, Senior Staff, Accessibility Architect
Samuel Proulx, Accessibility Evangelist, Fable
Where: A Zoom link will be emailed to you 15 mins before the event begins.
This event will also be recorded and the recording will be shared with registered attendees after the event.
Accessibility
Attendees may keep their videos off for privacy or comfort, all are free to leave at any time. All sessions will be in English and ASL interpreters will be present. We will also use Zoom's auto-captioning feature. Please email Whitney Bailey at whitney@mydiversability.com for other accessibility needs and/or questions.
ASL interpreters provided by Interpreter Now
Meet The Panelists
Dona Sarkar (she/her)
Director of Tech - Microsoft Accessibility
Multi-published author (turns out fiction writing is really useful in software!). Owner of the fashion brand Prima Dona Studios. Dyslexic but Dealing. Fast Company's 100 Most Productive People and Cosmopolitan Spain magazine's Businessperson of the Year. Always ready to get on a plane.
Follow Dona on social media:
https://www.linkedin.com/in/donasarkar/
https://twitter.com/donasarkar
Mark McGuire (he/him)
Digital Accessibility Consultant
As a certified web accessibility professional, Mark McGuire is passionate about going above and beyond compliance standards to ensure people with disabilities enjoy a fully inclusive experience with their families, friends, peers, and co-workers.
Follow Mark on social media:
https://www.linkedin.com/in/markdeafmcguire/
Sheri Byrne-Haber (she/her)
Senior Staff, Accessibility Architect
Sheri Byrne-Haber is a prominent global subject matter expert in the fields of disability and accessibility. She is best known for launching digital accessibility programs at McDonald's, Albertsons, and VMware. Her most recent contribution to the accessibility field is an open-source tool called Crest which allows users to automate some aspects of manual accessibility testing. With degrees in computer science, law, and business combined with identifying as a disabled person, Sheri has a complete 360-degree view of all the issues impacting disability inclusion and accessibility.
Sheri is the author of a popular Medium blog called "This Week in Accessibility," and was named "2020 Author of the Year" by the UX Collective. In her blog, which has received over 250,000 views, she summarizes legal cases and issues facing people implementing accessibility programs. Sheri is a frequent panelist and speaker at accessibility, UI/UX, and HR conferences and is an active member of several accessibility committees and non-profits, helping drive and communicate the evolution of accessibility standards. Her book, entitled "Giving a Damn about Accessibility" is available for free at accessibility.uxdesign.cc
Follow Sheri on social media:
https://www.linkedin.com/in/sheribyrnehaber/
Samuel Proulx (he/him)
Accessibility Evangelist, Fable
Samuel Proulx is the Accessibility Evangelist at Fable, a leading accessibility platform powered by people with disabilities. As a blind individual, Sam knows and values the importance of accessibility in all aspects of life and is a strong advocate for the inclusion of people with disabilities in the digital world. Sam brings his previous experience as Fable's community manager, plus life-long advocacy for himself and others, to his role as Evangelist.
Follow Samuel on social media:
https://www.linkedin.com/in/samuel-proulx-06107332/?originalSubdomain=ca
Thank you to our partners!

About Fable
Fable is an accessibility testing platform powered by people with disabilities. Fable moves organizations from worrying about compliance to building incredible and accessible user experiences. The best digital teams work with Fable to make products more accessible for over 1 billion people who live with disabilities. Learn more at https://makeitfable.com