Diversability SF End of Year Celebration: Disability, Art & Expression

Tuesday, December 5, 2017 from 6:30 PM to 8:30 PM (PST)
Event Details
It's been an incredible year for Diversability and we wanted to bring together our community and friends to celebrate! To close the year, we will be exploring different forms of art as a method of expressing our disability stories and experiences.
People of all abilities and from all communities are invited and welcome.
DATE & TIME: Tuesday, December 5 from 6:30-8:30pm PT
6:30 doors open
7:00 event begins with Mean Dave
7:10 short film screening by Reid Davenport
7:20 discussion on art & disability with all performers
7:50 wrap up discussion with meditation led by Rowena O'Neill
8:00 a couple songs by EVBM (Emotionally Vulnerable Brown Men)
8:30-9:00 closing and good night!
Artwork by Mikaela Sheldt
Master of Ceremonies Lida Tohidi
Pizza and salad from the Deaf-owned and operated Mozzeria (gluten-free and lactose-free options available as well)
LOCATION: ThoughtWorks, 814 Mission Street, SF
COST: $15 goes to help cover food, drink, and other event costs. Extra $$ will go to support our performers' work & future programming. If the cost of a ticket is a barrier to your attendance, email us (info@mydiversability.com) and we would be happy to work with you to find a way for you to attend.
ACCESSIBILITY: Venue is wheelchair accessible. Captioning during performances and discussion provided by Ava 7:00-8:30pm PT. For additional accommodation requests, please email Tiffany at info@mydiversability.com by Monday, November 20.
Photo and video by Bahara Emami and Jing Flint.
----------
By registering for a Diversability event, you are giving permission for Diversability to use any photos of you from this event for Diversability promotional purposes and for Diversability and/or Diversability's partners to contact you via email after this event.
For questions or for more information, please contact:
info at mydiversability.com
----------
Who You'll Meet
EVBM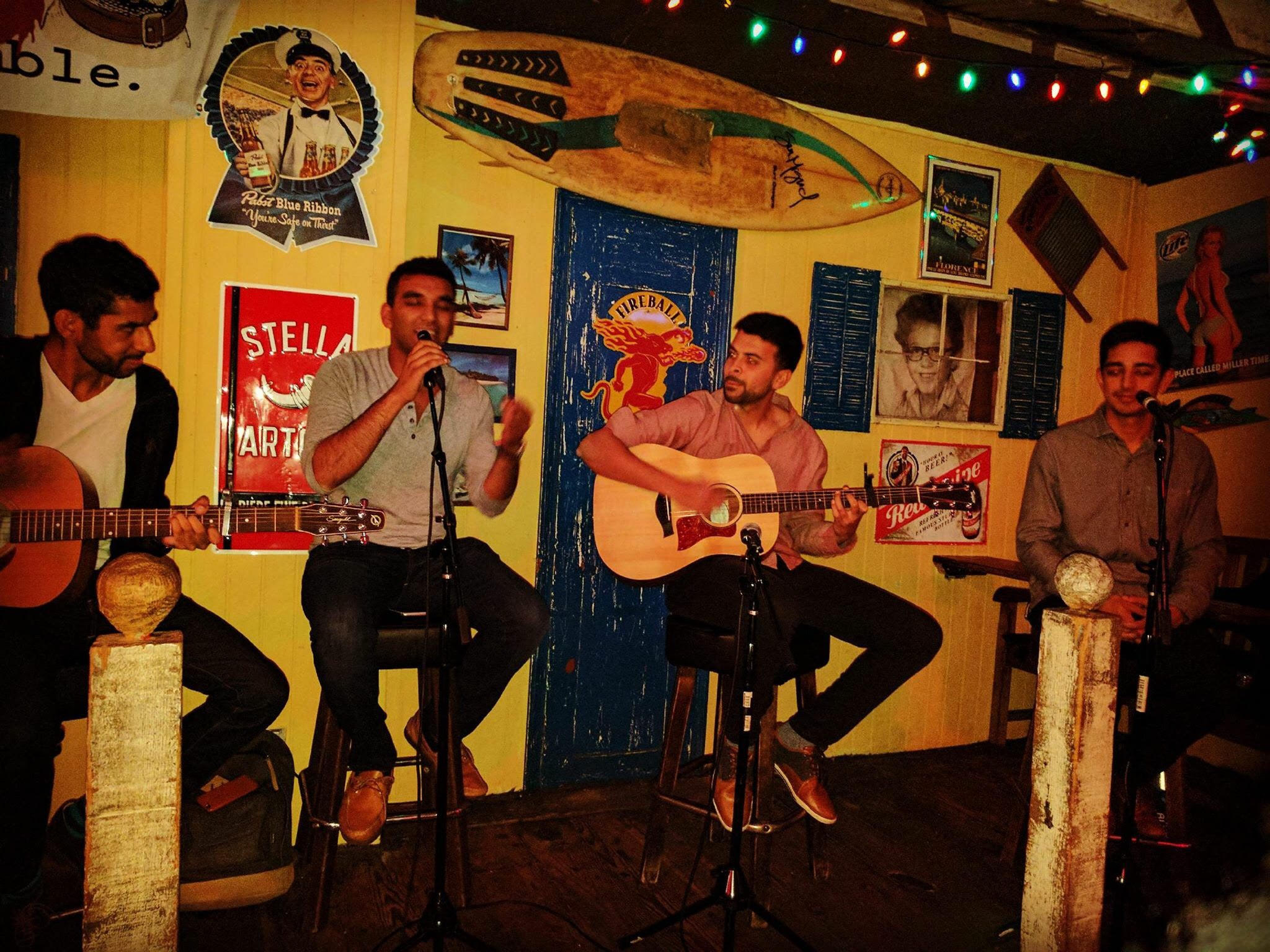 EVBM began one night in October of 2016. Fayzan, our drummer, invited our two guitarists, Arun and Karitk, and our singer, Tarun, over to his apartment for a night of poker. Although we had just met, our conversation might have left you feeling like we had known one other for a lifetime. We exchanged the stories of our lives to the tune of South Asian & American melodies, and the game of poker we had set out to play became the sideshow. We didn't know it then, but that night was the beginning of an awesome journey -- we'd go from four friends to bandmates to brothers. Although EVBM stands for emotionclass ally vulnerable brown men, our mission is to build a community for all people whether or not they're emotional, vulnerable, brown or men. We simply want to build a community of people who crave community, one based - not in shared histories - but in a shared desire to authentically connect over music that can make anyone across the globe smile. So sit back and enjoy. If you leave tonight with a new friendship or a new tune to hum to, we'll consider our experiment a success.
Lida Tohidi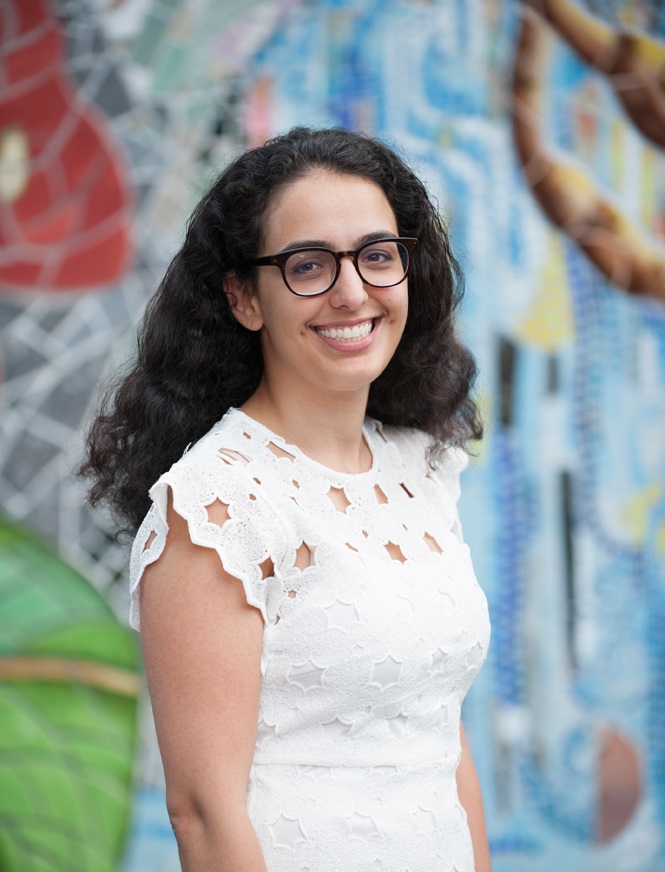 Lida is very passionate about inclusion in tech and beyond, and has spoken at Women in STEM and Latinos in Tech conferences this year. She has also cumulatively spent months in silence at mindfulness meditation retreats! Lida has proven proficiency in initiating, leading, and completing projects in Australia, Bénin, Canada, France, Italy, Japan, Malawi, Switzerland, the UAE, UK, and USA. In short, she has lived and worked on all continents (though still awaiting an invitation from Antarctica :D). She speaks 3 languages well (and another 3 poorly).
Mean Dave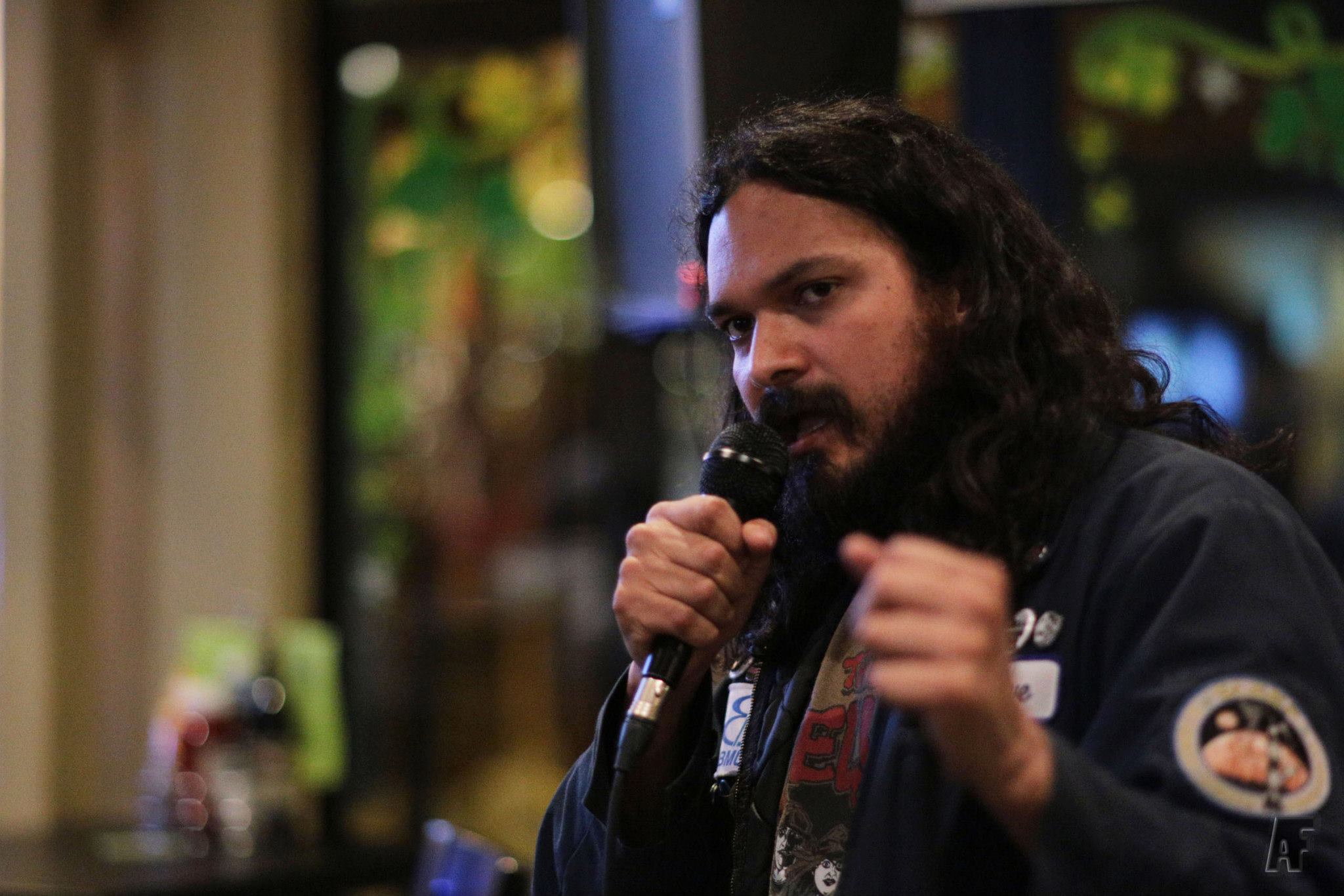 Mean Dave is a stand-up comedian from the SF Bay Area. He is a regular at Cobb's Comedy Club, Punch Line in SF and Sacramento and has opened for headliners such as Judy Tenuta, Big Jay Oakerson, Neil Hamburger, Brent Morin, Bret Ernst and most importantly, Barry Sobel. Most of Dave's life has been littered with utter disappointment and flat out betrayal that only a sarcastic, cynical sense of humor can remedy. Hopefully this information helps you in your decision as to whether this comedy show will help you attain laughter as you progress through existence.

Mikaela Sheldt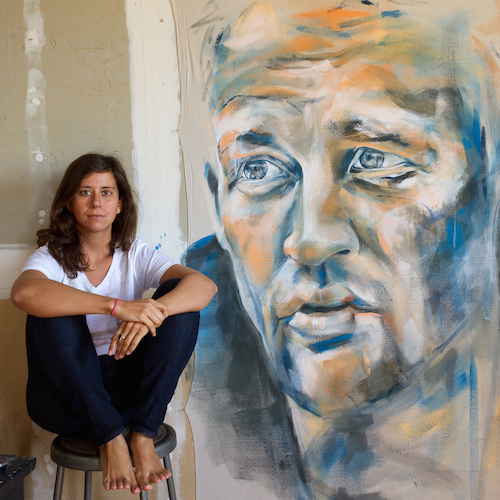 Mikaela Sheldt is a process based painter, performance poet, and surf photographer. Whether she is painting, performing, or swimming in the surf with her camera, Sheldt captures an intensity of feeling that mirrors her experience of the world as a woman with autism. Sheldt works from a personal place drawing on universal emotional experiences to bridge the divide between herself and the outside world. Sheldt's work is an invitation to engage through the dynamic and shared experience of simply being human.  
Reid Davenport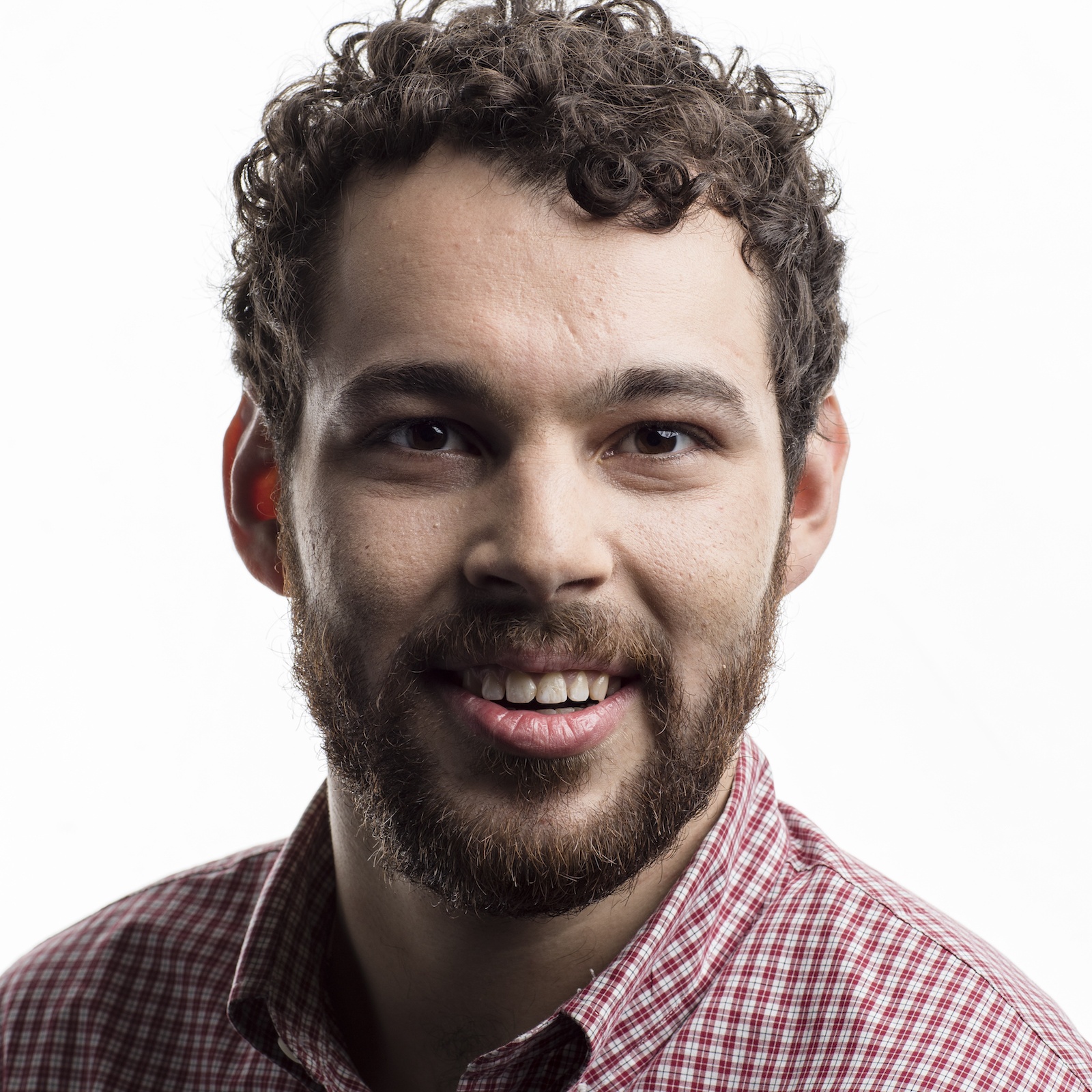 Reid Davenport has made five short documentaries that explore the perspective of people with disabilities. His film awards include Best Short Documentary at the 2013 Awareness Film Festival ("Wheelchair Diaries"), the Artistic Visions Award at the 2016 Big Sky Documentary Festival ("A Cerebral Game") and the Enerson Foundation Production Grant ("RAMPED UP"). Reid was recently named a TED Fellow and gave a TED Talk at the annual conference in Vancouver. He also co-founded an organization called Through My Lens, which teaches students with and without disabilities how to collaboratively make films. He hopes that this will lead to more narratives from the perspectives of people with disabilities.
----------
Special thanks to ThoughtWorks for hosting us!

About ThoughtWorks: We're a global technology consultancy. We help you invent what's next, and bring it to life with technology. In weeks, not years.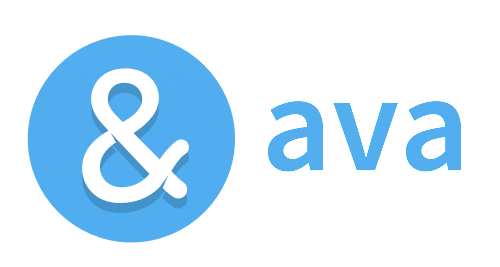 About Ava: Bridging the communication gaps between deaf/hard-of-hearing & hearing people. Ava captions conversations in realtime. 24/7 accessible: all you need is a phone.

About Mozzeria: Modern eatery known for tossing wood-fired Neapolitan pizza & owned by a Deaf couple. Check them out on Yelp!
Want to sponsor this event as an organization or individual? Contact us about the great benefits of becoming a Diversability partner.
Have questions about Diversability SF End of Year Celebration: Disability, Art & Expression?
Contact Diversability
When & Where

ThoughtWorks, Inc.
814 Mission Street
5th Floor
San Francisco, CA 94103


Tuesday, December 5, 2017 from 6:30 PM to 8:30 PM (PST)
Add to my calendar
Organizer
Diversability (as featured in the Guardian and Forbes) is a social good company to rebrand disability through the power of community. We foster community online and off to connect, showcase, and empower people of all abilities doing amazing things. We want to get more people talking and thinking about disability. For more information, visit mydiversability.com