D.I.V.A.S Empowerment Conference Fashion Show Model Call

Saturday, January 27, 2018 from 1:00 PM to 4:00 PM (EST)
Event Details
D.I.V.A.S is hosting a Fashion Show during ther 2nd Annual D.I.V.A.S Empowerment Conference, April 6-8, 2018 at the Hilton Myrtle Beach Resort, in Myrtle Beach, SC.
We are are CALLING ALL WOMEN We AND MEN who are interested in participating  to come ready to show how you slay the stage! 
We are Divinely Inspired Victorious and Serving Change to our Communities!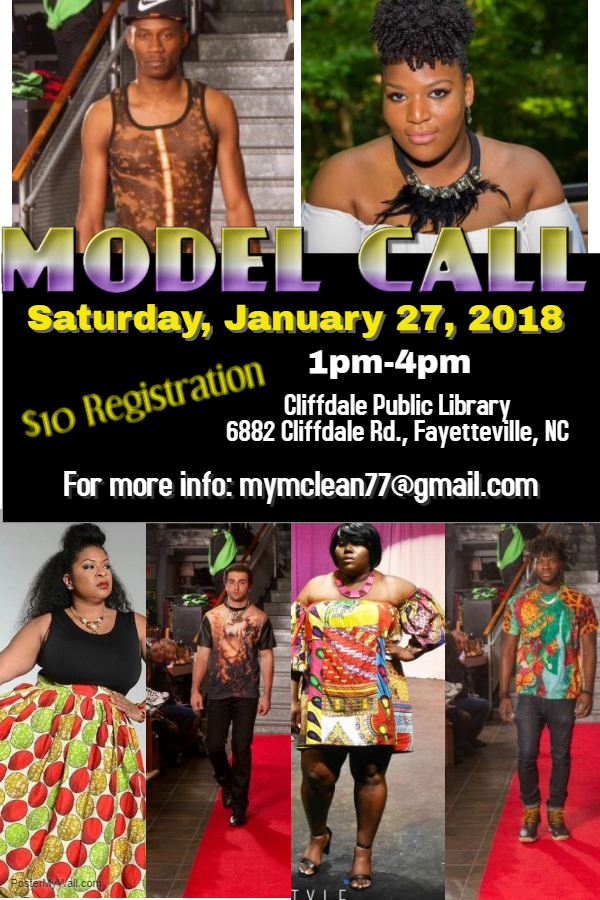 When & Where

Cliffdale Public Library
6882 Cliffdale Rd
Fayetteville, NC 28314


Saturday, January 27, 2018 from 1:00 PM to 4:00 PM (EST)
Add to my calendar
Organizer
Margie McLean, MEd, is a counselor, educator, mentor, and women and girls' empowerment motivator. With 11 years of experience in empowerment and leadership workshops, she uses her life experience to transform the lives of women and build self-esteem in girls and youth. She received her Bachelors of Science in Molecular Biology from the University of North Carolina at Pembroke and Masters in Educational Leadership from the Argosy University.
Ms. McLean is the founder and CEO of the Margie McLean Foundation, Inc. (MMF). The mission of this nonprofit organization is to provide outreach to underprivileged and disadvantaged children, young adults, and their families through educational enrichment, health and wellness, one-on-one mentoring, and local and global service projects that will foster future leaders in the 21st century and beyond. In 2009, Margie McLean begin to hold empowerment workshops and events for both women and girls; including the Girls Empowerment Leadership Summit (GEL)® and DIVΔS Empowerment Retreat®. As part of her focus on female Preteens and Teens youth, she branded the Ladies of Quality Mentoring Program (LQ). This program was started in 1992 at Terry Sanford High School in Fayetteville, NC by herself and 25 other young ladies. The purpose of this group is to advocate, lead, develop, and empower young ladies through community leadership, educational advancement, and domestic and international awareness.
Margie has presented at events and conferences for the Prince William County Schools in Woodbridge, VA, Fayetteville Area Section of the National Council of Negro Women, Inc, Prince George's County Schools in Latham, MD. She was also afforded the opportunity to participate as a panelist for the "Women in STEM" Summit at Prince George's Community College in Upper Marlboro, MD. She has been recognized as 2014 Who's Who by the National Association of Professional Women (NAPW) and honorer as a 2016 Trailblazer  for the "Organization That Rock" by Pure Potential Inc. in Baltimore, MD.
Margie has been described as compassionate, caring, someone who makes others feel comfortable. She also has experience as a Behavioral Health Counselor. She is a member of the National Council of Negro Women, Inc., Delta Sigma Theta Sorority, Inc.,  the Order of Eastern Stars, PHA, and the National Teachers Association.
"My arm is extended in front of me as I press forward in life, conquering all obstacles that are placed in my path, while the other is extended behind me to pull others to do the same, Leaving No One Behind." 
- Margie McLean,  Founder and CEO