About this Event
Impersonating Tina Turner, Cher, Dolly Parton, Liza Minelli, Marilyn Monroe, Bette Midler and many others, Faris offers audiences hilarious and touching portrayals and a bit of nostalgia, but mostly just crowd-pleasing warmth that has set her apart from the rest.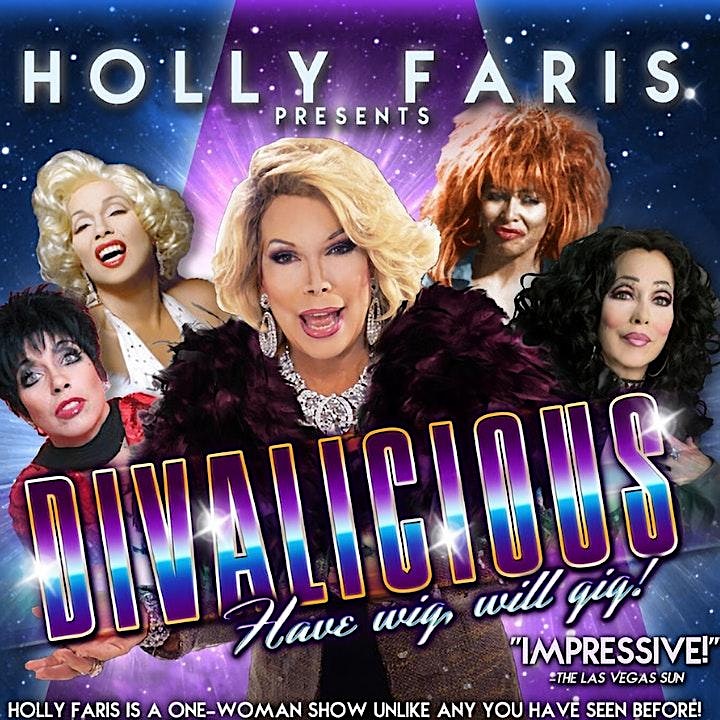 About Holly Farris
Holly Faris is an impressionist, actress, singer and comedienne. Her early career began in revues in casinos worldwide, including Greece and various islands in the Caribbean. Joan Rivers, Tina Turner, Cher, Marilyn, Bette Midler, and Liza Minelli. to name a few, are among the many impersonations included in Faris's vast array of Divas.
Holly's early career began as the opening act for the late Frank Gorshin. Her collaboration with Gorshin on a film , "Everything's George" led to her suggesting he do a one-man show as George Burns. She had input on all the material used for Gracie and was the original voice for her in the Broadway show "Say Goodnight Gracie".
Her film credits include, "All Shook Up" and "Road To Graceland" starring Harvey Keitel and Bridgett Fonda.
Holly also starred in an original Off-Broadway production called "Queen of The Silver Screen" about the life of her idol, Mae West.
Holly appeared on the Joan Rivers TV show as Joan, which lead to many appearances with Joan, including Celebrity Apprentice as Cher the year Joan won and an appearance as Joan herself a few years after. Joan loved her and the fact that she is one of the few "women" who impersonates her. Holly continues to perform her one-woman show with warmth and humor, portraying the divas she loves, as well as a Joan Rivers and Friends Tribute Show in honor of her great friend.
The Milton Theatre is "COVID-19 Customer Protection Standards Certified" by the Delaware Division of Small Business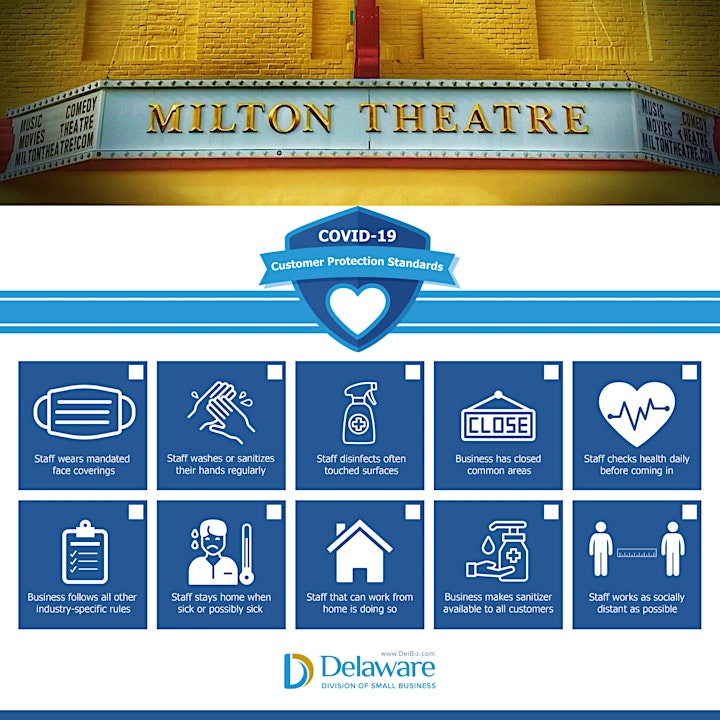 Milton Theatre Art House Film Series
The "Milton Theatre Art House Film Series" celebrates some of the very best award-winning films that you may not have heard of! This is the chance for film lovers to appreciate these great works in a physical space where cinema truly comes alive! Now, more than ever, the world needs thought-provoking, meaningful and life-changing art, and the venues in which to experience it. The Milton Theatre Art House Film Series acknowledges the vibrant and multifaceted independent film culture that exists outside of the mainstream cinema while simultaneously celebrating some of Hollywood's greatest releases!
About the Milton Theatre
Official Website | Facebook | Twitter | Instagram
The historic Milton Theatre is a uniquely diverse venue where you will find the best local, regional, national, and international talent. Free municipal and on-street parking are available. Full bar and light food options available. This facility is fully accessible.