D.I.V.A. ACADEMY CAMP

Saturday, July 13, 2013 from 10:00 AM to 12:00 PM (EDT)
Event Details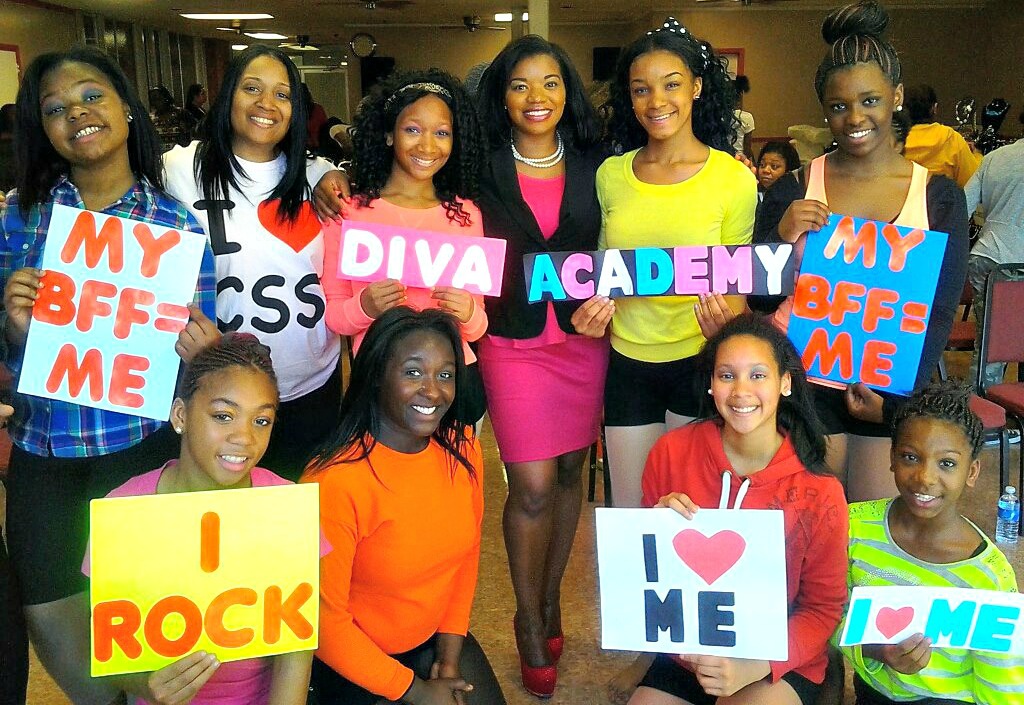 CALVARY CHRISTIAN CHURCH 
PRESENTS...
D.I.V.A. ACADEMY:
A SATURDAY CAMP FOR TEEN GIRLS
From July 13 - September 14, 2013
D.I.V.A. ACADEMY is a 9 week camp for 
YOUNG LADIES
(ages 10-18) designed to promote:
v  HEALTHY SELF ESTEEM AND SELF CONFIDENCE
v  POSITIVE SELF IMAGE
v  SELF AWARENESS THROUGH ARTISTIC EXPRESSION
v  EFFECTIVE DECISION MAKING SKILLS
v  CONFLICT RESOLUTION 
v  GOAL SETTING SKILLS 
v  ACADEMIC GOAL SETTING
v  BASIC ETTIQUETTE
READ ABOUT D.I.V.A. ACADEMY IN THE NEWS!!!
A snippet of what parents can expect their daughter to learn in D.I.V.A. ACADEMY!!!
Enroll your daughter NOW! 
SPACE IS LIMITED!
Listen to Shalena D.I.V.A.'s anti-bullying interview
CONDUCTED BY:

ANTI-BULLYING EXPERT
CERTIFIED LIFE COACH
When & Where

Calvary Christian Church
6000 E. Roosevelt Blvd
Philadelphia, PA 19149


Saturday, July 13, 2013 from 10:00 AM to 12:00 PM (EDT)
Add to my calendar
Organizer
SHALENA D.I.V.A.
Hello! My name is Shalena D.I.V.A. Broaster. I am a best-selling author, award winning speaker and entrepreneur. I am a Duke University graduate and the CEO of the Shalena D.I.V.A. Corporation. My company personally develops and economically empowers women. I call myself a D.I.V.A. because I learned how to discover, invest, value and appreciate my life and business after I hit "rock bottom."
In June of 2012, I became homeless and jobless after I ended a toxic 6 year relationship. For almost 2 years I was homeless and jobless. I couldn't find a job even though I had a great education and skills.
I didn't realize it, but I possessed valuable social media skills, too. Over the years I had fallen in love with social media and built a loyal following. A good friend advised me to put those skills to use. Although I was initially fearful of offering those services, I had to earn a living so I turned to the internet.
 FROM HOMELESS TO SIX FIGURES
 In October of 2014, I moved past my fears and launched my online business with my laptop, wifi, and my cell phone. Within one year I earned six figures! I created a better life for my son and myself.
 Today, I am dedicated to educating, equipping and training women how to earn money online so they, too, can create their own economy AND take care of their families.
 I want to expose women to online opportunities that may be right under their noses so they can use to build a sound technical foundation for your online business.
 Join My Economic Revolution For Women Here: bit.ly/laptopwificell