Ditch the Sales Slump! June Business EXCELERATOR" [Lunch & Learn & Wine]
Description
A Glass of Wine for the first 25 to register, as a Gift from Team Excelerate as you enjoy a wonderful Lunch & Learn at Village Grille by the Fireplace and learn with Excelerate Experience's Co-Directors, Leslie Flowers and Diana M. Needham in a lively conversation about how to best ....
Ditch the Sales Slump!
Fresh Perspectives & 5 Actionable Tips for Summer Success!
This is our JUNE offering to Excelerate Experience friends and their friends. There is a $5.00 fee to Register, and ,,, the first 25 registrants receive ONE COMPLIMENTARY GLASS of WINE with lunch, around $13 tax and tip included!
This is our June offering to Excelerate Experience friends and Community Supporters!
$5.00 to Attend by CLICKING THIS LINK!
Reconnect with those you met at Excelerate and new colleagues from the February, March and April and May "Final Friday" Business EXCELERATOR Luncheon! Seal the deal by learning some really FUN things about how easy it is to INFLUENCE results by being the go-to person in your industry!
Door prizes are in the mix!
SPONSORSHIP spot is available for June! $125.00 gives you 5 minutes before our Speaker!! What we really need and want to know about the value of your unique solutions!
---
Meet Excelerate Experience Co-Directors, Leslie Flowers and Diana M. Needham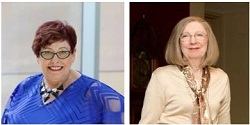 Leslie Flowers, trailblazer for women in business and mastermind expert, will show you how to leverage the ancient principle of mastermind to build trust among other women in a mastermind group, catapulting your business success. "Women must get smarter to ask for what they deserve ... and be paid!"
Diana, a masterful marketing strategist, focuses on you raising your credibility in your industry and being known as the go-to professional ... through writing a book. Diana helps people map out the fastest path for using your book to get in front of your ideal clients, expand your visibility and leverage your message to create more profits! Diana says, "There's nothing complicated about rising to the top if you know the proven processes to use!"
Don't forget to grab your Excelerate Experience 2017 November 3, Early Bird ticket at www.ExE2017.com