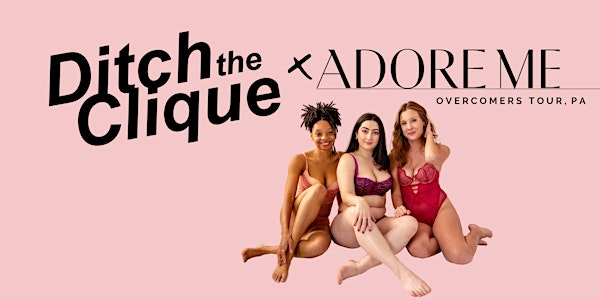 Ditch the Clique's Overcomers Brunch
Join Ditch the Clique for a brunch you're guaranteed to leave with resources created for the life you dream!
When and where
Location
Legion Hair Studio 101 South 3rd Street Lemoyne, PA 17043
About this event
GIRL it's been one heck of a year...
But guess what? You persevered!
Or maybe, you're still in the thick of it....
Regardless of who you are or what you're going through, we believe in the power of YOU! Because whether you know it or not,
You're an OVERCOMER!
And Ditch the Clique is here to empower YOU with *new* resources to continually push through!
Join Ditch the Clique and Legion Hair Studio in partnership with Adore Me for our first LIVE event of 2021 featuring our signature empowering tools, connective community conversation, an interactive podcast recording over Cafe 1500 brunch bites, and SO. MUCH. MORE! Attend solo or bring your bestie to hear the inspiring stories of overcomers in YOUR community and leave with resources from to up level your life BEYOND Ditch the Clique too!
When you attend Ditch the Clique's Overcomers Tour you can expect:
Gifts & goodies from our friends & partners at Avon
Brunchy bites by Cafe 1500 and beverages courtesy of June Shine
An inspiring, interactive Keynote chat with our SheEO Rachel K. Grim on how she went from losing everything to sharing her story on The Drew Barrymore Show.
A live guest panel featuring OVERCOMERS from your community!
Ditch the Clique's signature activity "Trash It"
Take-home toolbox resources like Dream It, your arsenal of power, and more
Self-image resources including "Post It"
Connective networking opportunities
access and discounts to our partners Adore Me, Avon, La Parea Wellness, June Shine, Legion Hair Studio, Rue Saint Paul, Style N Motion, Julie Mollo, and so much MORE!
GIRL all Ditch the Clique resources are complimentary and accessible to YOU, so RSVP for a FREE afternoon full of the connection and inspiration you need to live the life YOU dream!