Event Information
Refund policy
Contact the organizer to request a refund.
Eventbrite's fee is nonrefundable.
Online learning groups on multiple topics to provide virtual practice opportunities/communities for Brazilian zouk dancers.
About this event
We are excited to offer an option for you to keep the dancing going during these times of mandatory social distancing. We learned from our first four-week online courses, incorporated your feedback, and are looking forward to having you on board with us for our next four weeks.
WHY SHOULD YOU JOIN?
Even if you are unable to attend classes in person during this time, there are plenty of ways you can work on your own dancing. Aimed at people who have learned the basics of Brazilian zouk and want to take their dancing to the next level, these learning groups will provide you with regular times to learn, additional opportunities to practice, and a community to share videos and get feedback.
We have a team of instructors who have a lot of knowledge to share, some of whom depend on dance for their livelihood. This is a way you can support them and they can support you during this time.
WHAT IS INVOLVED IN THESE ONLINE LEARNING GROUP?
More than just an online class, we intend for this to be a practice group where dancers can learn together and stay connected during this time of social distancing. This will include:
Weekly live classes
Additional video content during the week
Opportunities to share practice videos and ask questions
Stored content so videos can be accessed and reviewed later
TOPICS, DAYS AND TIMES
These learning groups will run from April 13 - May 10.
The times for the live classes are listed below in Eastern Standard Time (Washington, DC).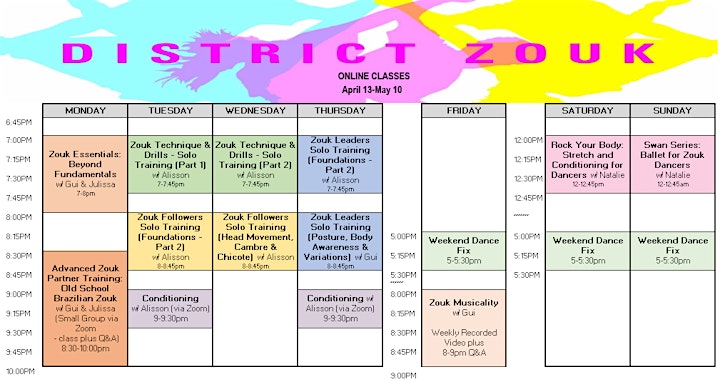 Additional details on each of the courses can be found on the pages below:
MONDAYS
TUESDAYS & WEDNESDAYS
TUESDAYS & THURSDAYS
THURSDAYS
FRIDAYS
SATURDAYS & SUNDAYS
After the live streaming, the class will be available to be accessed at any time on the Series's Facebook Group.
Certain class bundles are available, which offer an additional discount if you would like to take multiple courses. Additionally, if you did not enroll in our March/April courses but are interested in the material, you can purchase that course material as an add-on to these courses.
ASKING QUESTIONS
During the live streaming you will be able to ask questions. The instructors will respond to some of the questions made by the online community during or after the class.
FACEBOOK GROUP
All the content will be posted in private Facebook groups, and that will be our main form of communication and exchange. Our goal is to create an online community of people who can practice the techniques provided during the course, and share updates and videos with each other.
PRIVATE ONLINE COACHING
In addition to the class material and feedback, you may be interested in more individualized online coaching. If you sign up for the series and want to receive personalized online coaching from one of our District Zouk instructors, you will receive a discounted rate for supporting this project. You can talk directly to the instructors to arrange this.
ABOUT THE INSTRUCTORS
Gui Prada started dancing in 2004 inspired by the movie "Shall We Dance?". He began to dive deep into dance in 2006 as a work-study trainee of the Jaime Arôxa Dance School in Rio de Janeiro. Jaime Arôxa, one of the creators of Brazilian Zouk, was the head instructor and was a mentor for the most accomplished dancers in Brazil. During his 6 years as a member of the school's team, he learned all Brazilian partner dances (Forró, Samba de Gafieira, Soltinho, Bolero and Zouk) as well as Argentine Tango. After he left the school, he continued dancing and learning from other remarkable instructors, including Fabiano Vivas, Kelly Reis, Érico Rodrigo, Guilherme Pimentel and many others. Since then he has focused his training and research on taking the best of each of these dances and applying it to the close embrace, with the purpose of conveying a sense of well-being and relaxation to dance partners. In 2016 he attended the first Zouk Retreat in Valencia, led by Xandy Liberato, Brenda Carvalho and Anderson Mendes. After that, his research on partner dancing took a new direction, as he continued working with Brenda and Anderson to seek for the application of the concepts explored at the retreat in different ways by using the references of the other Brazilian partner dances and Argentinian Tango. As a result, the importance of the basic steps and concepts became evident, since it is through them that all dances reach another level. Gui is looking forward to sharing his technique and training with students here in Washington DC to help them improve their basics, comfort and confidence on the dance floor.
Alisson Sandi began his dance career at the age of 15 in São Paulo, Brazil, where he was born. Over the years he trained in Brazilian, Latin and International Ballroom dancing with Jaime Arôxa, Renata Peçanha, Alex de Carvalho, Rodrigo Delano, and others. In 2007, he joined the Juan Rando Dance Academy (JRDA) in Perth, Australia, and stayed in Australia through 2019 teaching in multiple cities and around the world. Alisson has held performances and workshops in over 41 countries, and holds titles including 2x Pro World Champion, 3x Australian Pro Champion, and Winner/Finalist of various BZDC All Stars/Champions Jack and Jill Comps. He is one of the the founders and the first choreographers of the International Zouk Flash Mob. He has also been an official judge for the Brazilian Zouk Dance Council since its first competition event. Alisson has a passion for teaching and is known for his attention to detail and effective instruction in dance techniques. Recently Alisson completed the 50-hour lambada certification course with Master Braz, and is looking forward to practicing and teaching more lambada and sharing it with the dancers and community here and in Washington, DC.
Julissa, a Washington DC native, was formally trained for over a decade in classical ballet and several years in modern dance (Alexander Horton technique). She discovered Zouk while traveling in Brazil in 2012, but did not begin to learn it until the NYC Zouk Festival in 2016. Since then she has traveled to various festivals in the states and internationally to learn and dance as much as possible. Her biggest sources of inspiration have been Kuna Malik Hamad, Anderson & Brenda, William & Paloma, and Hudson & Jessica. She has taught alongside artists such as Kuna Malik Hamad, and Jerry Lai. She is eager to grow as a student and teacher, and help inspire more dancers in this community.
Natalia Pcholkina has dedicated her life not only to training and growing as a dancer but also to exploring the world through dance. From teaching underprivileged girls in India, to raising her students into world champions out of a war zone, dance has created countless memorable experiences that have allowed her to have a positive impact on the lives of others. These experiences have also shaped her as a person and as an artist. On top of being devoted to teaching Natalia is an award-winning performer. She has worked with numerous choreographers and dance theaters throughout her career as a performer. Natalia dedicated a significant portion of her career to helping people achieve the strong functional and flexible bodies needed for dance. She has worked as a conditioning coach with several Olympic and Paralympic teams and she is passionate about helping aspiring dancers build the strength needed to be healthy and thrive as a dancer. Natalia was introduced to Brazilian Zouk in 2017 and fell in love with it instantly. Natalia's lifetime of training in other styles of dance has helped her tremendously while learning Brazilian Zouk. She looks forward to being able to share the knowledge that helped her with the Zouk community worldwide.
District Zouk's mission is to offer regular opportunities to learn and dance Brazilian zouk, and to nurture and grow the Brazilian zouk community in DC. Ashley Kent and Valentine Luu co-founded District Zouk with Amy Abbott and Bianca Desroches, and they have been teaching weekly Brazilian zouk classes at DanceSport Dupont Circle since June 2014, as well as organizing workshops and other events. District Zouk's classes are technique-focused and accessible to those new to social dancing, those with a background in other dance styles, and those who have been learning and dancing this dance for awhile. District Zouk received an award at the New York Zouk Festival in October 2017 for their contributions to zouk in North America.
Date and time
Location
Refund policy
Contact the organizer to request a refund.
Eventbrite's fee is nonrefundable.