District of Change: Making Schools Better for D.C.

Wednesday, September 10, 2014 from 7:00 PM to 8:30 PM (EDT)
Event Details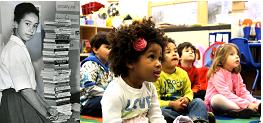 Over the past few years, public education in D.C. has been transformed– from IMPACT rating for teachers, to school closings, to boundary and feeder changes, to major facilities renovations, to an explosion of Public Charter Schools. Have these attempts to close the achievement gap worked? Are D.C. schools getting better? We will talk to principals from around the city and learn about their challenges and successes.
Join moderator Amanda Ripley author, The Smartest Kids in the World and How They Got That Way, in discussion with panelists:
Scott Cartland former principal, Janney Elementary School (Ward 3); current principal, Wheatley Educational Campus (Ward 5)
Alexandra Pardo executive director, Thurgood Marshall Academy Public Charter High School (Ward 8)
Andria Caruthers principal, West Education Campus (Ward 4)
 *Save the date for our next conversation, District of Change: LGBTQ Life in D.C. Then and Now, on October 22, 2014.
The District of Change is an ongoing series at the DC Public Library examining the transformation of Washington, D.C. It is produced by Slate editor-at-large David Plotz and published author Hanna Rosin in conjunction with the DC Public Library Foundation. Each event will address a topic pertaining to D.C. culture and feature a panel of guests who will lead the discussion. 
DCPLF's mission is to support and enrich the capabilities, resources, and services of the DC Public Library and to promote greater awareness of the Library's valuable resources. We accomplish this through fundraising and innovative programs that benefit our diverse community. Our support complements, but does not supplant, the District's responsibility for funding the DC Public Library's operations. By RSVPing to this event, you are opting in to receive periodic email updates from the DCPL Foundation. We promise not to flood your inbox or send you boring junk. You can unsubscribe at any time.