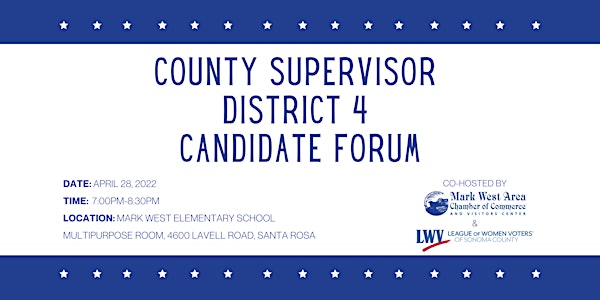 District 4 Candidate Forum
Location
Mark West Elementary School
4600 Lavell Road
Santa Rosa, CA 95403
Join Us For A District 4 Candidate Forum
About this event
The Mark West Area Chamber of Commerce and the League of Women Voters of Sonoma County is pleased to host a candidate forum for the 2022 Elections for the District 4 County Supervisor. The forum will allow Chamber members, partner organizations, and community members an opportunity to engage and hear from candidates regarding issues important to the Mark West business community. 
The candidates on the ballot for the June 7, 2022 election for the 4th District include Andy Springer and James Gore.
Please join us on Thursday, April 28 from 7:00pm to 8:30pm at Mark West Elementary. The forum will be held in the Multipurpose Room.
The 4th Supervisorial District includes northeast Fulton, the Larkfield-Wikiup area of Santa Rosa, the Town of Windsor, the City of Healdsburg, the community of Geyserville, and the City of Cloverdale.