District 29 Toastmasters Leadership Institute, Ferlazzo Building, January 25, 2020

Saturday, January 25, 2020 from 8:00 AM to 3:00 PM (EST)
Event Details
Toastmasters Leadership Institute (TLI) provides a free training curriculum for all Toastmasters. The TLI will help you be a better Toastmaster in your Club as well as a better communicator and leader in all walks of your life. This also includes core training for Club Officers. 
Why attend?
Network with new and experienced Toastmasters.

Make new friends!

Learn more about how to function better as a Club member and leader

Receive valuable information for your success as a Club Officer.

Earn credit towards your Club's Distinguished Club Program Goal #9.

Share what you learn with your clubs.
NOTES: 
To get credit for training for your Club Officer's Role, you don't have to attend the entire day. Just attend what you wish!

Wifi is not available to audience members. If necessary, please use your own provider (e.g. AT&T, Verizon etc.)

Cash donations are solicited to help defray costs for food.

While all care is taken to provide for all varieties of palates, if you have any food allergies, please bring alternative nourishment in case the provided food is not to your liking or preference. 
---
TLI PROPOSED AGENDA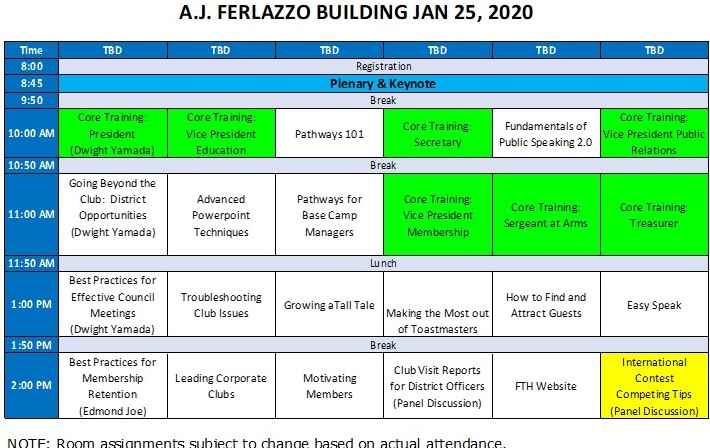 ---
Please
Bring pen and paper with you.

Dress in light layers as room temperatures can vary.

Come prepared to learn, mingle, and have fun!
We look forward to seeing you there! 
PATHWAYS 101
This class will cover Pathways basics, i.e. online assessment, choosing the right path, exploring Base Camp, and working with Base Camp managers via a live demonstration and PowerPoint presentation.
FUNDAMENTALS OF PUBLIC SPEAKING 2.0
Utilizing food as a theme, Fundamentals of Public Speaking is a fun and dynamic analysis of the right ingredients for an effective and memorable speech. Using lessons from the Better Speaker Series, learn how to capture your audience with an appetizer, serve your main points on a silver platter and whip a closing dessert that leaves your audience with something to chew on long after they've been served. Bon Appetit!
GOING BEYOND THE CLUB: DISTRICT OPPORTUNITIES
Have you ever considered if there is life beyond the Club? You're in luck! Attend this session to learn what kind of opportunities are available outside of the club in the District.
ADVANCED POWERPOINT TECHNIQUES
This session will delve deep into Powerpoint, going through things like Slide Masters, Adding, audio/ video to your slides, using an add in like Poll Everywhere, selecting themes and backgrounds, creating a timer bar for your slides etc. You'll be a veritable "expert" in Powerpoint by the end of this presentation!
PATHWAYS FOR BASE CAMP MANAGERS
This live demonstration session is geared to club Presidents, VPEs and Secretaries and will cover Base Camp duties, including tracking members' progress, as well as approving and submitting educational awards. 
BEST PRACTICES FOR EFFECTIVE COUNCIL MEETINGS
This session will teach you how to conduct effective council meetings including the agenda and expected purpose of council meetings and how successful council meetings help in the management of a club.
TROUBLESHOOTING CLUB ISSUES
Do you have questions, concerns vexing issues that you would like to get answers for? Attend this completely interactive session and get some of your questions answered! You're sure to find something of value from this session where the collective brain trust of District 29 can work on your problem and come up with a possible solution!
GROWING A TALL TALE
Our District is having a Tall Tales Contest for the first time! Do you want to learn how to write and deliver a winning Tall Tale? What is a Tall Tale and why is it tall? Come learn in this session! Get ready to deliver an outrageous Tall Tale in the upcoming contest season! 
MAKING THE MOST OUT OF TOASTMASTERS
If you are a new Toastmaster, this interactive session will lead you through the basics of belonging to Toastmasters and being a successful one! Attend this session to learn all about how to get the most out of your Toastmasters experience!
HOW TO FIND AND ATTRACT GUESTS
Where does a club find guests? How do we go about converting guests into members? Attend this interactive session to find out how. 
EASYSPEAK
In this workshop/ presentation you will learn the basics of using EasySpeak web app to develop your Club's website and utilize its many features to manage your club.
BEST PRACTICES FOR MEMBER RETENTION
Why do people join Toastmasters? Why do they stay or leave? How do we keep member interest? How to we maximize member retention in our Clubs? Attend this session to learn and participate!
LEADING CORPORATE CLUBS
Corporate Clubs have their own unique benefits and challenges. In this interactive session, we will go into the similarities, differences and how to deal with managing a corporate club. Traditional officer roles need to be enhanced to help deal with corporate issues. If you belong to a corporate club, this session is for you!
MOTIVATING MEMBERS
Do you yearn for members who are excited about participating in your club?  Learn and share your successful strategies to get everyone connected and engaged in your club on a regular basis.
CLUB VISIT REPORTS FOR DISTRICT OFFICERS
This is a panel discussion for all Area/ Division Directors who are attending. Come attend and find out how to perform a successful Area Visit and fill out and submit a highly effective Area Visit Report!
FREETOASTHOST
In this workshop/ presentation you will learn the basics of using FreeToastHost web app to develop your Club's website and utilize its many features to manage your club.
INTERNATIONAL CONTEST COMPETING TIPS
Have you wanted to compete in the International Speech Contest but were too afraid? Come attend this highly interactive Panel Discussion from Toastmasters just like you who took that step of competing and now have lessons for you and us! 
When & Where

Ferlazzo Building
15941 Donald Curtis Dr
Woodbridge, VA 22191


Saturday, January 25, 2020 from 8:00 AM to 3:00 PM (EST)
Add to my calendar
Organizer
About District 29
District 29 is the part of Toastmasters International that covers, very roughly, the northern Virginia suburbs of Washington DC west of the beltway. Our District includes close to 5000 members in over 136 clubs. 
About Toastmasters International
Toastmasters International is a worldwide nonprofit educational organization that empowers individuals to become more effective communicators and leaders. Headquartered in Denver, Colorado, the organization's membership exceeds 352,000 in more than 16,400 clubs in 141 counties. Since 1924, Toastmasters International has helped people from diverse backgrounds become more confident speakers, communicators, and leaders.