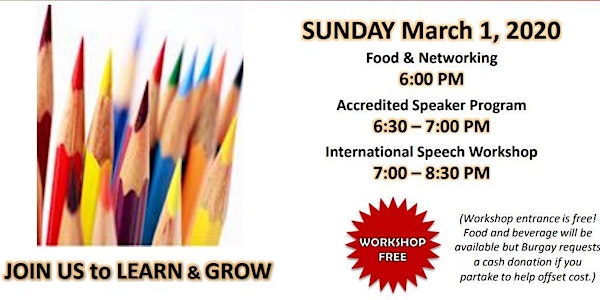 District 27 Burgay Toastmasters Continuing Education Workshop
Join Burgay Toastmasters for a Sunday evening filled with food, fun, fellowship, learning, and growth in this continuing education workshop!
When and where
Location
Central Library 1015 North Quincy Street Arlington, VA 22201
About this event
The Toastmasters International Speech Contest season is here!
Have you ever...
Sought tips to improve your club- or work-related public speaking technique?
Considered becoming a recognized professional speaker or speaking coach?
Wanted to hear about the learning journey of Toastmaster speech champions?
The Burgay Toastmasters Workshop will give you all that and more!
Join us for a Sunday evening filled with fun, food, fellowship, learning and growth to hear about the Accredited Speaker Program and featuring a panel of District Speech Champions, moderated by Edmond Joe:
District 27 Champion Dutch Martin
District 29 Champion Elisa Everts
District 36 Champion Krish Murti
And
Accredited Speaker Tamara Hamilton
On Sunday, March 1, 2020, at the Central Library in Arlington, VA from 6:00 p.m. to 8:30 p.m., we will help you hone your communication skills and share tips and advice on how to win the Toastmasters International Speech Contest!
We will have FOUR district champions help you prepare for the contest season, plus a distinguished Toastmasters professional who is recognized as an Accredited Speaker.
The Central Library is convenient by Ballston-MU or Virginia Square-GMU Metro Stations.
The workshop entrance is free to attend! Food and beverage will be provided but Burgay politely requests a cash donation if you partake to help offset the cost.
Schedule
6:00 p.m. - Registration/Networking
6:30 p.m. - Accredited Speaker Program Informational Workshop
7:00 p.m. - International Speech Workshop