Be a part of a fun and inspiring Tonight Show style broadcast!
About this Event
The District 16 Toastmasters annual conference takes on a new look to rise above the challenges of this moment in world history. All events can be attended in person and online.
Friday is about the future: We will cast vision, elect officers, approve a budget, and set in motion a plan for continued success in 2021-2022. The president and VPM of each club can vote and anyone else may attend.
Saturday is about personal growth: The headline event will be presented in a "Tonight Show style" broadcast hosted by your district director, Kathleen O'Toole. Premier attractions will include...
Keynote speaker Chris Stevens (see below)
Exhibitions by state level public speaking champions
Inspiring Power Lessons
In person attendees will be part of the "live studio audience" and online attendees will be able to interact with the broadcast from the comfort of their own homes using Zoom.
Prior to the headline event Saturday, online attendees may log on to see all the competition speeches as well as participate in virtual networking mixers.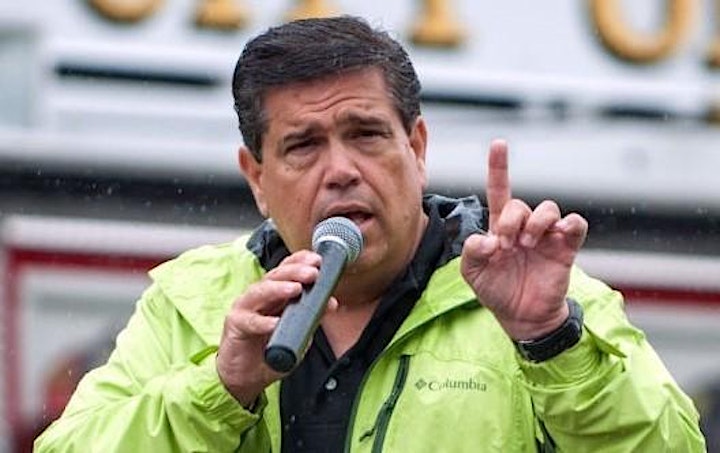 Chris Stevens, Keynote Speaker, Bio
Chris boasts "ground up" experience in three areas: First, education, where he has instructed in classrooms at every level from elementary school to college undergraduates and executive professionals since 1981. Next, communication, where he has radio broadcast and management experience, served as a police agency public information officer, and worked in handling crisis communications in a variety of circumstances. He has served not only in crisis response and recovery, but also as a crisis/hostage negotiator – training and mentoring negotiators and novices in the deliberate practice of communicating with the goal of both understanding and ensuring they are understood. Finally, Chris is a student, practitioner and instructor of the art and science of leadership, from leading groups of people via influence and authority, to assisting executives in forging paths for organizational success, to mentoring individuals as they learn to lead themselves in analyzing and executing personal life choices.
Chris has over twenty-five years' experience as a consultant, course developer, instructor, and seminar presenter in management science and has provided leadership and management training to government officials, municipal agency managers, and private industry managers/supervisors in the United States, Canada, Saudi Arabia, and (virtually) Australia.
Chris is a past board member of the California Association of Hostage Negotiators and is the immediate past president of the Northern California Chapter of the Association of Threat Assessment Professionals. He holds an MA in Leadership Studies from St. Mary's College of California and is pursuing a PhD in Organizational Leadership at Southeastern University in Lakeland, Florida.
Chris lives in Stockton California with his wife, daughter and way too many housecats.
Conference Agenda
Saturday, April 17, 2021
09:00 District Speech Competitions
Friday, April 30, 2021
05:00 Registration table open
05:30 Dinner service begins
07:00 Business meeting
Saturday, May 1, 2021
10:30 Taped re-broadcast of all district level competition speeches, online only
11:30 Registration table open
12:00 District wide networking event, online only
12:00 Lunch service begins
Conference Pre-Show
01:00 Individual and dignitary check in for online participants, online only
01:10 Virtual banner parade, online only
01:20 Invocation, pledge, and TM Mission Statement
01:25 Introduction of dignitaries
Conference Main Event
01:30 Opening festivities
Kathleen O'Toole's opening monologue
Charades with the contest champions
01:45 Contest winners and Power Lessons
Humorous speech contest winner
Knock-knock jokes – Audience Participation Event!
Power lesson #1: Rachel Mathew, Co-owner of Poston Tax
Stump the Table Topics champ – Audience Participation Event!
Power Lesson #2: Dan Mahoney, VP of Broadcasting for the OKC Thunder
International speech contest winner
One member's testimonial: Lindsey Williams Jr.
02:30 Keynote Speaker
Keynote Speaker: Chris Stevens
Audience reactions – Audience Participation Event!
03:15 Closing Festivities
Meet the new district officers
New district director's speech
Final thank you
05:00 Dinner service begins