Toastmasters District 14 2021 Annual Conference (Virtual) will be held April 23, 2021 starting at 10 AM & Saturday, Apr 24th at 10 AM
About this Event
Toastmasters District 14 Annual Conference is held every year in the Spring. The Conference features educational seminars, workshops, and special activities for our Toastmasters, Family, and Guests. Special activities are uniquely planned for First-Time attendees. The conference will also feature a District-Level speech contest championship in Humorous Speech and International Speech.
This year's annual conference will be virtual and you do not want to miss it.
Day 1 of the Conference we will begin at 10 AM.
Day 2 of the Conference will also begin at 10 AM and that evening we are super excited to have the World Champion of Public Speaking (WCPC), Mike Carr.
Also held on Saturday afternoon, District 14's Annual Spring Business Meeting.
Current Ticket Details:
Early Bird Registration:
$40 for both (full) days (until January 16,2021)
AFTER January 16, 2021 Regular Registration:
$50 for both (full) days
Or, $35 for only 1 day
NOTE: Late Registration (as of 4/19/2021 until day of Conference)
$60 for both (full) days; or $40 for one day until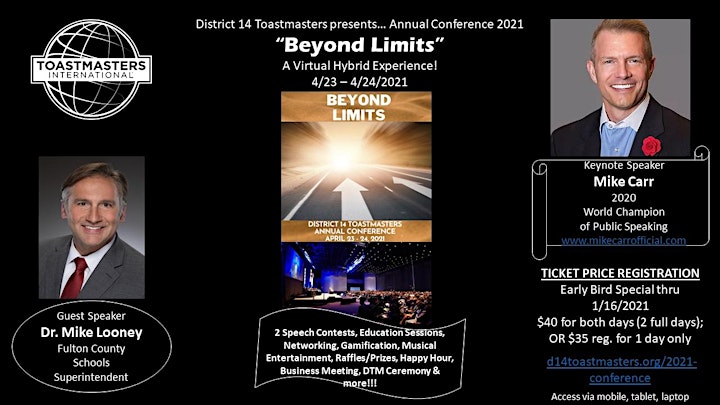 Date and Time
Location
Refund Policy