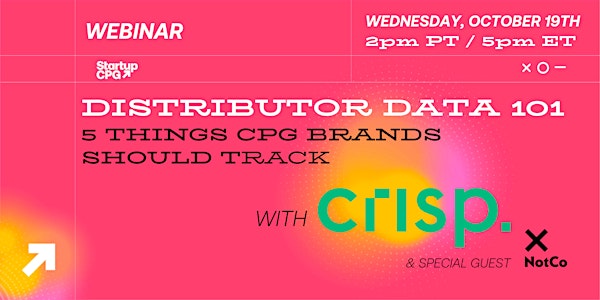 Distributor Data 101: 5 Things Brands Should Be Tracking and Why
Crisp's CPG experts will share how to start using data today to expand distribution, streamline operations, and skyrocket profitability.
About this event
Distributor partnerships are critical to success as a growing CPG brand. But managing a profitable distribution business requires visibility into sales and supply chain performance – and that takes data. In this webinar, Crisp's CPG experts will share the top five data points all CPG brands should be tracking to keep shelves stocked, expand distribution, and drive sales.
Plus, Crisp's customer NotCo's Director of Sales Strategy and Planning will share how his team used data in Crisp to strengthen distributor partnerships and achieve 480% YOY growth.
Speakers:
Samantha Schend, Vice President of Sales at Crisp
Tony Miller, Director of Sales Engineering at Crisp
Dan Capraun, Director, Sales Strategy and Planning at NotCo
Crisp automatically ingests, normalizes, and analyzes SKU- and store-level sales and inventory data from the top 80% of CPG retailers, distributors, and e-commerce sites. With day-to-day visibility into performance across retail channels, CPG teams get the insights they need to grow sales, streamline operations, and skyrocket profitability.
Crisp is offering Startup CPG members an exclusive 60-day free trial, which includes:
Complimentary consultation
60-day free trial
Unlimited user licenses, ongoing support, and training included
Exclusive reduced pricing: 20% off through November 30
To get started, start your free trial of Crisp at gocrisp.com/startupcpg
Startup CPG is the national network for emerging brands working toward a better food system. If you're not already in our Slack channel, you're missing out on meeting eight thousand new friends! Join today!