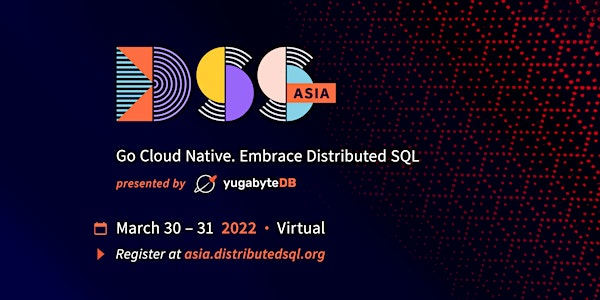 Distributed SQL Summit Asia 2022
Attend sessions to hear from distributed SQL practitioners and leaders, join our hands-on workshops to experience distributed SQL firsthand.
About this event
Developers, operators, and architects drive business by delivering always-on, highly available applications and services. Companies have embraced the cloud, Kubernetes, and microservices to accelerate their digital transformation.
It is time to ensure your database is also cloud-native-ready.
Our upcoming Distributed SQL Summit (DSS) Asia brings together database builders, ops, architects, and thought leaders for two days of learning, networking, and inspiration.
By attending DSS Asia remotely, you can:
Hear from distributed SQL practitioners and experts
Attend hands-on workshops to experience distributed SQL firsthand in real-time
Meet peers and colleagues virtually
Have fun and bag some exclusive swag!
What is Distributed SQL?
Distributed SQL databases are relational databases that distribute data over multiple compute instances (each instance a node in a database cluster) and offer a SQL-compatible distributed query layer.
Distributed SQL databases are highly resilient, massively scalable, and can be geo-distributed across availability zones, regions, and often cloud providers.
Distributed SQL databases deliver strong consistency and ACID transactions with single-digit millisecond latency. These databases are increasingly powering a new generation of always-on, highly available, hyper-scalable applications and microservices.
Who should attend DSS Asia, and what will they learn?
Developers
Scale resilient microservices globally while maintaining sub-second latency
Migrate a relational application to a distributed SQL database
Start building applications with distributed SQL in minutes, with no operational overhead
Join hands-on labs and workshops to build awesome applications
DevOps
Learn how to keep the database up through snowstorms, datacenter fires, network failures, and other outage risks
Be prepared for Black Friday, Cyber Monday, and new product launch days
Discover how the largest enterprises are efficiently delivering DBaaS to their developers
Apply best practices to deploy distributed SQL in Kubernetes
Architects
Learn about emerging data architectures in different industries
Find out how leaders of F500 companies tackle database modernization
Understand how to future proof your data infrastructure with a 100% open source distributed SQL database
Minimize risk during large-scale database modernization projects
Relevant for: DBAs, developers, DevOps engineers, architects, business leaders, and anyone interested in Distributed SQL.