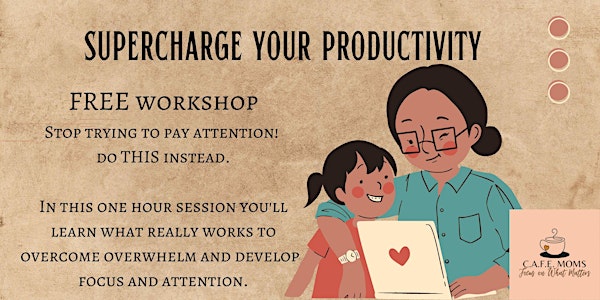 Distracted & overwhelmed? STOP trying to pay attention! Do THIS instead.
Begin your journey to overcoming painful feelings of overwhelm and frustration that get in the way of you being productive in work and life.
About this event
When you're juggling the responsibilities of launching, building, or maintaining a business while trying to keep up with responsibilities as a parent, you're more than likely overwhelmed, flustered, and feeling more than a little distressed. Between marketing, parent-teacher meetings, the next launch, the next play date, and trying to keep up with your household, you're exhausted, disorganized, and like you have no control of what happens in your life.
It doesn't need to feel that way.
In fact, you CAN begin to feel Calm, Attuned, and Focused so you can doimportant things, when they need to be done. And feel good about it.
You can get that marketing plan up and running when it needs to be up and running. You can give your child the emotional support they need when they tell you they didn't get invited to the birthday party. You can provide time for your best client to vent their frustrations before they get to the point of why they're calling you. You can tolerate - and even be gracious about - an interruption to your work flow for something that seems frivolous and unimportant.
Join us for this 1 hour LIVE ONLINE session. It will be a 30 minute presentation with 30 minutes for questions and answers. No recordings will be available, so arrive a few minutes early and get settled in.