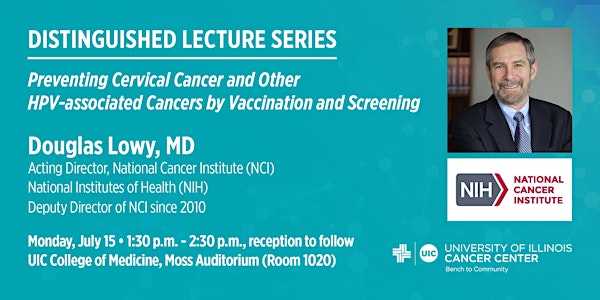 Distinguished Lecture Series: Acting NCI Director, Douglas Lowy, MD
When and where
Location
College of Medicine, Moss Auditorium 909 S Wolcott Ave Room 1020 Chicago, IL 60612
Description
Preventing Cervical Cancer and Other HPV-associated Cancers by Vaccination and Screening
July 15 at 1:30 pm - 2:30 pm
Reception to follow
Douglas Lowy, MD, is Acting Director of the National Cancer Institute (NCI) of the National Institutes of Health (NIH) and the Deputy Director of NCI since 2010.
A cancer researcher for more than 40 years, Dr. Lowy received the National Medal of Technology and Innovation from President Obama in 2014 for his research that led to the development of the human papillomavirus (HPV) vaccine. As chief of the Laboratory of Cellular Oncology in the Center for Cancer Research at NCI, Lowy's research includes the biology of papillomaviruses and the regulation of normal and neoplastic growth. His laboratory, in close collaboration with John T. Schiller, Ph.D., was involved in the initial development, characterization, and clinical testing of the preventive virus-like particle-based HPV vaccines that are now used in the three U.S. Food and Drug Administration-approved HPV vaccines.
Dr. Lowy is a member of the National Academy of Sciences (NAS), as well as the Institute of Medicine of the NAS. For their pioneering work, Lowy and Schiller have received numerous honors in addition to the National Medal, including the Federal Employee of the Year Award in 2007 from the Partnership for Public Service, the 2011 Albert B. Sabin Gold Medal Award, and the 2017 Lasker~DeBakey Clinical Medical Research Award.
Lowy received his medical degree from New York University School of Medicine, New York City, and trained in internal medicine at Stanford University, California, and dermatology at Yale University, New Haven, Connecticut.


Please visit the UI Cancer Center event page for up to date event information: https://cancer.uillinois.edu/events/preventing-cervical-cancer-and-other-hpv-associated-cancers-by-vaccination-and-screening/