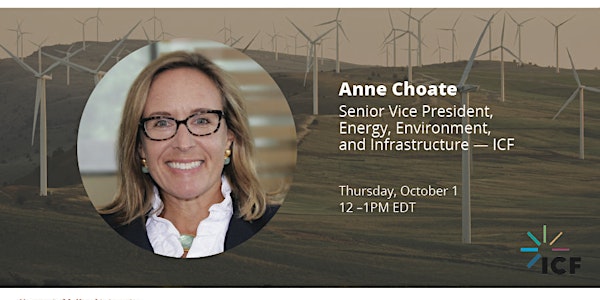 Distinguished Lecture by ICF's Anne Choate
Join the Scott Institute for Energy Innovation, Carnegie Mellon University for a Distinguished Lecture featuring ICF's SVP Anne Choate.
About this event
Moving Decarbonization from Ideas to Reality:
A Distinguished Lecture by ICF's SVP Anne Choate
This event is free and open to the public. A Zoom Webinar link and password to join will be provided upon registration.
Biography
Anne Choate leads ICF's Energy, Environment and Infrastructure operating group. Her team of more than 1,750 professionals advises commercial, federal, state, and local clients on energy markets, surface transportation, energy efficiency, environmental planning, conservation, and climate change.
Anne brings 25 years of experience and expertise working at the intersection of clean energy, climate change, energy and transportation. She has built and utilized state-of-the-art models to track life-cycle emissions, model carbon in soils, and conduct indicator-based risk assessments. She has supported decarbonization planning and carbon target-setting activities at the federal level and in nearly all 50 states; led resiliency efforts for multiple cities and investor-owned utilities; and has advised dozens of national parks, national estuary programs, transit agencies, and state Departments of Transportation.
Anne has served as the Principal Investigator for several seminal resiliency studies, is a member of the National Academies Transportation Research Board Climate and Energy Task Force, and was an author on the National Climate Assessment, released in November 2018. She also serves as a trustee on the Pennsylvania Board of The Nature Conservancy. Prior to joining ICF in 1995, Anne worked in the Environmental Protection Agency's Office of Air Quality Planning and Standards.
Anne holds a Master of Science in Environmental Science from Johns Hopkins University and a Bachelors of Arts in Environmental Science and Policy from Duke University.