Genocidal policies against California's native peoples in the mid-19th century were accompanied by expropriation of lands and exploitation of survivors, followed by the systematic looting of native gravesites in the name of science, education, and sport. In the 20th century, the creation of a public narrative of the state's past – the "California Story" – both excused and legitimated racist images of Native Americans, making it easier for future generations to evade a reckoning with the region's tragic and sorrowful history. California continues to be shaped, culturally and socially, by these bitter legacies and divisions. What will it take to create a public history that does justice to the past?
Tony Platt is the author of ten books and more than 150 essays and articles on race, inequality, and social justice in American history, among them Bloodlines: Recovering Hitler's Nuremberg Laws, From Patton's Trophy to Public Memorial, and The Child Savers: The Invention of Delinquency, which was reissued as a fortieth-anniversary edition in 2009. Platt, now a professor emeritus, taught at the University of Chicago, the University of California, Berkeley, and California State University, Sacramento, where he received awards for teaching and scholarship.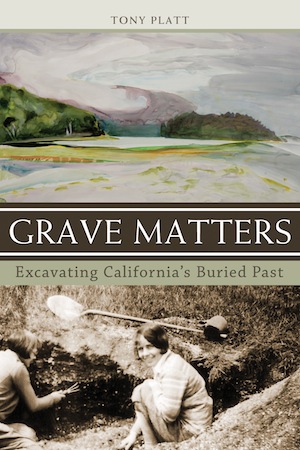 Dr. Platt has been a visiting professor at Chuo University, Tokyo, and at Queen's University, Belfast, and was a visiting researcher at the Huntington Library and the National Museum of American History. Platt has written for the Los Angeles Times, the San Francisco Chronicle, Truthdig.com, the History News Network, Z Magazine, Monthly Review, and the Guardian, and his commentaries have aired on NPR. His publications have been translated into four languages. Tony Platt lives in Berkeley and Big Lagoon, California.
What do we find when we dig up the past?
Grave Matters is the history of the treatment of native remains in California and the story of the complicated relationship between researcher and researched. Tony Platt begins his journey with his son's funeral at Big Lagoon, a seaside village in pastoral Humboldt County in Northern California, once O-pyúweg, a bustling center for the Yurok and the site of a plundered native cemetery. Platt travels the globe in search of the answer to the question How do we reconcile a place of extraordinary beauty with its horrific past?
Grave Matters centers around the Yurok people and the eventual movement to repatriate remains and reclaim ancient rights, but it is also a universal story of coming to terms with the painful legacy of a sorrowful past.