Distant Relatives "Restoring Relations"

Tuesday, December 13, 2016 from 6:00 PM to 9:00 PM (EST)
Event Details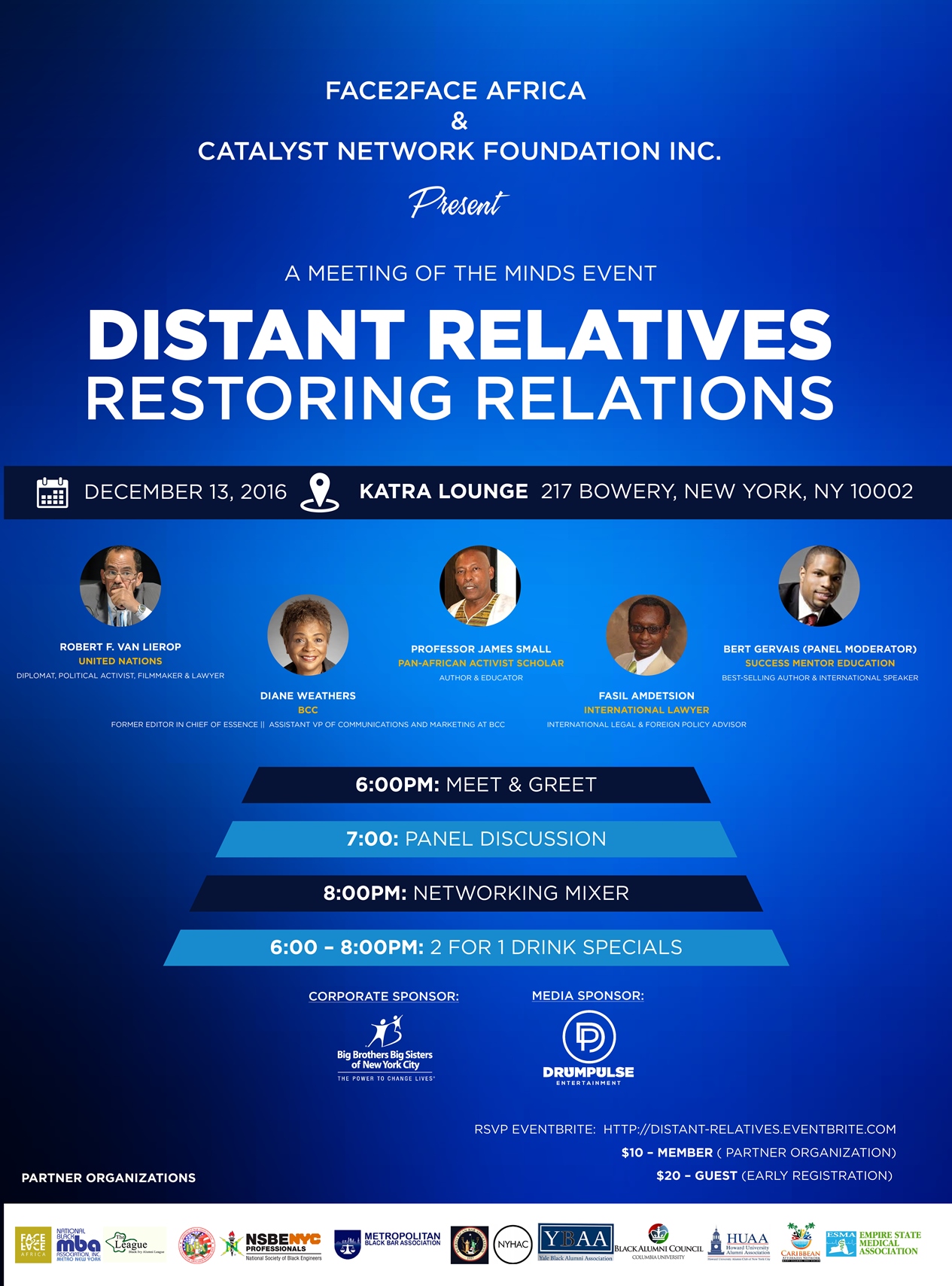 Corporate Sponsor
 Big Brother Big Sisters of New York City
Partner Organizations
Black Ivy Alumni League
National Black MBA Association - New York City Chapter
Caribbean Attorneys Network
Yale Black Alumni Association
Howard University Alumni Club of New York City
Metropolitan Black Bar Association
Dominican Bar Association
Columbia University - Black Alumni Council
National Society Black Engineers – NYC Professionals
Puerto Rican Bar Association
Empire State Medical Association
New York Hampton University Alumni Club
Media Sponsor
 DrumPulse Entertainment
Panel Discussion Based around

Black Immigrants - African-Americans: Identifying root causes attributing to low levels of inclusion among generational black families and black immigrant families (particularly Caribbean's/Africa or First Generation African-Americans and vice-versa)

Language Barrier
Miseducation
Media stereotypes/depictions
Cultural Differences
Geopolitics
Building Blocks of Progress: Outlining practical action steps to strengthen relationships

Study Abroad Programs - HBCU and Black Educational Institutions in Africa & Caribbean's study Partnership
Diplomatic Initiatives
Narrative shift
Chambers of Commerce Initiatives
Forecasting the Future: determining benefits of potential ties:

Entrepreneurial opportunities
International exposure
Economics – Allocation of Capital/Resources
Psychological Benefits (Ancestry)
History enlightenment
Cultural fusion – Sharing of best practices
Higher level of consciousness and empathy of challenges black people face worldwide – Sharing of resources and strategies to address these challenges
Panelist

Is the Former Editor in Chief of Essence Magazine; she is an accomplished communications professional with a background in magazine journalism, public affairs, media relations and higher education marketing and communications. She is currently Assistant Vice President for Communications and Marketing at Bronx Community College of the City University of New York.
Diane has spent most of her career as a consumer magazine writer and editor. This includes eight years with Newsweek in its New York headquarters and later as a correspondent in the Washington, D.C. bureau. She has had several stints with Essence Magazine, where she served as Editor in Chief from 2001-2005. Among her accomplishments was launching the magazine's "Take Back the Music" campaign, a critical examination of the misogyny rampant in hardcore rap music. The campaign generated global media attention and led to her guest appearances on the Oprah Show and at a special Town Hall meeting televised on the Black Entertainment Network (BET).
Her public affairs work includes five years with the United Nations World Food Program (WFP), the relief agency assisting poor nations impacted by civil strife or natural disasters. Based in the Program's Rome, Italy headquarters, she handled media inquiries, wrote extensively on WFP operations, served as media spokesperson and organized press visits to relief operations in Sub Saharan Africa, the Middle East and South East Asia.
Diane was born and raised in Brooklyn, New York and attended Syracuse University where she earned a Bachelor's Degree in Journalism from the S.I. Newhouse School of Communication. She was appointed a Trustee of the University in 2006 and serves on the academic and student affairs committees. She enjoys fine art, travel and music. In her spare time, she continues to write and has completed her first novel. She is divorced, the mother of a 23 year old daughter, and a Miniature Schnauzer named Mos Def. She lives in New York, New York.
Was born in 1945, on Arcadia plantation, located on the banks of the Waccamaw River. This Lowland rice plantation is located where the Waccamaw, Peedee, and Black Rivers converge to meet the Atlantic Ocean, on the shores of historic Georgetown, South Carolina. Prof. Small was born to a family that traces their descent from enslaved Africans, to the Yoruba, Akan, and Ewe people of West Africa. Prof. Small's heritage also stems from the Native American ancestors that inhabited these South Carolinian shores. Both his maternal great-grandmother and his paternal great-grandmother were members of the Chicora Nation, and made their home along the mighty Waccamaw River.
Prof. Small graduated from the all Black Howard High School in Georgetown, South Carolina in 1964. He then served in the U.S. Navy for two years during the Vietnam era. Upon his release from military service, Prof. Small moved to New York City where he joined the Organization of Afro-American Unity founded by the legendary Malcolm X. In 1967, Prof. Small became Imam (minister) of the Muslim Mosque Incorporated, also founded by Malcolm X. In 1975 Prof. Small traveled to the Holy City of Mecca in Saudi Arabia to make his holy pilgrimage, the Hajjah.
For eleven years, Prof. Small served as principal bodyguard to the late Ella L. Collins, the sister of Malcolm X, the then President of the Organization of Afro-American Unity (O.A.A.U.).  Between the years of 1966 and 1980, Prof. Small held membership in the Student Non-violent Coordinating Committee (S.N.C.C.), the N.A.A.C.P, Uhuru fighters and O.A.A.U. During this period Prof. Small had the opportunity to interact with such historical giants as Congressman Adam Clayton Powell Jr., Kwame Ture, H. Rap Brown of S.N.C.C, Eldridge Cleaver, Zaid Shakur, and Lumumba Shakur of the Black Panther Party (B.P.P.) in which he served as a liaison between the B.P.P. and the O.A.A.U.
Prof. Small has been a member of the Association for the Study of Classical African Civilization (A.S.C.A.C.) for 14 years. He served as President of A.S.C.A.C. Eastern Region for two years, where he worked and studied with Dr. John Henrik Clarke, Dr. Yosef A. A. ben Jochannan, Dr. Leonard Jeffries, Dr. Ivan Van Sertima, Dr. Asa Hilliard, Dr. Wade Nobles, Dr. Amos Wilson and Dr. Francis Cress Welsing, just to name a few.
Prof. Small taught for nearly twenty years at the City University of New York, including 17 years at the City College of New York's Black Studies Department, thirteen of those years also serving as an administrator and two years at New York City Technical College. Prof. Small has taught courses on Malcolm X, Traditional African Religion (Prof. Small is a priest in the Yoruba religion), Pan Africanism, Crime in the Urban Community, Urban Crisis and Issues, and African Folklore. Prof. Small has also appeared on a number of network talk shows and newsmagazines. These include the Phil Donahue Show, The Rolanda Watts Show, The Geraldo Rivera Show, Matt Lauer Nine Broadcast Plaza Show, The Charlie Rose Show, Tony Brown's Journal, Like it Is with Gil Noble as well as numerous cable programs and local, national and international television and radio shows.
Prof. Small has lectured at some of the most prestigious colleges and universities in the world. Among the many colleges and universities where Prof. Small has lectured at are the University of Manchester, Manchester England. University of the Virgin Islands, St. Thomas, V.I. University of the West Indies Porte-Spain, Trinidad; University of West Indies; Kingston Jamaica, Princeton University Princeton, N.J., Harvard University Boston, Mass., Yale University, New Haven, Conn., Columbia University and New York University of New York, N.Y. to mention a few.
Prof. Small is currently conducting educational and cultural tours throughout Africa and the United States and he is also working on two books, one a collection of his lectures on Malcolm X and the other on the topic of "Post Slavery Trauma Syndrome." 
Varied and distinguished career has included spells as assistant legal counsel to the NAACP in the late 1960s, as ambassador to the United Nations for the Republic of Vanuatu, as a photojournalist and film producer, and as a founding partner in the law firm of Van Lierop, Burns, and Bassett. At the United Nations during the 1980s he was influential in negotiations on important global issues, including the ending of apartheid in South Africa, and on international environmental law. He was vice president of the United Nations General Assembly in its 43rd session, Chairman of the 4th Committee (Trusteeship and Decolonization) during the 44th session, and vice chairman of the Ad Hoc Committee of the Whole during the 16th Special Session of the United Nations General Assembly on Apartheid and its Destructive Consequences in Southern Africa; he also served as the first chairman of the Alliance of Small Island States (AOSIS) from 1991 to 1994.
Van Lierop continued to pursue his legal practice during the years of his United Nations service. He has advised national governments and corporations on international law and has been an important figure in the New York City Bar Association, in particular during terms as chairman of its Council on International Affairs and as chairman of the executive committee. Van Lierop's efforts in the fight for justice and peace around the world have brought him many awards and commendations, including the Vanuatu Independence Medal, which he received from the prime minister in 1991.
Robert F. Van Lierop was born on the South Pacific island of Vanuatu on March 29, 1939; his parents were Sylvia and Edward Van Lierop. After serving in the United States Air Force from 1956 to 1960, he attended Hofstra University on Long Island, New York, graduating with a B.A. in economics in 1964. He later attended the New York University School of Law as an Arthur Garfield Hayes Civil Liberties Fellow, graduating in 1967 with a J.D. After graduation in 1967 he went to work as assistant legal counsel to the NAACP, where he was involved in litigating on civil rights issues and constitutional law. In 1968 he became an associate of the firm Fleisher, Dornbush, Mensch, Mandelstam, where he stayed until 1971.
In 1971 Van Lierop's interest in political activism and human rights causes led him to take a break from legal practice and set himself up as a freelance photojournalist and filmmaker. His first documentary film, A Luta Continua, addressed the struggle for independence in Mozambique, a cause he pursued until the end of the civil war in 1975; he also led delegations of AfricanAmerican activists to Mozambique, Zimbabwe, and Cuba in 1977 and 1978. He made a second film about Mozambique, O Povo Organizado, which was completed in 1976, and he also worked on behalf of the Polaroid Revolutionary Workers Movement, which opposed corporate exploitation of South Africa. He also produced documentaries about the United Nations and South Africa as part of the weekly Like It Is series, which aired on WABC-TV from 1977 to 1978. The show, which Van Lierop co-produced, was a news and current affairs documentary series aimed at African Americans.
Van Lierop returned to private legal practice in 1978 when he became a founding partner in the firm of Van Lierop, Burns, and Bassett in New York City. Since its founding the firm has worked in the field of sports and entertainment law as well as advising governments and large organizations on international law, constitutional law, and civil rights law.
Is a lawyer in New York who has had a varied career spanning both the public and private sectors. Fasil received his B.A. from Yale University and his J.D. from Harvard Law School. He started his career in the private sector as a lawyer at the New York law firm, Wachtell, Lipton, Rosen & Katz; which has for many years been ranked as the most profitable (on a per-partner-basis) and prestigious large law firm in the United States by a number of publications. At Wachtell Lipton, Fasil practiced in the areas of complex commercial and securities litigation, and government investigations and enforcement matters. He worked on matters involving firm clients such as Citigroup, Goldman Sachs, UBS, and the private equity firm, Apollo Global Management.
Fasil then joined the public sector in Ethiopia, where he served as Senior Policy and International Legal Adviser at the Ministry of Foreign Affairs of Ethiopia. He advised the Ministry on bilateral and multilateral relations, international boundaries, and transboundary water law, as well as institutional reform and modernization of the Ministry. He also served as the Ministry's focal person for the first annual Tana HighLevel Forum on Security in Africa, which brings together African leaders and stakeholders to engage and explore African-led security solutions.
During his time in Ethiopia, Fasil was also a visiting assistant professor of law at Addis Ababa University, where he taught a masters-level course on the law of treaties and served as a thesis adviser to several graduate students. Fasil now works with the United Nations in New York, as a legal officer within the NY Secretariat, where he litigates cases involving issues of international administrative law, labor law, and international human rights law.
Civically engaged, Fasil has been a member of the Board of Directors of the African Services Committee, a non-profit organization dedicated to providing health, legal and social services to over 10,000 immigrants and refugees from the African Diaspora in the New York area; and the Global Advisory Board for the International University of Haiti. He was also the co-founder of the Ethiopian Lawyers Association of North America. He is presently a member of the Board of Advisers of Seeds of Africa— an organization whose mission is to educate and nurture children and their families in Adama, Ethiopia. Based in New York and Ethiopia, the organization now operates a fulltime school, and a community development program that serves their mothers. Fasil also serves as a judge for the annual Lex Lead essay competition on the topics of law and development, open to students from the world's least developed countries, which awards scholarship prizes to winners.
Fasil is a term member of the Council on Foreign Relations, a Truman Security Fellow, and a member of the Council of Urban Professionals.
He has written articles on international relations and international law, and guest lectured or spoken on public international law, international relations, development and education in Africa at Stanford, Stonybrook, Addis Ababa University, Bahir Dar University, and at the United Nations Association of the USA.
Fasil has been recognized as a "Global Thought Leader" by the Huffington Post for his writing on the Nile, is a recipient of the 2010 Orphans International Worldwide Global Citizenship Award; and in 2013 was recognized as one of the Top 99 Foreign Policy leaders under the age of 33 by the Young Professionals in Foreign Policy and the Diplomatic Courier.
Panel Moderator

Bert Gervais
Founder of Success Mentor Education. Bert is a national best-selling author, speaker, and he is the Director of the Pathways to Leadership After School Program in East New York.
When & Where

Katra Lounge
217 bowery
New York, new york 10002


Tuesday, December 13, 2016 from 6:00 PM to 9:00 PM (EST)
Add to my calendar
Organizer
The Catalyst Network Foundation Inc. (CNF) is a non-profit education initiative 501(c)(3) organization based in New York City and Washington, D.C. The social enterprise is fundamentally grassroots, steered by a volunteer leadership team in New York City and Washington, D.C. In July of 2012, Ranking Congressman Ed Towns awarded a proclamation to the Foundation, in recognition of the organization's achievements.
CNF was conceived after its two founding members had a conversation about the future of youth and veterans in their community. After reviewing the lack of communal resources, skill development programs, and career-field opportunities for adults – the founders developed a vision. Through their combined efforts and strategic planning, the two founders recruited additional professionals to support the formation of Catalyst Network Foundation.
Founded in 2011, the nonprofit focuses on life enrichment and professional development, with a mission to engage high-potential youth (ages 14-25) by providing the essential tools, networks, skill-building projects, and development opportunities to maximize talent.
CNF holds a Summer Intensive Program for rising high school juniors and seniors in New York City and Washington, D.C. Successful applicants are enrolled at a CNF partnership high school. Each student receives individualized attention and internships in preparation for higher education and community service. The fellowship scholars are trained from day one: they tour corporate offices, pitch business ideas, and develop professional skills. More than 200 students have been admitted to the Fellowship Program and are CNF Fellows, 99 percent have graduated high school, and 98 percent enrolled in higher education institutions (including prestigious colleges and universities).
Through CNF's Mentorship Program, Fellowship scholars are paired with a mentor that is a trailblazer in the profession or career field the fellows aspire to pursue. The CNF Internship Program secures CNF Fellows with internships at startups, corporations, and medical institutions.
Since 2011, the Fellows have experienced corporate tours and/or pitched capstone presentations and interventions for inner-city school challenges to several companies, including: Google, Goldman Sachs, NIKE, LinkedIn, Morgan Stanley, Microsoft, HBO, Covington & Burling LLP, GAP, Bloomberg, BET, NPR, The Carlyle Group, Kaye Scholer LLP, Hughes Hubbard Reed LLP, Deutsche Bank, Infor, The Peebles Corporation, Deloitte, FOX News, and NBC Studios.
The Youth Initiative annually holds business, law, and tech symposiums at Google;college fairs; resume development, career, and college preparatory workshops throughout the academic school year, instructing more than 2,000 high school students in the aforementioned metropolitan areas.
CNF performs screenings and facilitates seamless partnership arrangements with high schools and corporations. These partnerships provide experiential learning, mentorship and new product development and concept testing for each stakeholder. I.e., City Poly Tech High School < > Infor
The organization works with American veterans, connecting them with resources and information to assist them with their career and academic ambitions.
CNF has curated more than 25 professional networking events and diversity career recruiting sessions. The organization hosts a professional mixer and panel discussion called The Meeting of the Minds (MOTM) a gathering that is held quarterly that uniquely combines networking and thoughtful policy discussion on topics affecting minority communities. The goal is to provide a forum for critical conversation on issues often ignored by mainstream media outlets.