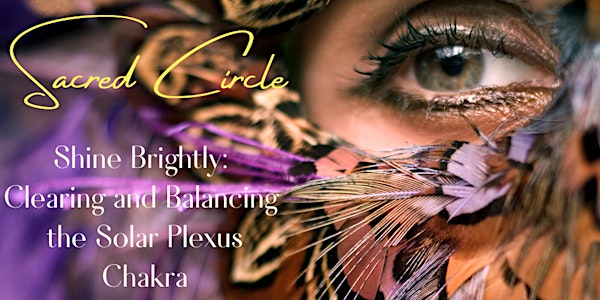 Distance Reiki and Guided Meditation for Solar Plexus Chakra
Back by request :) Join me for Clearing and Balancing the Solar Plexus Chakra so that you can "Shine Brightly" again!
About this event
Welcome to August's Sacred Circle! A safe and sacred time for women to connect. A time to release anything that is not serving your personal highest self. A time to heal. A time to reset. A time to relax. A time to tap into inspiration for your next step.
This month we will be circling back and focusing on clearing and balancing the Solar Plexus Chakra. So that you can Shine Brightly from Within!!
We have 7 bodily Chakras or spinning wheels or vortexes of energy. They are located from the base of our spine to the top of our head. Chakras can be overactive, underactive, blocked or clear, open, and balanced.
The Solar Plexus is our Chakra located above our belly button. When it is clear and balanced we easily tap into our personal power, have a stable sense of self-worth and sense of self, are able to make decisions and choices for ourselves authentically, are able to utilize our willpower and successfully move forward in our life.
When it is overactive we can feel manic, bossy, overly competitive, self-centered or egotistical. When underactive we may struggle with self-esteem, doubt ourselves and our abilities, give away our personal power, have difficulty making decisions, have issues with anger or control. Both may experience digestive issues. Overuse of stimulants or sedatives may be a sign of an under or active Solar Plexus Chakra.
This event is for you, if:
You have been struggle with opening and expanding to your highest potential
You haven't been able to gain traction on a new beginning, tasks or habits
You can't even see or undervalue your potential
You can't even imagine attracting possibilities in your life leading to bliss and joy
You give your personal power away in relationships where you are people pleasing or negate your own needs
You criticize yourself to the point of becoming stuck or frozen
You create conflict in relationships or in your career due to anger, impulsivity, disregarding other's needs, becoming overly competitive or bossy
We will start with a group Distance Reiki healing; to clear and balance all of your Chakras, but with a special focus on igniting the fire within. Then we will move into a Guided Meditation specifically written for this event (inspired by Goddess and Elemental energies) to continue your work on the Solar Plexus Chakra. Finally, I will pull an oracle card for you individually so you will have some insight and focus for continuing to work with the Solar Plexus energy.
I'm looking forward to connecting!!
Mary