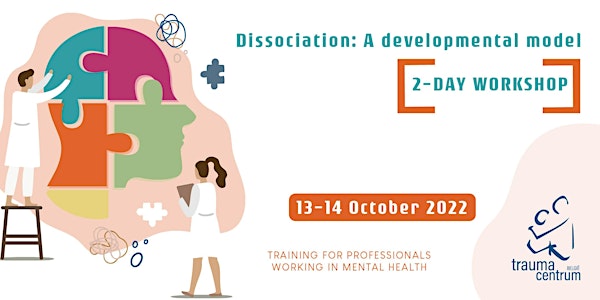 Dissociation: A developmental model (2-day workshop)
1 - Practical information 2 - Introduction 3 - Learning objectives 4 - Program 5 - About Traumacentrum Belgium
Refund Policy
Contact the organiser to request a refund.
Eventbrite's fee is nonrefundable.
About this event
1 - Practical information
For who? This 2-day training is designed for professionals; psychiatrists, psychologists, psychotherapists, (mental) health care workers, educators, ...
When? 13-14 October 2022
Location? Online
Price? 150€
Organised by: Traumacentrum België - Doris D'Hooghe.
Questions? Contact - Traumacentrum België or via email at info@traumacentrum.be
Doris is a member of:
ABP-BVP (Belgische vereniging voor Psychotherapie)
BIP (Belgisch instituut voor psychotraumatologie)
ISSTD (International Society for the Study of Trauma and Dissociation)
ESTD (European Society for Trauma and Dissociation)
IAAN (International Association of Applied Neuroscience)
CTRN (Childhood Trauma Recovery Network)
C&A Committee of the ISSTD
ISSTD Child Dissociative Guidelines Taskforce
2 - Introduction
Trauma and dissociation are inevitably intertwined. It has been observed that trauma affects different parts of the personality e.g., neurobiology. Re-defining dissociation as a "disruption" of development on different levels of the personality imposes itself. The developmental stage in which the trauma occurs defines which parts of the personality are damaged and can be classified as corresponding dissociative continuums e.g., the dissociative neurobiological continuum. The continuums also involve a development in which the client can move back and forth from freeze to hypo-freeze and back. Our therapeutic Integration Model includes a proper assessment that underlies a unique, variable treatment.
3 - Learning objectives
Participants will be able to define dissociation from a developmental point of view.
Participants will be able to apply the knowledge to their practice.
Participants will be able to reconstruct the symptoms into corresponding dissociative continuums.
4 - Program
Day one: 13/10/22
Part 1: 9u-10.30u
Trauma?
Trauma
Traumatic stressors
◦ Man -made
◦ What you need to know
◦ Betrayal trauma
Trauma and dissociation
"Invisible Attachment Trauma"
◦ Interruption
◦ Ghosts in the nursery
◦ Intergenerational
◦ Ineffective regulation
PAUZE 10.30u - 11u
PART 2: 11u-12.30u
Attachment and dissociation
◦ Early childhood trauma
◦ Primal wounding
◦ Annihilation anxieties
◦ Pre-natal bond
◦ Pre-natal trauma
◦ Causes
◦ Conclusion
◦ Birth Trauma
◦ Sequential trauma
PAUZE 12.30u – 13.30u
Part 3: 13.30u-15u
Trauma impact the developmental trajectory
DMD
◦ Core concepts
◦ Authentic self
◦ The self cannot be damaged
◦ The self in relation
◦ A person consists of several parts
◦ Re-defining dissociation
◦ Aim of disruption
PAUZE: 15u - 15.30u
Part 4: 15.30u - 17.00u
◦ Continuum
◦ Hierarchical
◦ Vertical
◦ Horizontal
◦ Moving back and forth
Day two: 14/10/22
Part 1: 9u - 10.30u
Dissociative relational continuum
◦ Safety
◦ AT and safety
◦ Avoidant
◦ Ambivalent
◦ Disorganized
◦ Infanticidal
◦ Non-attachment
Dissociative continuum of needs
◦ Human needs
◦ Maslow
◦ Attachment and needs
◦ "Invisible Attachment Trauma"
◦ Foreclosure
◦ Attunement
◦ Connection
◦ Trust
◦ Autonomy
◦ Love & sexuality
◦Detachment
◦ Triangle
◦ Detachment
◦Non-attachment
PAUZE 10.30u - 11.00u
Part 2: 11.00u - 12.30u
Dissociative neurobiological continuum
◦Trauma & brain
◦Effect of trauma
◦Over-activation of the amygdala
◦ANS
◦ Polyvagal
◦ Active freeze
◦ Flight
◦ Fight
◦ Shut down/fright
◦ Hyper freeze
◦ Hypo freeze
◦ Dissociative death
Dissociative somatic continuum
◦AT and the body
◦ Secure
◦ Insecure
◦Sensory proccessing disorder
◦Somatic disorders
◦Somatic flash back
◦Hallucinations
◦Out-of body experiences
◦Dissociative death
PAUZE 12.30u - 13.30u
Part 3: 13.30u - 15.00u
Dissociative emotional continuum
◦Attachment
◦ Effective regulation
◦ Ineffective regulation
◦Affectdysregulation
◦Alexthymia
◦Dissociative emotional part
◦Psychopathology
Dissociative cognitive continuum
◦Normal cognitive development
◦IWM
◦Mentalising
◦Introject
◦Distortions
◦Cognitive splitting
◦Cognitive flashbacks
◦Delusions
◦Psychotic disorders
PAUZE 15.00u - 15.30u
Part 4: 15.30u - 17.00u
Dissociative continuum of sense of self
◦Authentic self
◦Self in relationship
◦Self-coherence
◦Self-confusion
◦Identification
◦Identification loss
Dissociative transpersonal continuum
◦Spiritual needs
◦Spiritual experience
◦Higher self
◦Integration
◦Loss of hope
◦Transpersonal crisis
◦Dissociation from spirituality
◦Identification with spirituality
◦Horizontal
◦Vertical
5 - About - Traumacentrum Belgium
On a daily base, people of all ages are traumatized.
Trauma can be a single-time event or repeated, chronic.
Trauma can be caused by impersonal stressors such as a flood, a car accident....
Trauma can also be caused by people such as war, rape, bullying…
When trauma is caused between the parent and the child we speak of attachment trauma. Trauma is a unique experience and there is no hierarchy of pain
These experiences and events leave a deep impact on the person, to the extent that functioning on different levels becomes difficult if not impossible.
Trauma Center Belgium offers a team of specialists, equipped with their experience and knowledge, ready to provide a sound and well-founded treatment.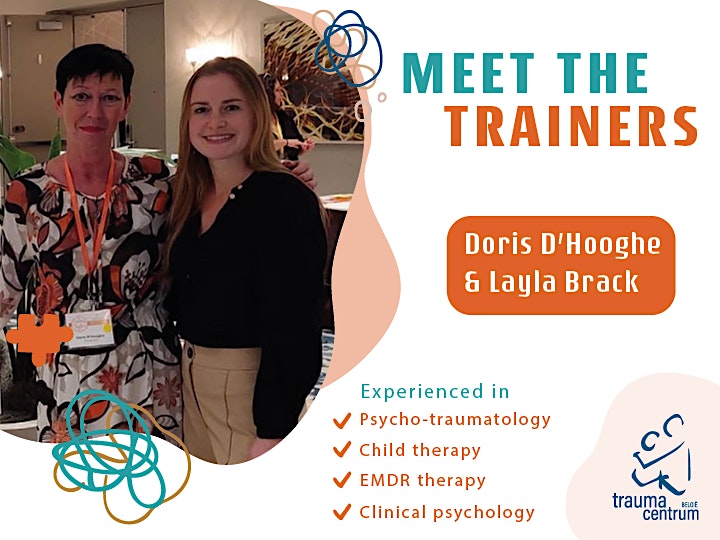 Doris D'Hooghe is a Psychotraumatologist, Integrative Child therapist, and EMDR Practitioner. She started her career as a psychiatric nurse and has over 35 years of experience as a psychotherapist and child therapist.
She is the founder of Trauma Center Belgium (www.traumacentrum.be) and has been working for 30 years in private practice where she offers therapy for complex trauma in children, adolescents, adults, and the elderly. Her special focus is on the complex consequences of early childhood trauma and the development of treatment models.
She took several courses such as Gestalt Therapy, Group Therapy, Transpersonal Psychology, Integrative Child Therapy, Psychotraumatology, and EMDR.
As a specialist in early childhood trauma in an attachment relationship, she developed the concept of "Invisible Attachment Trauma" (see the publication "Seeing the unseen: Early Attachment Trauma and The Impact on Child Development" in the Journal of Child and Adolescent Behavior and "Invisible Attachment Trauma" by Doris D'Hooghe. A brief review. LinkedIn). She contributed to the book "The Neuroeducation Toolbox: Practical Translation of Neuroscience in Counseling and Psychotherapy". With author Frauke Heyde, she wrote a self-help book for children with PTSD, "Oscar en het avontuur in de speelgoedkist" published by Garant.
Her work is mainly inspired and based on the fusion of Psychology, Neuroscience, and Spirituality.
She works with an intense belief in the healing capacity of the client and the uniqueness of each individual.
For the last 10 years, she has been a much-approved teacher and speaker nationally and internationally. On LinkedIn and www.traumacentrum.be you can find an overview of the training, workshops, articles, etc.