Description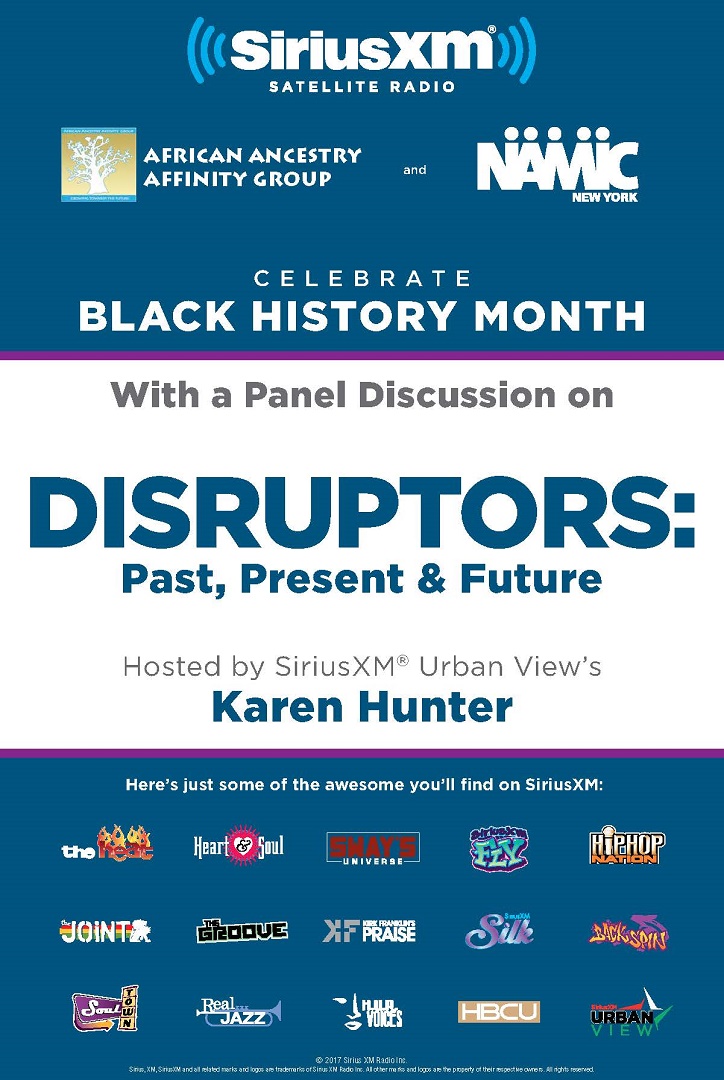 SiriusXM's African Ancestry Affinity Group in Partnership with the National Association for Multi-ethnicity In Communications present:
Disruptors: Past, Present & Future
Join us for an enlightening dialogue with African American disruptors who are agents of positive change within their industries and communities. Moderated by Karen Hunter, host of The Karen Hunter Show on SiriusXM Urban View, Ch. 126, the event will serve as a platform to discuss how we all can make an impact today that will shape the future.
Panelists to include:
Lindsey Day is the Co-Founder and Editor-In-Chief for CRWN Magazine. CRWN Magaizne celebrates natural hair and the women who wear it and is published quarterly. CRWN has been featured by Essence, Nylon, Elle, and Saint Heron. Lindsey was recently selected by The Huffington Post as one of seven Black Innovators Who Are Creating A Better tomorrow.
Shawn Wilson comes to us from the Ford Fund where he leads efforts to increase Ford Fund's presence and investment in social and economic mobility issues. Shawn has also worked with high net worth individuals, most notably Usher Raymond IV, to develop non profits to address varied areas of need.
Michael Garner is President of One Hundred Black Menof NY. One Hundred Black Men initiatives focus on education through mentoring, wealth building strategies, fostering economic development and raising awareness of health issues affecting our communities.
Nikole Collins-Puri is the CEO of Techbridge Girls. This organization encourages girls of color with low income backgrounds to explore STEM fields through after school programs and summer programs designed especially for them. Techbridge has been recognized by President Obama's White House on several occasions as well as the National Afterschool Association.
The event will be hosted at SiriusXM's NYC studios. Located at 1221 6th Avenue on the 36th floor, on February 22nd from 6 – 8 pm.
There will be a welcome reception from 6 – 7 pm, followed immediately by the panel discussion.
Guests must be 21 or older and bring valid photo I.D.