Disruptive Technology Transformation-4th Industrial Revolution: Opportuniti...
Description

Disruptive Technology Transformation: Opportunities and Challenges

Date: 13 September 2018
Time: 8:30 am - 5:00 pm
Venue: Dewan Seminar, Fakulti Teknologi Maklumat & Komunikasi, UTeM, Melaka
---
Come join us for the latest updates on IoT, Blockchain, Smart Cities, Virtual Reality, IoT framework and see the opportunities and challenges ahead on 4th Industrial Revolution. Great event to listen to the experts and see some of the showcases on IoT, 4IR and Makers initiative towards a Digital Transformation in Malaysia.
Each company / organization is limited to two FREE registration. Do register earlier for approval. Seats are limited and a great platform for networking and see the best in 4IR.
---
Agenda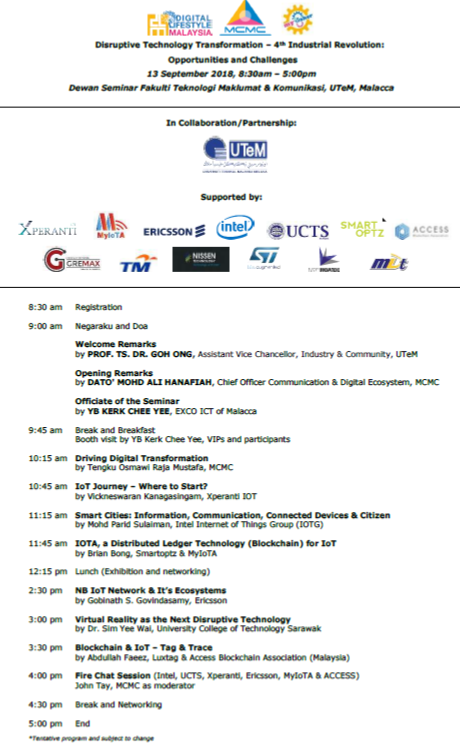 Visit our IOT, 4IR and Makers showcases as well.

If you are an IoT solution providers / Makers 4IR and interested to be part of our initiative, do get in touch with us as well at DLMreg@cmc.gov.my or john.tay @ cmc.gov.my


Thanks and see you there.