DisrtuptionEDU summits aren't your everyday PD... it's big ideas, immediate take-aways, building connections that inspire,... and FUN!
About this event
What: This is the un-conference and the days are structured around meaningful engagement. Participants will engage in conversation, brainstorming sessions, and will be on the go! Our mission is to inspire disruption and create moments that shift the paradigm for how we see and do school.
We'd love to see you both days, but the summit is organized so you can attend a single day as well.
Day 1: Culture as the Catalyst: Accelerating Change and Innovation
Day 2: Shifting the Needle: Why, What-If, and Do We Need to That?
The WHY matters: Why does disruptive leadership matter?  It's about unlocking potential and rethinking the foundations of leading and learning.  As school leaders, the most powerful tool we have is the culture we create. School culture is the elasticity that allows a school to grow and stretch.  Creating a disruptive culture centers around questions that ask, "why," "what if" and "do we need to do that." Simply, disruption aims to challenge a status quo culture that often protects and perpetuates school as usual.
Summit Takeaways:
A framework to implement disruptive leadership in your school/district

Practical examples and review of model schools

A network and resources to further learning post-conference
Summit Learning Objectives:
Rethinking the role of school leader as lead learner
Model and explain "disruptive leadership"

Understand the attributes that create a  disruptive moments for your staff

Introduce a framework to create and sustain a culture of positive disruption
Summit Capacity is 40 participants.  This summit is designed to be interactive and meaningful.  We believe that keeping a capped size to the event ensures all participants can connect, network, and create momentum post-summit.  
Fee includes materials, continental breakfast, and lunch.
DisruptionEDU recent publication:  The Fork in the Road of Education: Distinguishing between the limits of innovation and the possibilities of disruption to change school culture.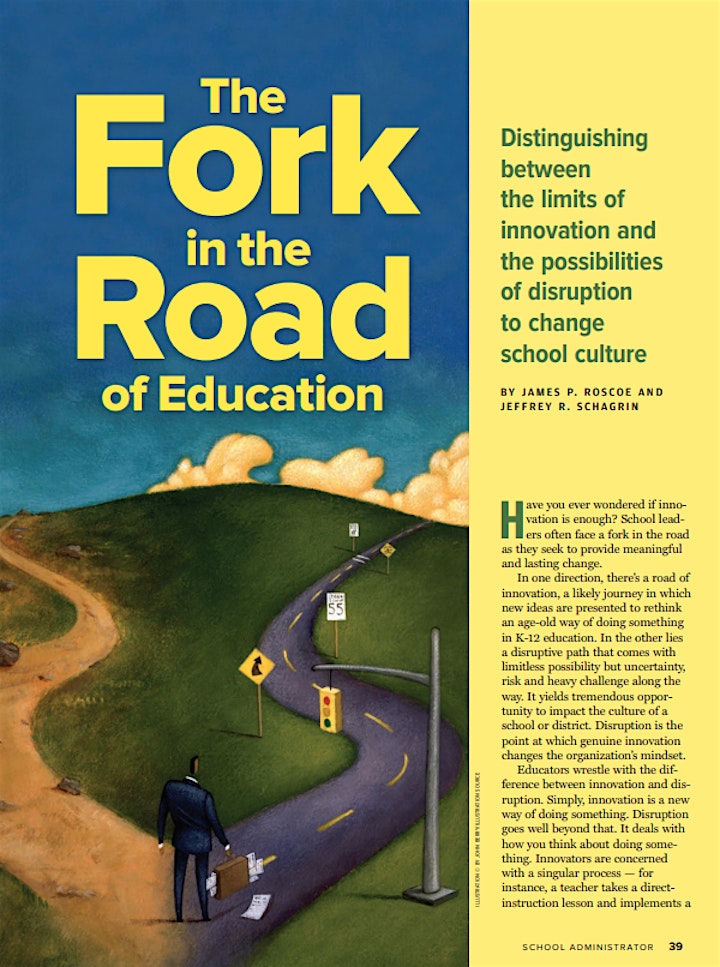 Organizer of DisruptionEDU: Leadership Summit - Peoria, IL
Dr. James Roscoe and Dr. Jeff Schagrin are the co-founders of DisruptionEDU, an education think-tank committed to leading, modeling, and sharing ideas and research that inspire what education can and will be.  
Dr. James Roscoe is currently the Principal at Grayslake North High School and brings over 25 years of experience in innovative teaching practices and disruptive leadership. He was recently selected as a finalist for the 2019 Illinois Golden Apple Excellence in Leadership award and has been recognized as Principal of the Year by the IPA. James is a national presenter on topics of Disruptive Leadership, Student Voice and Engagement, and Backwards Curriculum Design. He is passionate about transforming education, focusing on practices that disrupt the status quo to improve the learning environment for all students and staff.
Dr. Jeff Schagrin is currently the Associate Principal for Curriculum and Instruction at Grayslake North High School and co-founder of DisruptionEDU.  Jeff teaches courses in Educational Leadership at Western Illinois University and has presented extensively on topics in leadership, student engagement, school culture, and program evaluation. He is passionate about rethinking education, focusing on models that disrupt education to increase authentic engagement for students and faculty.