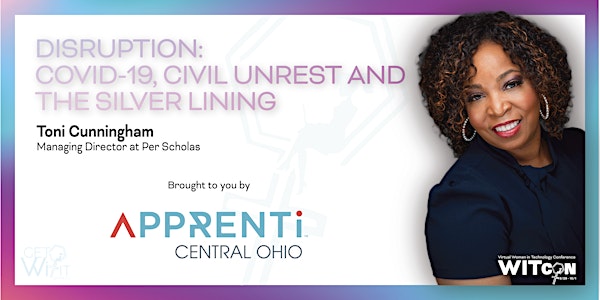 DISRUPTION: Covid-19, Civil Unrest and the Silver Lining
Virtual WITcon Event Series
About this event
DISRUPTION: Covid-19, Civil Unrest and the Silver Lining
Featuring: Toni Cunningham
Event Sponsor: Apprenti
Event Link: https://us02web.zoom.us/j/86889846164
SUMMARY:
Covid-19 and civil unrest have become the inconvenient truths of today. In the wake of these two phenomenons, many of us have had to reexamine our beliefs and, in some cases our entire careers. In this discussion we will explore how our perception of DISRUPTION can set us on a path of self-discovery that will either make us or break us both personally and professionally. The goal of the session will be to share how we can use the inconvenience of DISRUPTION as a positive strategy for getting us to our next in both our personal and professional lives.
BIO:
Toni Cunningham is an accomplished leader, motivator, workforce development professional and reboot strategist. As a Managing Director with Per Scholas, Toni provides the vision, operational, and executive leadership for the Columbus team. A seasoned marketing and communications expert Toni's career includes roles with the Columbus Urban League, American Electric Power, Founder and Principal at Image Anu, LLC. In addition to growing funding, investments, and stakeholders, Toni is a highly sought after conference speaker, presenter and workshop facilitator for organizations like Dress For Success, Women Economic Leadership Development, National Urban League, and Women In Tech.
A resident of Columbus, Ohio, Ms. Cunningham's community and board involvement runs deep. Most recently: Black Tech Columbus Co-Founder, Franklin County Tax Incentive Review Commission and, American Association of Blacks In Energy. Committed to excellence and continuous learning, Toni earned her Master of Science in Marketing and Communication with Franklin University and Bachelor of Science from Ohio Dominican University. She's also a 2019 American Express Leadership Academy Fellow.
Authentic and relatable, Toni is adamant about helping others accomplish their career goals. Her journey reflects what happens when, as she puts it, we find "work in roles that match our souls". The many awards bestowed upon Toni substantiates her leadership, impact, and results. Including the naming of Per Scholas as one of Columbus Foundation's Top 5 Nonprofits to Watch in 2018, Women For Economic Leadership And Development 2020 Honoree, BizTech Columbus Business First 2019 Executive of the Year, and Smart Business Magazine in 2018 Smart50.