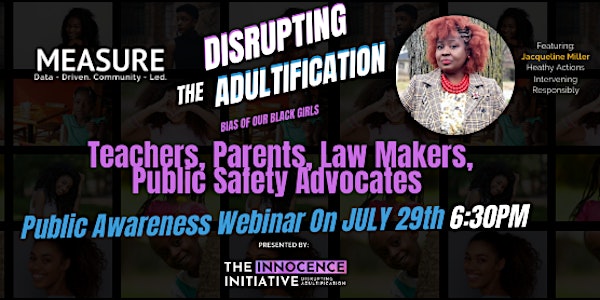 Disrupting Adultification Bias To Protect Black Girls
Join us for a webinar training as we explore adultification bias, intersections and the impact.
Refund Policy
Contact the organizer to request a refund.
Eventbrite's fee is nonrefundable.
About this event
Join us for a webinar training led by Jacqueline Miller as we explore the different methods of adultification bias, intersections and it's impact. You'll acquire knowledge on how to apply practical lessons learned in your place of work as well as at home as we fight against the unfair treatment of Black girls.
Three dominant paradigms of Black femininity that originated in the South during the period of slavery have persisted into present-day culture, which "paint Black females as hypersexual, boisterous, aggressive, and unscrupulous":
• Sapphire (e.g., emasculating, loud, aggressive, angry, stubborn, and unfeminine);
• Jezebel (e.g., hypersexualized, seduc- tive and exploiter of men's weak- nesses); and
• Mammy (e.g., self-sacrificing, nurturing, loving, asexual).
These images and historical stereotypes of Black women have real-life consequences for Black girls today. For example, "teachers may subconsciously use stereotypical images of Black females ... to interpret Black girls' behaviors and respond more harshly to Black girls who display behaviors that do not align with traditional standards of femininity in which girls are expected to be docile, diffident, and selfless." Such "tainted perceptions ... result in patterns of discipline intended to reform the femininity of Black girls into something more 'acceptable.
MEASURE will continue our work to eliminate adultification bias by unpacking the "sapphire" stereotype in which still results in the unfair treatment of Black girls.
Presented by Jacqueline Miller, Founder of Healthy Actions Intervening Responsibly