Description
** DISRUPTHR TAMPA 2019 IS SOLD OUT. LOOKING FORWARD TO SEEING YOU ALL THERE MAY 9TH! **
WHAT IS IT?
Disrupt is a night of short, focused talks from business leaders and professionals who want to share their stories and big ideas for disruption in the workplace.

THE RULES:
14 presenters, 20 slides, 15 seconds/slide = 5 minute talks on anything to do with people, talent, culture, technology, and work. The audience is encouraged to interact - clap, laugh, cry, tweet, text - just play nice :)
SHOULD YOU ATTEND?
DisruptHR is a high-energy idea forum designed to inform and empower executives, business leaders, people in the human resources field and anyone, really, who is PASSIONATE ABOUT HUMANS IN THE WORKPLACE. If you're a business leader, a CEO, a technologist, a community leader, an HR professional, or someone who is simply passionate about people and work, then DisruptHR is the place to be.
*Last year's event sold out twice, so reserve your spots early!
Registration will be closed on May 8th to the public or when the event is sold out. Door tickets will only be available if the event is NOT sold out in advance and are limited to first come first serve basis due to room capacity. Tickets are the door are $80 per person.
WANT TO BRING YOUR TEAM?
Contact us (disrupthrtampa@livinghr.com) for details and a group discount code.
SHOULD YOU APPLY TO BE A SPEAKER?
*Talk submissions are closed for this year. Thank you to all who submitted your ideas!*
2019 Speaker Lineup:
Ian Barkin, Chief Strategy & Marketing Officer, SYKES
Jamie Egasti, Board Director, Advisor, Investor
Kristin Greco, CEO, PAR & InVista
Monica Jaramillo, North America People Area Leader, Gerdau
Jay Kuhns, SVP of HR Strategy, Kinetix
Jamie Lawless, Executive Director, Baker McKenzie
Thomas Mantz, President & CEO, Feeding Tampa Bay
Heather McBride-Morse, VP of HR, Fiserv
Scott Miller, Director of Business Transformation, WellCare
Sofia Reed, AVP of Business Operations, Development & Training, National Diversity Council
Inga Schmitzer, Director, HR Business Partnership, Tech Data
Cherie Silberman, Partner, Constangy, Brooks, Smith & Prophete
Rebecca Snyder, SVP of Development, Strategic Property Partners
John Wilson, CEO, WilsonHCG

WANT TO JOIN US AS A SPONSOR?

Awesome! We have exciting sponsorship opportunities this year. Reach out to us at disrupthrtampa@livinghr.com for more information. 2019 Sponsorship highlight: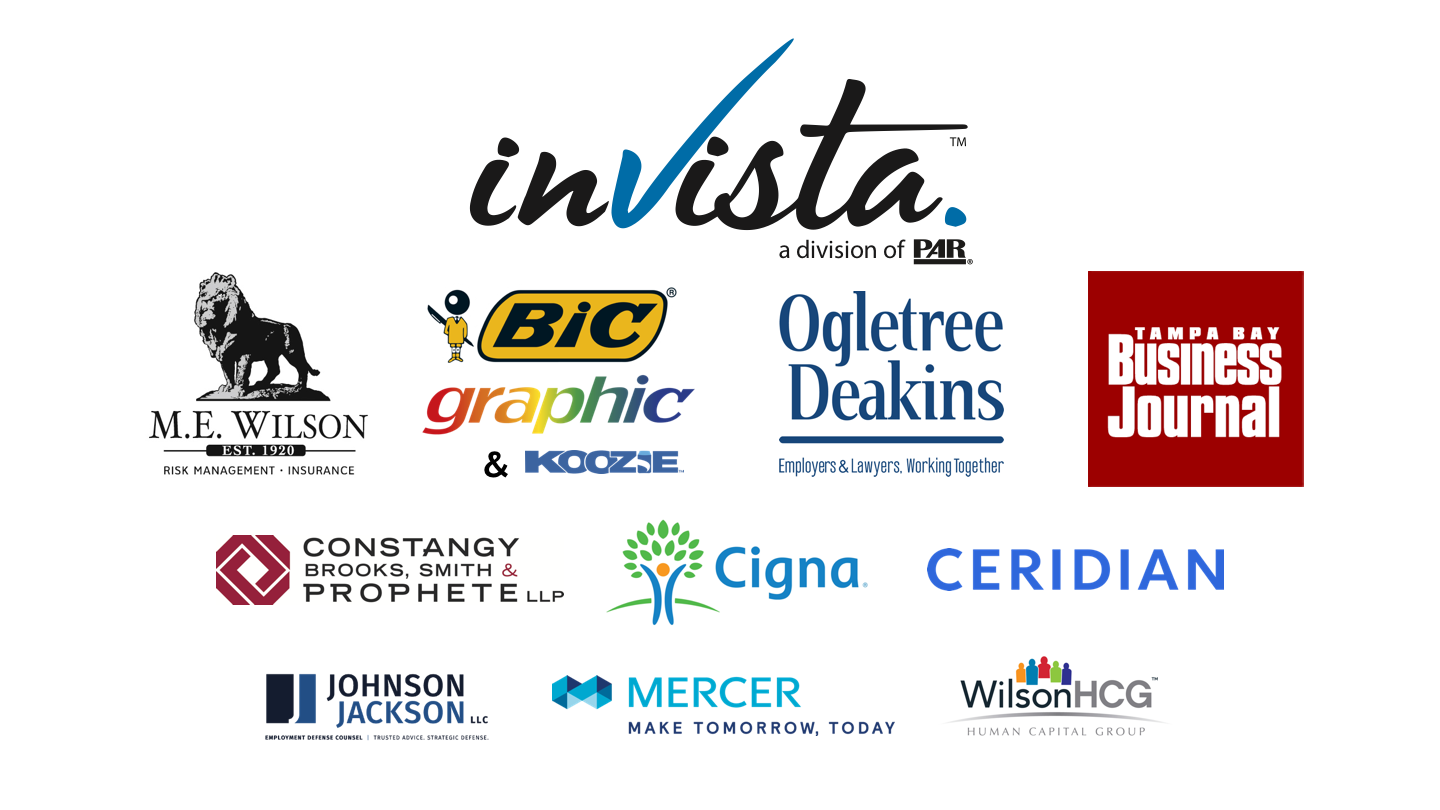 SUPPORTING OUR NON-PROFIT EVENT PARTNER
Our friends at Feeding Tampa Bay will receive a portion of event proceeds.
________
ANY OTHER QUESTIONS?
Reach out to us at disrupthrtampa@livinghr.com.