Sales Have Ended
Ticket sales have ended
Visit www.mranet.org to see all our upcoming events!
Sales Have Ended
Ticket sales have ended
Visit www.mranet.org to see all our upcoming events!
Description
MRA is (extremely) excited and a little proud, too, to bring the first DisruptHR event to you in the Quad Cities.

What is it?
DisruptHR QC is a night of short, focused talks designed to energize, inform, and empower HR leaders, business professionals, and community leaders who are interested in disruptive ideas and moving the collective thinking forward when it comes to talent in the workplace.
Presentations can be about anything as long as they pertain to talent and the future of work. They are energetic, thought-provoking, and high-impact. Each speaker will have 5 minutes, 20 slides rotating at 15 seconds each to blow your mind!

Who attends?
Disrupt talks are attended by C-suite leaders, community leaders, technologists, managers, and yes, even a few HR professionals.
What is the agenda?
5:30 pm - 6:30 pm: Disrupter registration, enjoy a signature cocktail, plentiful hors d'oeuvres, and networking.
6:30 pm - 7:15 pm: Listen to awesome DisruptHR speakers. The audience is encouraged to interact - clap, laugh, cry, tweet, text, and share the experience with each other and the world.
7:15 pm - 7:30 pm Networking! Meet some new faces, talk some new ideas, and check out what the cool sponsors are offering!
7:30 pm - 8:15 pm Listen to more awesome DisruptHR speakers and let them and the world know what you think - clap, laugh, cry, text, tweet, and share the experience.
8:15 pm - 8:30 pm: More networking, then leave disrupted and ready to create change!

The Speakers
Here is the lineup of speakers for our inaugural DisruptHR Quad Cities event. Remember, each speaker has only 5 minutes to blow our mind! The audience is encouraged to interact - clap, laugh, cry, tweet, text, and share the experience with each other and the world.
Leading with Luminescence
Jon Sexton, PhD, SVP Culture and Leadership Development, Vibrant Credit Union
Robots Vs Aliens: HR's New B Horror Story
Shawn Driscoll, HR Doomsman, Midwest Dry Transload
Why an empty office can be a good thing, or better yet, why even have an office?
Michael Lawrence, Founder & CEO, BluJaket
Namaste: Bringing Mindfulness into the Workplace
Kelly Noel Rasmussen, Senior Account Coordinator & Business Manager, Strategic Partners Marketing
Employee-Driven Incentives
Richard Whitaker-PHD, CEO, Vera French Community Mental Health Center
Unlimited Paid Time Off- Are You for Real?
Hana Strickler, Controller, Grace Engineered Products Inc.
Change the Game to Win the Game
AJ Loss, President, Bush Construction
Reprogramming Your Ecosystem
Souligna Stone, Owner, Stone Media Source
Getting the Right People On Your Bus
Patrick Fisher, President, CharacterMeasures
Do you really need a piss test?
Steve Ducey, Chief Experience Officer, Vibrant Credit Union
Interested in disrupting the Quad Cities HR scene?
Speaker submissions for the 2018 event have closed. But, If you have something to share, an idea you want to test out, or something you've always wanted to say about the future of HR and talent, let us know and we'll keep you in mind for our next event! Meanwhile Watch these awesome talks from Disruptors across the world or from our Des Moines or Minneapolis- St. Paul events.
Sponsors
Thank you to all our awesome sponsors!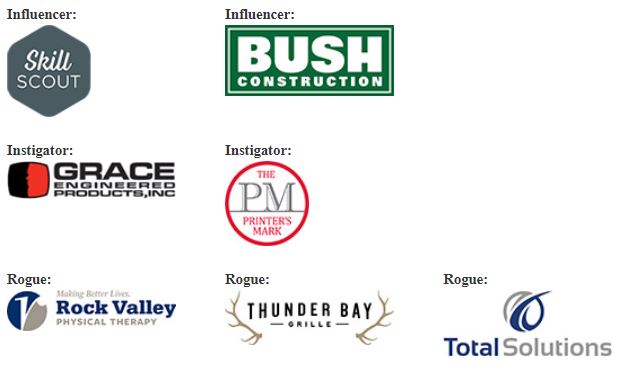 Influencers: SkillScout and Bush Construction
Instigator: Grace Engineered Products, Inc., The Printer's Mark
Rogue: Rock Valley Physical Therapy, Thunder Bay Grille, Total Solutions
Want to get your brand in front of the Quad Cities most progressive HR audience?
Send DisruptHR Quad Cities an email if you're interested, and we'll find a package that works best for your business and brand.
FAQs
What can I bring into the event?
Bring your mobile device to share your tweets and posts about the event but that's all you will need.
How can I contact the organizer with any questions?
Please send any questions to DisruptHRQC@mranet.org and someone will respond to you no later than the next business day.
What's the refund /ticket transfer policy?
We are not able to do refunds. All sales are final. If you can't make it, be sure to give your ticket to someone who would benefit from attending!
Photo/Video Disclaimer:
As part of the DisruptHR Quad Cities experience photos and videos will be taken at the event. The DisruptHR Quad CIties organizing team and MRA, it's presenting sponsor, reserves the right to use the photos and videos for promotional and marketing purposes, using whichever channel it chooses (e.g. LinkedIn, Facebook, Twitter, You Tube, etc). By purchasing a ticket to DisruptHR Quad CIties you agree to this disclaimer.