Description
We kindly ask anyone who sells products or services to HR (coaches, consultants, staffing agencies, HR tech providers, etc.) to purchase a vendor donation ticket. Or please contact us at disrupthrchi@gmail.com to inquire about additional sponsorship opportunities.


Overview
DisruptHR Chicago is an information exchange designed to energize, inform and empower executives, business leaders and professionals in the vast and important fields of Human Resources. We are about blowing up the norms to which we've fallen prey, innovating, and creating a more meaningful, rewarding, and engaging experience from this thing called work.


The Event
10 speakers with a recognized voice and something really disruptive to share will be given 5 minutes each to wow you - they'll do it while 20 slides advance automatically every 15 seconds. It's energetic, thought-provoking, and high-impact. We've identified some of the best in the area to take the stage.
Here's an example from our September 2017 event just to whet your appetite: VIDEO
The ticket price includes beverages (adult and otherwise), food, incredible content and awesome networking opportunities interspersed throughout the evening. And all of it in a cool place that is becoming synonymous with innovation in Chicago - 1871!


High-Level Agenda
5:30 - 6:00 pm Networking (appetizers and drinks)
6:00 - 6:10 pm Welcome, Intros, and Housekeeping
6:10 - 7:15 pm Our Disruptive Speakers do some Disrupting
7:15 - 7:30 pm Speaker Q&A and Closing
7:30 - 8:00 pm Networking (dessert and drinks)



The April 2018 Speaker Lineup
Gary Hallgren, President & Steph Ryter, Creative Culture Leader at Arity: "How to collaborate with the CEO to build a rockin' company culture"

Michele Steele, Reporter & Host at ESPN: "Locker Room Talk: Succeeding as a woman in male-dominated spaces"

David Aronson, Founder & CEO at Peanut Butter, Inc.: "Debt got your employees down? Using student loan assistance as a retention tool"
Aideen Shea, VP Learning & Development at Byline Bank: "Putting YOUR career first: What every HR professional needs to know"
John Higginson, Chief Technology Officer at Enova: "Why does the white guy support diversity?"
Ariadne Ducas, Founder & Chief Meditation Officer at Kairos: "Mindful disruption - attention is everything"
Allison Robinson, Founder & CEO at The Mom Project: "Power of the mom! Why we are failing mothers at work"

Jennifer Fondrevay, Chief Humanity Officer:"Do not be a robot!"
Heather Corallo, Rock Star Serial Entrepreneur: "You can't solve bad leadership with an app!"
Theresa Stewart, HBIC (colored) at 18 Coffees: "HRtifacts: Using co-creation and human centered design in your organization."

Thank you for being a supporter of the DisruptHR Chicago initiative - it's an important one, and it's more powerful now that you're part of it. We look forward to seeing you on April 18, 2018!
Quick Note: Given our administrative constraints, no requests for refund can be accepted after April 11, 2018. Thank you for your understanding.
Once you register on Eventbrite, your name, title and company will be visible to other participants to support networking opportunities.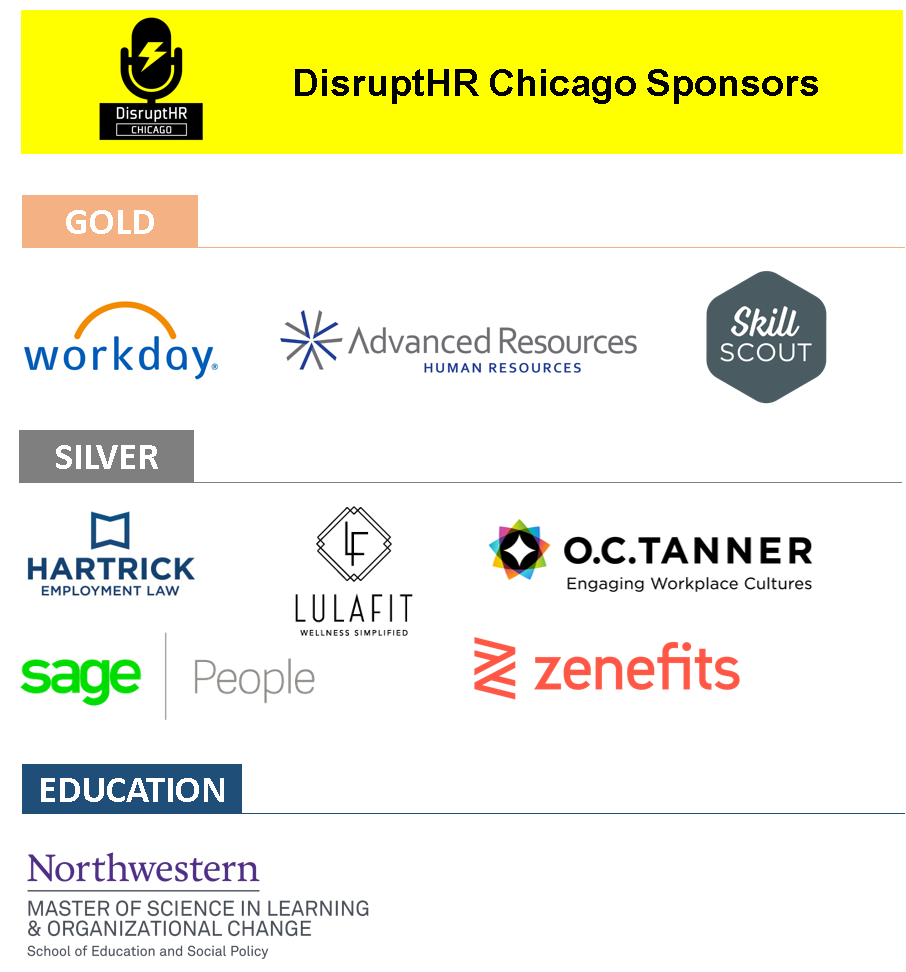 Don't see your logo here? Contact us at disrupthrchi@gmail.com to inquire about sponsorship. But hurry! We have only a few slots left for 2018.