Description
Disrupt Madison 3.0 is a night of thought-provoking talks from experts and professionals who want to share their ideas on how we can move our talent thinking forward. It's a fast-paced event experience with a unqiue format: each speaker has 5 minutes, 20 slides rotating each rotating every 15 seconds each. It will blow your mind! Part entertainment, part education it's a not-to-be-missed event experience that will really move you to action.

Disrupt is a high-energy idea forum designed to inform and empower executives, business leaders, people in the human resources field and anyone, really, who is PASSIONATE ABOUT TALENT and learning more about the world of work. Check out these Disrupt videos to get a sampling of what to expect.

Our mission is to move the dialogue forward and empower you to take ACTION to CHANGE the world of work.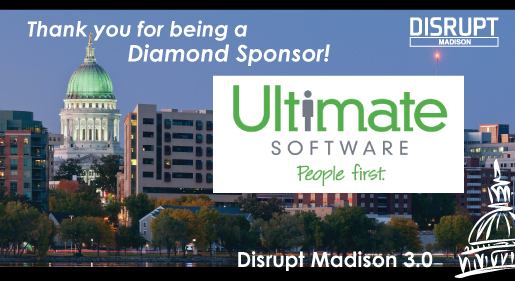 Our event is made possible with the generous support and sponsorship by our friends at:
Our amazing sponsors are leading the way in HR and Talent. We believe that it's important for the HR Community and Sponsors to stay connected. Our sponsors appreciate keeping you informed about how they are Disrupting the world of work. We are excited to be part of the inagural CultureCon June 6-7, 2018 in Madison, Wisconsin. (Use code Disrupt18 to save 10%)

Disrupt Madison 3.0 Timeline

5:00 p.m. Doors open and relationship building (networking)

6 p.m. Talks start

8 p.m. After party
9 p.m. The end....or is it?
Speaker lineup- so far we've announced:

Rachel Werner, "The 'F' Factor: The Falsehood Behind Feminisim"

Amber Swenor "Video Creates the Star"

Neil Mathweg "Trailing Spouses: How to Hit the Ground Running"

DP Knuden " BRAND vs COMMODITY: If You're Not the One You Are the Other"

Charles Warner "Selling the Story: Lessons From Silver Screen Dreams"

Jenie Gao Creativity, Connection and Consciousness: Our Survival Strategies

Michael Hann "Surviving to THRIVING: How to Avoid Burnout, Metabolize Stress and Design a Winnable Game"

Nick Dillion "How Do You Show Up? The Proactive Approachto Workplace Bullying"
???? (one more speaker to be announced!)

Terms & Conditions
NOTE: Ticket includes one adult beverage courtesy of our friends at Ultimate Software. Venue offers cash bar.
(Tickets are nonrefundable but are transferrable),
Disclaimer:
As part of the Disrupt Madison experience photos and videos will be taken at the event. The Disrupt Madison organizing team reserves the right to use the photos and videos for promotional and marketing purposes, using whichever channel it chooses (e.g. Facebook and Twitter). By purchasing or receiving a ticket to Disrupt Madison 3.0 you agree to this disclaimer. Disrupt Madison, or its agents, does not assume liability for adverse reactions or medical complications to foods or beverages, consumed or items one may come into contact with, while at the event, and the attendee of the event does so at his/her own risk.

About the ORAGANIZERS
Coreyne Woodman-Holoubek is an entrepreneur and progressive HR Expert with 15 plus years of global business, leadership, and strategic HR experience. Coreyne recognized her affinity for Human Resource leadership during her first year of the International Business program at the University of Brighton, England, UK. She then went on to complete her Masters in Personnel and Development, studying the cognitive process of knowledge transfer in organizations. Coreyne's first official HR position was at The Wrigley Co. UK, where she was empowered by her manager to spearhead the company's 360 Degree Feedback initiative for the UK as part of the Europe, Middle East, Asia and India team. Fast forward 15 years, various roles in strategic Human Resources, a marriage and two daughters; Coreyne now leads the HR team for Contracted Leadership, a business co-owned by her husband Bruce Holoubek. Coreyne and her team partner with CEOs and business leaders to develop customized HR programming and initiatives that align organizational talent and human potential to strategic organizational goals and objectives. Contact Coreyne at: coreyne@theapugroup.com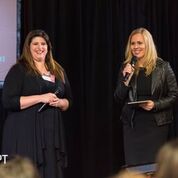 Laura Gmeinder is a "Passion Igniter"; those in the know would tell you she is a top rated speaker, coach and consultant. Her sweet spot is the intersection of leadership development and business strategy.

Laura survived a quarter life crisis, harnessed her reawakened sense of adventure, left corporate job and set out to make an impact in the world. She's proud to share what's possible when you put your mind to it: Laura is a 2018 BRAVA Woman to Watch, an In Business Magazine "40 Under 40", honored for her business savvy and civic contributions and an Young Professional Athena Award nominee. She serves in leadership for the Doyenne Group,is a past president of the Junior League of Madison and Leadership Greater Madison alumnae. She is the a featured contributor for the International Coach Federation (ICF) Coach World and served as a coach for the Emerging Women Live conference (deemed a "Top Women's Conference" by Forbes). Her expertise has been shared in the media for outlets like Huffington Post, US News & World Report and Wall Street Journal MarketWatch (talking about Taylor Swift no doubt). She strives to live an interesting life; the above was accomplished in the spirit of "Do one thing every day that scares you." Contact Laura at laura@lauragmeinder.com