Hear what new technologies Japanese companies are bringing to Disrupt 2020. This pitch event will introduce 6 selected Japanese startups.
About this event
OVERVIEW
JETRO and US-MAC have chosen 6 of the top Japanese startups in video recording technology, Enterprise AI, self-care app, Clean Tech, Travel Tech, source code marketplace to participate in this dedicated program. All 6 Japanese startups either have patents for their respective innovations.
Pitch 1 : AMATELUS (SwipeVideo)
AMATELUS created SwipeVideo, a new video recording technology, which allows individuals to live-stream or archive multi-angle 360 video over any web browser.
Pitch 2: MileShare
MileShare helps airline travelers save up to 50% by providing a marketplace where clients can buy and sell air miles easily.
Pitch 3: ABEJA
ABEJA helps enterprises implement AI into their business processes. They've worked with over 200 enterprises across manufacturing, logistics, retail and many others over the last 8 years to operationalize AI.
Pitch 4: Water Design Japan
Water Design Japan developed the world's first Ultra Fine Bubble (UFB) generator nozzle, for deep cleaning, accelerated plant growth, coating, and gas dissolution.
Pitch 5: bajji (Feelyou)
bajji, Inc. produced FeelYou, a self-care app that combines mood tracking with social connection.
Pitch 6: One Act (PieceX)
ONE ACT Inc. created PieceX, a source code marketplace and the world's first web platform with AI-based dynamic price management, to reduce the time and cost of developing new services.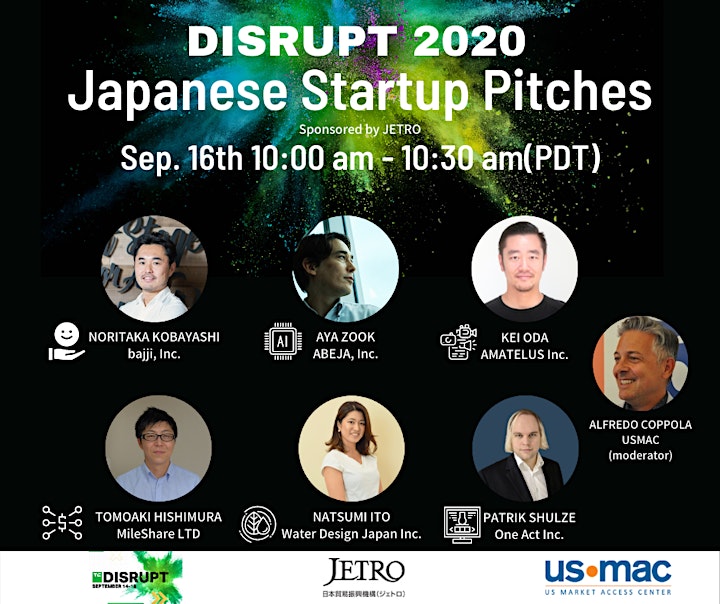 Organizer of DISRUPT 2020 Japanese Startup Pitches