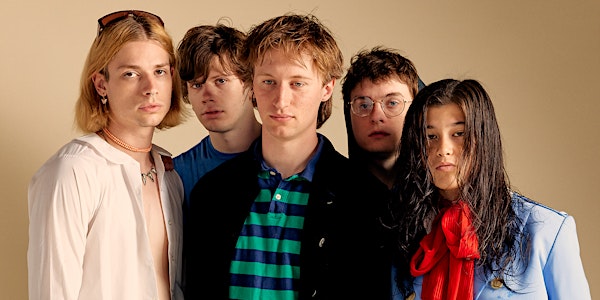 Location
DC9 Nightclub
1940 9th St NW
Washington, DC 20001
Disq

WEBSITE | FACEBOOK | INSTAGRAM | TWITTER | SPOTIFY

With their debut album Collector , the Wisconsin-bred alternative rock outfit DISQ seemed to have everything required to take the world by storm. They had the full support of revered veteran indie label Saddle Creek. They'd received favorable notices from outlets such as the NME, the Guardian, and Stereogum. They had an energetic live show which was sure to convert a sea of devotees, and an international tour booked to prove it. Most crucially, they had an album of winning and memorable rock

songs, polished to a fine sheen by legendary producer Rob Schnapf. You could not fault these five fresh-

faced youngsters for betting it all, but their big mistake was one that no musician could have seen

coming : their release date, March 6

th

, 2020. Within days, the world Disq was poised to conquer ceased to

exist.

Undaunted by a storm of misfortunate which would have crushed a lesser band, Disq now returns

to take what is rightfully theirs, with their sophomore effort

Desperately Imagining Someplace Quiet

,

a

record which reaffirms the charms of

Collector

while pushing the sound and dynamic of the band in

exciting and unexpected new directions. Rather than splintering and surrendering to their cursed

circumstance, Disq has emerged a stronger band, more daring and more defiant, ready to finish the job. It

is fitting that the clever backronym effectively makes this the band's self-titled album, as it introduces the

public to a new Disq, a band both seasoned by experience and newly invigorated toward vivid new

heights.

Though initially formed as an extension of the lifelong friendship between guitarist Isaac

DeBroux-Slone and bassist Raina Bock, Disq has evolved into a far more democratic and egalitarian

organization, as

Desperately Imagining Someplace Quiet

finds guitarists Logan Severson and Shannon

Conor splitting singing and songwriting duties with the aforementioned DeBroux-Slone and Bock. Such

an approach could have easily fallen into the trap of "satisfying everyone, pleasing no one," resulting in

committee-approved music devoid of any personality or rough edges, but happily, the opposite is true.

Pushing play on

Desperately Imagining Someplace Quiet

, it is easy to imagine that it is the year

1998, and your cool older sister has returned from her freshman year at college only to hand you the sort

of mind-altering mixtape out of which lifelong rock fanatics are born. It is the sort of record Beck might

have made in his prime, if you swapped out the hip-hop and delta blues of

Odelay

for midwestern emo,

Scottish power-pop, and the sort of all-American indie that functions as "classic rock" for this cherubic

cohort.

Wrangling a melange of styles such as this is no simple task, but the record is held together by the

powerful yet nimble rhythm section of Bock and drummer Stu Manley, whose muscular and hyperactive

playing alternately keeps these adventurous compositions tethered firmly to the Earth and sends them

soaring into stratosphere. Producer Matt Schuessler (the recording engineer of

Collector

making the most

of his promotion) rarely lets a verse or chorus go by without adding some new sonic sparkle, keeping the

arrangements an ever-shifting kaleidoscope of textures and moods. If there is a record in 2022 which

squeezes more ideas into 41 minutes, then that record could surely only be the unlistenable mess that

Desperately Imagining Someplace Quiet

avoids becoming so deftly.

Things being how they are in the world today, the idea of finding "someplace quiet" feels like an

increasingly remote possibility, and the act of imagining such a place does, indeed, feel more and more

desperate. Listening to Disq navigate the myriad twists and turns of their new album can feel akin to an

attempted processing of our endless poly-crisis, where each new catastrophe and atrocity jostle for

position at the top of the timeline. With their new album, Disq take a valiant stand against the temptation

of complacency. As for that "someplace quiet?" It will have to wait... it's about to get loud in here.

Ducks Ltd

FACEBOOK | INSTAGRAM | TWITTER | SPOTIFY | BANDCAMP

Propelled by a fondness for boundless jangle-pop, Toronto's Ducks Ltd. (formerly Ducks Unlimited) is a duo that operates with the dynamism of a full band: Tom McGreevy (vocals, guitar, bass, keyboards) and Evan Lewis (guitar, bass, drum programming) met at a Dilly Dally show around the time they were both applying for permanent residency and playing in different local bands, quickly recognizing something in each other: a resolute love of underrated '80s indiepop a la Sarah Records (for Tom, U.K. groups like Close Lobsters and the Marxist band McCarthy; for Evan, The Go-Betweens and Flying Nun Records). But impressive knowledge of niche pop music does not make a band: the pair started writing and recording together, taking the time to discover their musical identity. Their critically acclaimed debut EP, Get Bleak, released on Bobo Integral in 2019 and re-released on Carpark in 2021 with three additional songs reveals the key to Ducks Ltd.'s sound: simple charms, just like the music that inspired it, and a project best served when it's just the two of them trusting the intensity of their creative relationship. It's worked out: Ducks Ltd. have played gigs with The Goon Sax, Weyes Blood and Juan Waters; they've received glowing praise in publications like Pitchfork, The A.V. Club and NME. But it's their debut LP, Modern Fiction and its masterful melodies and depressive fun that confirms it: great things are here, and sometimes, all you need is a good friend to realize it.