Join Disorient at a secret upstate New York location for a self reliant weekend of camping, music, interactive art, and creative technology.
About this event
Disorient presents: COUNTRY CLUB X: ASTRODYNAMICA
Join Disorient for year 10 of our annual journey of deep chilling, off-the-grid futurist relaxation. Country Club is a lake and lush green woodland oasis where blissful self-reliance meets massive multiplayer techno and technology participation. Explore a constantly shifting blank canvas of music, art, and performance. Country Club is a fundraiser organized by an all volunteer team. All profits are used for Disorient art creations at Burning Man.
May 26th |NOON| to May 30th |NOON|
Upstate New York in Shandaken, NY
Location released to ticket holders week of the event
THEME
Disorient Country Club 2022 Theme: ASTRODYNAMICA
WHAT DOES THIS MEAN?
ASTRODYNAMICA: branch of astronomy that studies the motion of natural and artificial bodies in space. For this theme we are exploring retrofuturist intermodulation, planispheres, objects of orbit, imagined mars colonization via 1960s mainframes, real and artificial moons, satellite dish mania, led and incandescent light, MASERS/LASERS, extra planetary survivalist built structures, programmer heroics, accelerationism, swarm technology, cross discipline dreaming.
VIBES BY YOU!
Disorient Country Club is an ephemeral dream that exists for one weekend only. Discover an ever growing and morphing participant-generated weekend of art, theme camps, art cars, art boats, and electronic and live music. Bring what you love! Join us with your creative output and share it in the beautiful tapestry woven wildly in our green forest hideaway.
SUBMIT EVENT OR WORKSHOP TO SURVIVAL GUIDE
SURVIVAL GUIDE: SOON
HOW DO I GET THERE?
Our event takes place near Shandaken, NY. This area is 2 ½ hours north of NYC.
We will release the exact location the week of the event.
DRIVING 2 ½ hours north of NYC. Exact location released week of 5/21.
FLYING We recommend flying into Newark-EWR and renting a car from the airport. For this option expect 2 ½ hours of drivetime up. Alternatively, fly into Albany-ALB- with a 1 ½ hour drive to gate.
UBER/LYFT/ETC People have done it, prices vary
RIDESHARE FROM NYC Check the Rideshare board and the FB event page
BUS: Take the Trailways bus to Phoenicia and arrange a friend onsite to scoop you up. Phoenicia Trailways Bus stop is 10 mins away from our gate.
https://webstore.trailways.com/
TRAIN AMTRAK to Rhinecliff Stop ID: RHIN. Closest stop is 50 minutes away from our gate. You must arrange a ride from Rhinecliff.
TOWNCAR SERVICE Woodstock Town Car woodstocktowncar.com (845) 679-6656 Cars, Limos Passenger Vans, service from NYC and Surrounding areas directly to our gate.
SMALL PLANES/HELICOPTER Hunter Mountain Airport, ICAO: 97NY, 26 minutes from gate.
LINEUP
Releasing soon.
VJ LINEUP
Releasing soon.
ART ADVENTURES
Releasing soon.
BRINGING AN ART CAR? Please email proposals@disorient.info
GENERAL INFO
There is no vending at Country Club, and no vending is allowed. Bring everything you need for survival and well-being including shade, food and water. There are no showers on site, feel free to bring your solar shower. More information can be found in our survival guide, which releases in Early May. Please check our wiki to see past year's survival guides.
You may bring your pets but please be mindful of them, as there are coyotes in the area. Most of the camping site is in the woods.
Country Club is minimally RV friendly. Limited number of RV passes available. The site does not offer RV hookups.
This is a LEAVE NO TRACE event. This means, leave the place you visit the same or better than you found it. Bring trash bags, and take your trash with you when you leave.
Children over the age of 9 require the purchase of a Child Ticket. Please contact us at countryclub@disorient.info for group family pricing.
Disorient is a volunteer-run art collective.
Check out this article from 2019 for a Disorient background and history.
Disorient has very few rules, but two require declaration and elaboration:
1. Respect personal boundaries.
2. Take responsibility for your own experience.
The interplay of these two rules forms a social contract that makes our events safe places to explore your own boundaries while encouraging respect for each other. Talk to those around you about anything that makes you uncomfortable.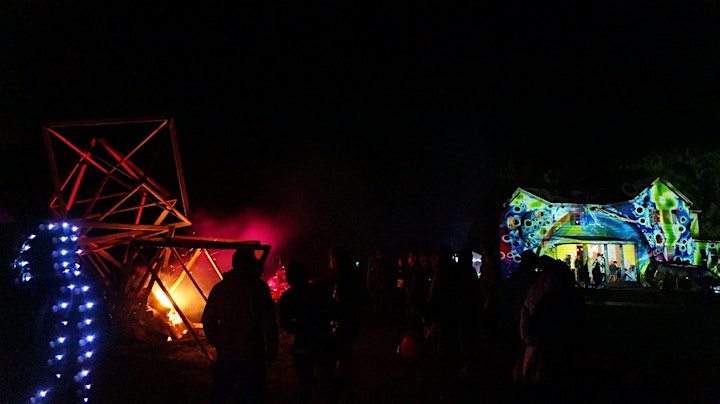 Photo by Liquid Light Lab