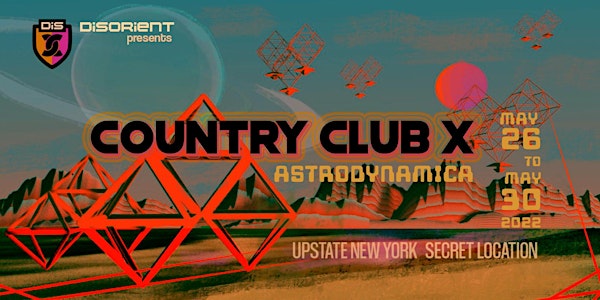 Disorient presents: COUNTRY CLUB X - Astrodynamica
Join Disorient at a secret upstate New York location for a self reliant weekend of camping, music, interactive art, and creative technology.
About this event
Disorient presents: COUNTRY CLUB X: ASTRODYNAMICA
Join Disorient for year 10 of our annual journey of deep chilling, off-the-grid futurist relaxation. Country Club is a lake and lush green woodland oasis where blissful self-reliance meets massive multiplayer techno and technology participation. Explore a constantly shifting blank canvas of music, art, and performance. Country Club is a fundraiser organized by an all volunteer team. All profits are used for Disorient art creations at Burning Man.
May 26th |NOON| to May 30th |NOON|
Upstate New York in Shandaken, NY
Location released to ticket holders week of the event
https://countryclub.disorient.info
THEME
Disorient Country Club 2022 Theme: ASTRODYNAMICA
WHAT DOES THIS MEAN?
ASTRODYNAMICA: branch of astronomy that studies the motion of natural and artificial bodies in space. For this theme we are exploring retrofuturist intermodulation, planispheres, objects of orbit, imagined mars colonization via 1960s mainframes, real and artificial moons, satellite dish mania, led and incandescent light, MASERS/LASERS, extra planetary survivalist built structures, programmer heroics, accelerationism, swarm technology, cross discipline dreaming.
OUR ART + YOUR ART
Disorient Country Club is an ephemeral dream that exists for one weekend only. Discover an ever growing and morphing participant-generated weekend of art, theme camps, art cars, art boats, and electronic and live music. Bring what you love! Join us with your creative output and share it in the beautiful tapestry woven wildly in our green forest hideaway.
SUBMIT EVENT OR WORKSHOP TO SURVIVAL GUIDE
All participants must show vaccination or recent tests
Antigen Tests conducted within one day
PCR tests conducted within two days
HOW DO I GET THERE?
Our event takes place near Shandaken, NY. This area is 2 ½ hours north of NYC.
We will release the exact location the week of the event.
DRIVING 2 ½ hours north of NYC. Exact location released week of 5/21.
FLYING We recommend flying into Newark-EWR and renting a car from the airport. For this option expect 2 ½ hours of drivetime up. Alternatively, fly into Albany-ALB- with a 1 ½ hour drive to gate.
UBER/LYFT/ETC People have done it, prices vary
RIDESHARE FROM NYC Check the Rideshare board and the FB event page
BUS: Take the Trailways bus to Phoenicia and arrange a friend onsite to scoop you up. Phoenicia Trailways Bus stop is 10 mins away from our gate.
https://webstore.trailways.com/
TRAIN AMTRAK to Rhinecliff Stop ID: RHIN. Closest stop is 50 minutes away from our gate. You must arrange a ride from Rhinecliff.
TOWNCAR SERVICE Woodstock Town Car woodstocktowncar.com (845) 679-6656 Cars, Limos Passenger Vans, service from NYC and Surrounding areas directly to our gate.
SMALL PLANES/HELICOPTER Hunter Mountain Airport, ICAO: 97NY, 26 minutes from gate.
LINEUP
L3NI - DISORIENT
DANIELA - DEEP PLAYA NYC | NYC DELI
NU SKY- DEEPERFECT | ELROW MUSIC
RAYMOND CRUZ - HUDSON VALLEY HOUSE HEADS
THE BENZ MOTORWAGEN
TANYA EVERYWHERE - DIGITAL NATIVE
TJ MCAU - DISORIENT
MIKE MURPHY - QUALITY OF QUANTITY
DANIMAL SOUND - DISORIENT
YANDL - MICRO VISION RECORDINGS
WALLY WHATEVER - DIGITAL NATIVE
DJ JOEY HERNANDEZ - HUDSON VALLEY HOUSE HEADS
SERA SOLSTICE - DISORIENT
OLIVER EVE - DEEP PLAYA
FUTURETUNEZ - INDEPENDENT
ANDERSON - WEX / DAY BY DAY
ORION KEYSER - DISORIENT
DOUGGIE STYLE - DISORIENT
VJ LINEUP
ASH ALMA | ASHMOTION
VJ SPERMWHALE | CAMP CHAZ
ERIC MORTENSEN | DISORIENT
VAPORSTACK | DISORIENT
THE SOURCE | DISORIENT
KRAWCZUK INDUSTRIES | NOODLEBOX
VJ FUZZY BASTARD | THE NEW YORK AUDIO/VISUAL INSTITUTE
SYNESTHESIA | SYNESTHESIA
SYNESTHESIA | SYNESTHESIA
REBECCA NUVOLETTA | DISORIENT
CJ | SEEJ
LIVE at the 2 Story Cabin
DJ God Question
Hisayasu Takashio & Kelvin Daly
The Secret Pope
NURBSTREAM
Dok Gregory
David Linton
( ) aka Jeremy Slater
New York Audio/Visual Institute
LinearElectricDisturbance virtual live set from Reno
Plan 23
? Ending Embers
The Previously Unknown Legend reads Allen Ginsberg's Howl
Pas Musique
Bradford Reed
Jenn Grossman
DJ Activphase
Principle String Quartet
EM KVLT
ART ADVENTURES
Alien Space Flaire.
"Project yourself into the forest"
Three point five magical Pornj sprites popup to capture your Glamtech awesomeness. Find yourself in the forest thereafter.
Everything Good Studio
"Small Hadron Collider"
An interactive light art installation that lets you launch particles of light and watch them collide.
Geodesic Temple
"The Tenth"
As we celebrate Country Club's tenth anniversary, we get together and acknowledge our unity. Each of the ten overlapping octahedra not only represents a year of Country Club but symbolises all the souls that have been involved that respective year. All those years, all those participants are unified as one abstraction beyond words. The coalesced resulting octahedra represents this abstraction, this singularity.
Inexplicable Bacon (IxB)
"Bevy"
Swans! That's it, just swans; in the lake; sometimes arbitrarily around the grounds. Not live animals, of course! Large inflated pool floats fashioned to resemble the quintessential white swan.
Viktor Getmanchuk/Margarete Gere
"The All Nighter"
Sauna cabin
Ryan
"Chill-Dome"
A shaded and lit geodesic place to chill
Viktor, Wallace Thomas, Margaret, Michael
"Surface Tension"
A diamond shaped Disorient boat that glides between the fabric of the worlds
Rebecca Nuvoletta
"Veggie King"
Experience His bounty at Veggie King - Disorient Country Club's all vegetable drive through/walk through window
ArtImmerse
"The Gathering of the Unlimited Devotion"
The Gathering of the Unlimited Devotion incorporates play as a pathway to the divine. Through the dust, a spinning object appears. It is round and resembles the nostalgic Sit 'n Spin toy from the distant past. What you are meant to do is clear: grab ahold of the handle, and use it to pull yourself around. Giggle and laugh with us as you approach that blissful feeling from spinning!
Jake Joaquin, Eric Mortensen, Horus, Rebecca Nuvoletta
"DISORIENT TV"
16x9' projection video art w/ sound @ Sauna
Poetic Cynic
"The Mirror of Relentless Body Positivity"
Look into it and see your true self. Fantastic. Gorgeous. Corporeal and Existent..
Sophi Kravitz
"The Highest Hair"
Be a Queen in a boudoir lounge.
Lillian Lamping
"Aphrodite"
A short gift styled film that is homage to the goddess Aphrodite
Sofy Yuditskaya + Jana Astanov
"Star Gate"
During the summer we see the winter sky at night, the concept is to create one of the night visible constellations within the Star Gate with a shamanic journey activating the star portal of Fomalhaut - the star that represents the voice of humanity. It is like being inside an astrolabe. Sadamelik and Ancha Aquarius conjoin Enif of Pegasus, Fomalhaut of Piscis Australis, and Deneb of Cygnu. All are humanitarian and visionary stars. Aquarium, the humanitarian water bearer nourishes the body of humanity which is articulated by Pisces Australis and embodies the essence of human society. Fomalhaut of Piscis Australis is the fish's mouth into which the nourishing Aquarian waters flow, and through which humanity speaks. Therefore the star Fomalhaut represents the voice of humanity. People with prominent placement with Fomalhaut have a need to speak for humanity as a whole and about humanity's fundamental needs. They seek ways to sculpt an evolved universal human society, one free from segregation. These stories will be carved into the piece, swirling in with the punctured star-gazing portals incorporating the movements of the night sky to the stories within. Star Gate is an observatory, a space ship, that never leaves the ground.
Blood Pheasant
"Beeps and Tweets"
A curious collection of sounds designed to make the listener feel differently about their surroundings.
John Foster
"Inside a Sparkle: a photon Cathedral"
THEME CAMPS
Digital Native
Radio Futura
Sounds from the underground, late night, low slung, strong drinks and smiles. Free McAffee antivirus subscriptions, Espresso to go or a couch for your sprawl. Come enjoy the variety. Electronic music from all over the world hosted by a diverse bunch of hecklers. We will be hosting parties, BBQ, Open Bar as well as artists such as Freakiki, Da.rco, and Diana NC
The Fun Enforcers' Area 51 Funky Foto Booth!
It's hot in the desert! And weird. The Fun Enforcer's at Disorient Area 51 welcome you to our HOMIE AIRPORT. Gitty-up into our out-of this-world photo booth decked out with disco lights, inflatable aliens, and plenty of costumes and props to play with. And when you're full as a tick, catch a classic sci fi flick on our outdoor TV! Don't be a yellow belly; come find us to document your disoriented weekend
Astral Mushroom Karaoke Lounge
Grab Your InterGalactic mic, and Go into Orbit while doing a Celestial Star Turn! Manifest your Luminosity with your Lungs and Van Allen Belt out your favorite tune in our Astro Mushroom Karaoke Lounge. Whether you are feeling like a Red Giant or a Oort Cloud, our Cosmic Fungii will turn you up several Orders of Magnitude. Sing like the Hypergalaxy is not watching!
Thurs -Traditional, Friday - Celebrity Wild Card Mashup (spin the wheel), Sat Open Mic, Sunday Stoner Karaoke, Special Afterhours Pornaoke
Camp Boozehole
Camp Boozhole presents CARNY ISLAND! We are bringing back our glorious carnival with more beards! New games! Extra neck tattoos! Cannibal Snacks! And bonus Merkins & Mullets! AND BOOZE ALL THE BOOZE!
The Hut of the GlamTech Warrior
Where the Tenth and CoSign get built
https://wiki.disorient.info/index.php?title=Geodesic_Temple_Library#The_Tenth_.28Country_Club_2022.29
https://wiki.disorient.info/index.php?title=CoSign
9am - 5pm
BRINGING AN ART CAR? Please email proposals@disorient.info
GENERAL INFO
There is no vending at Country Club, and no vending is allowed. Bring everything you need for survival and well-being including shade, food and water. There are no showers on site, feel free to bring your solar shower. More information can be found in our survival guide, which releases in Early May. Please check our wiki to see past year's survival guides.
You may bring your pets but please be mindful of them, as there are coyotes in the area. Most of the camping site is in the woods.
Country Club is minimally RV friendly. Limited number of RV passes available. The site does not offer RV hookups.
This is a LEAVE NO TRACE event. This means, leave the place you visit the same or better than you found it. Bring trash bags, and take your trash with you when you leave.
Children over the age of 9 require the purchase of a Child Ticket. Please contact us at countryclub@disorient.info for group family pricing.
Disorient is a volunteer-run art collective.
Check out this article from 2019 for a Disorient background and history.
Disorient has very few rules, but two require declaration and elaboration:
1. Respect personal boundaries.
2. Take responsibility for your own experience.
The interplay of these two rules forms a social contract that makes our events safe places to explore your own boundaries while encouraging respect for each other. Talk to those around you about anything that makes you uncomfortable.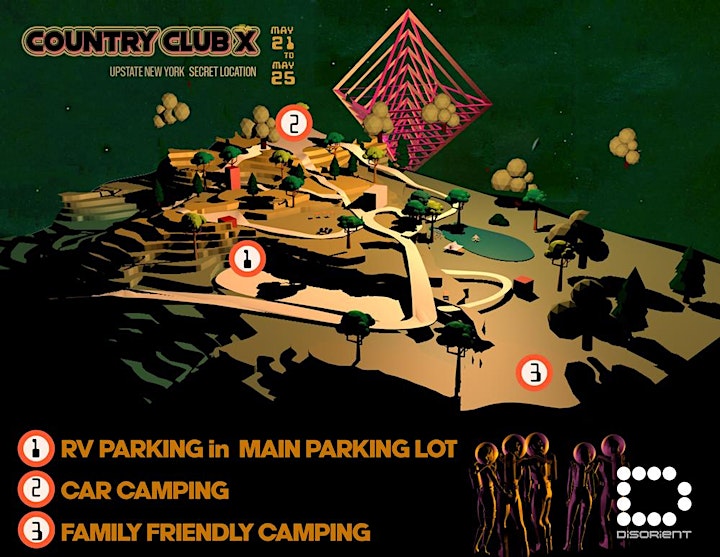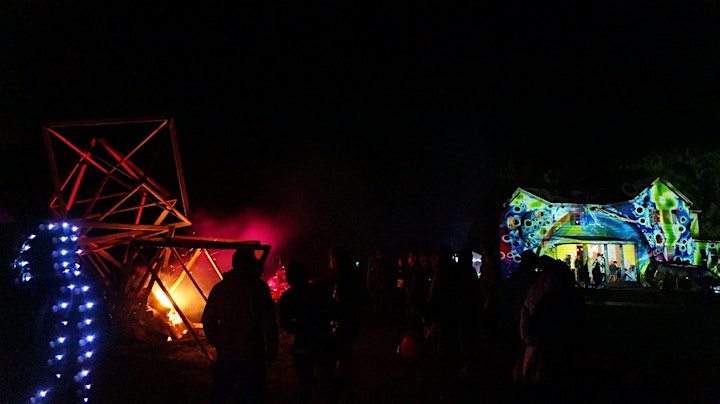 Photo by Liquid Light Lab