Description
Perspectives: Dismantling Barriers to Success
Inclusive practices that bring together a range of diverse perspectives yield undeniable benefits. Diverse, inclusive teams outperform homogenous groups and lead to economic growth, increased creativity and innovation, and more effective decision making. How can we utilize data to better inform our decision making when it comes to minimizing barriers to success?
Equity, Diversity & Inclusion, Part 2: The Data
Discussions regarding equity, diversity and inclusion are gaining prominence, but in order to know where we are going, we must first analyze where we have been and where we are currently.
As educational and professional environments seek to dismantle barriers and promote equitable talent development, our panelists will present current data and trends in a variety of industries and discuss how we can derive knowledge and understanding from that data to influence change.
As a continuation of our event from earlier this year where we discussed recruiting and retaining a diverse workforce, we now dive into the data the informs our decisions. We will hear from several thought leaders steering the charge to create social, racial, and cultural equity in their fields.
---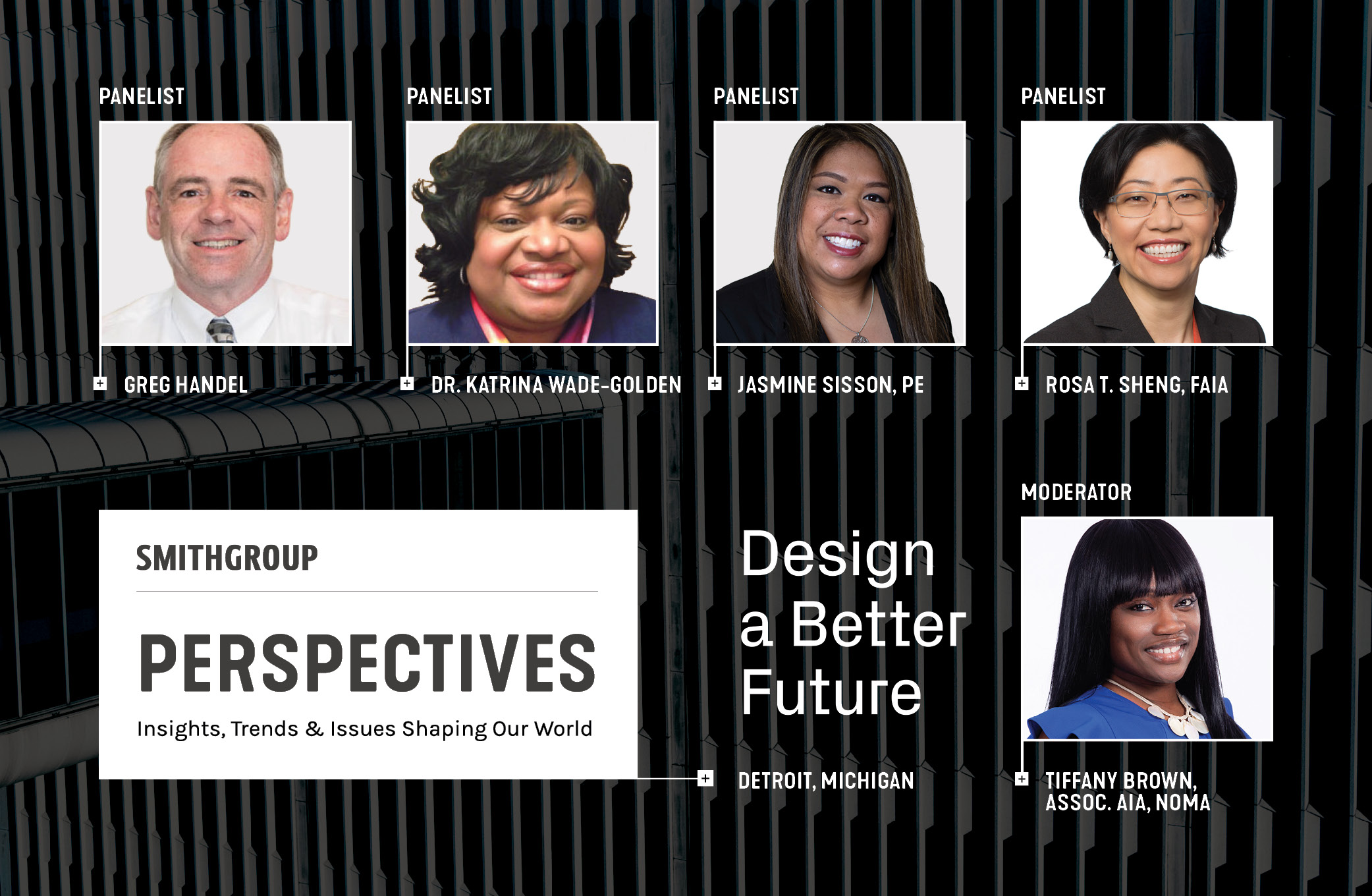 Panelists
Greg Handel is Vice President of Education and Talent at the Detroit Regional Chamber. In this role, Greg is responsible for the Chamber's efforts to ensure that employers in the region have access to the talent needed to thrive in the 21st century global environment. Greg oversees the development and advocacy of the Chamber's public education policy and is also responsible for Detroit Promise, which offers a tuition-free path to college for every Detroit high school graduate who resides in the city. He also oversees Detroit Drives Degrees, an initiative of the Chamber's Forward Detroit economic development strategy, designed to increase the percentage of adults throughout the region with a quality postsecondary credential.
Dr. Katrina Wade-Golden is Deputy Chief Diversity Officer within the Office of Diversity, Equity & Inclusion (ODEI) at the University of Michigan, as well as Director of Implementation for the Campuswide Diversity, Equity & Inclusion Strategic Plan. She brings over 25 years of administrative and research experience working with complex longitudinal datasets and has broad expertise leading research and strategy engagements in the corporate, higher education, and non-profit sectors, utilizing a wide range of qualitative and quantitative techniques. Dr. Wade-Golden possesses particular expertise in the areas of measurement, questionnaire design, social psychology, organizational dynamics, institutional diversity, and complex data analyses. She has published numerous articles, essays, monographs, and reports in these areas, and has published a book (2013), The Chief Diversity Officer: Strategy, Structure, and Change Management (co-authored with Damon A. Williams), that chronicles the work of an ongoing research project focused on Chief Diversity Officers at nearly 800 institutions across the country, and is the first publication to fully explicate the role of chief diversity officers in higher education.
Jasmine Sisson, PE, is Assistant Vice President for Structural Engineering with the global engineering firm WSP, leading all Michigan project operations out of their downtown Detroit office. She has almost 20 years of experience as a structural engineer, with experience in both public and private civil and structural engineering projects. Jasmine is also an active member of her community, supporting the advancement of women in engineering and attracting students to science, technology, engineering, and mathematics (STEM) disciplines. She currently serves as the immediate past president of the Michigan Chapter of the Women's Transportation Seminar, is the Program Coordinator for the ACE Mentor of Michigan Affiliate, and an Engineering Society of Detroit Fellow. She serves annually as a Future City judge and enjoys promoting the engineering industry through her legacy of service, mentoring, and teaching, helping to transition young engineers from the classroom to the real-world.
Rosa T. Sheng, FAIA, is a Principal and Director of Equity, Diversity, Inclusion at SmithGroup, AIA San Francisco President 2018, and Founding Chair for Equity by Design. She has led a variety of award-winning and internationally acclaimed projects throughout her career. Equity by Design has launched a national movement for achieving equitable practice and design in Architecture since 2013. The group's survey and outreach for equity in architecture has received national press including Architect Magazine, Architectural Record, Wall Street Journal, The New York Times, TEDxPhiladelphia and KQED/NPR.
Moderator: Tiffany Brown, Assoc. AIA, NOMA, is a Project Manager and Construction Contract Administrator in SmithGroup's Detroit office and Co-Founder of Urban Arts Collective. Tiffany has spearheaded raising awareness on how representation in design makes a significant social impact on firm practice, culture, and education. Her expertise stems from first-hand experiences of addressing environmental injustices and social issues. Tiffany is a thought leader who uses her story as a tool of empowerment. Rethinking architecture education for the traditionally underserved plays a large role in her career.
Perspectives: Dismantling Barriers to Success – Equity, Diversity & Inclusion, Part 2: The Data
Tuesday, November 13, 2018
5:00 pm – 5:30 pm Registration, Hors D'oeuvres, and Beverages
5:30 pm – 6:30 pm Panel Discussion
6:30 pm – 6:45 pm Audience Q & A
SmithGroup
500 Griswold, Suite 1700
Detroit, MI 48226