Description
Enjoy unlimited tastings from over 40 local resaurants, breweries, and more! Why not join us for your happy hour? Bring your friends and coworkers for a great evening of endless, delicious food and drinks.
Featuring:
Acqua, AOA, Atomic Wings, Baconery, Bitter & Esters Homebrew Beer, Black Lab Vodka, The Cheesecake Guy, Churrascaria Tribeca, City Winery, Club Metropolitan, Culinary Classics, Eolo, Flex Mussels, Grano Trattoria, Guittard Chocolate, and many more.
Don't miss out on the best of NYC, brought to you in one night. $50 a person.
Questions? Email christine@villagechelsea.com for all inquiries.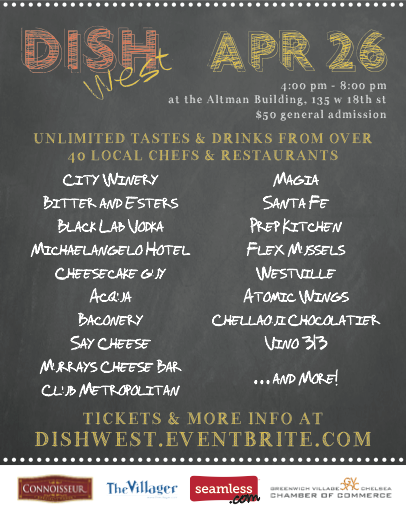 Eolo
Murray's Cheese Bar
Say Cheese
Vino 313
Our Vision:  To provide dynamic business and civic leadership in New York City and position the Greenwich Village Chelsea Chamber of Commerce as the leading voice for business in the communities we serve.
Our Mission: Provide innovative and effective programs and services to support businesses throughout Greenwich Village, East Village, Union Square, Flatiron, Chelsea, NOHO, and SOHO in four key ways:
ADVOCATE: Champion the voice of business in government and community affairs.
EDUCATE: Keep members informed on relevant issues; provide opportunities for professional development.
NETWORK: Provide programs to connect members to customers, suppliers, and community leaders.
PROMOTE: Market our communities and member businesses to attract tourism, encourage new investment, and support the area's economic growth.
Our History: For over 60 years, the Greenwich Village-Chelsea Chamber of Commerce (GVCCC) has served as the leading voice of business in our communities. Founded in 1949 by a select group of small business entrepreneurs in Greenwich Village, the Chamber has steadily grown to service Greenwich Village, Chelsea, SoHo, NoHo, Union Square, Flatiron, and the East Village.

What started out as a few dozen businesses banding together, is now hundreds of members strong. The Chamber membership ranges from sole proprietorships to locally owned independent businesses, to major institutions and organizations. Our diversity is one of our greatest assets, providing our membership with unique opportunities and a strong voice from which to address business issues. The Chamber also offers numerous benefits and services including networking opportunities, business and educational seminars, government advocacy, marketing and promotional campaigns and much more.