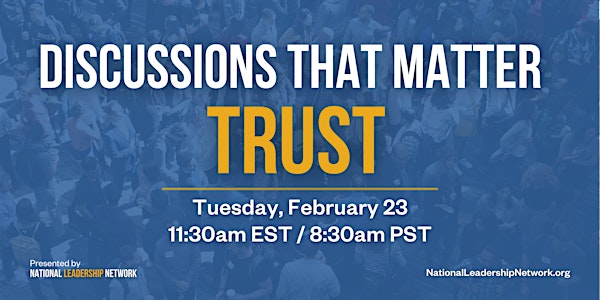 Discussions That Matter: Trust
Alumni of Leadership Programs across the country discuss challenging topics that impact our communities. This session will explore TRUST.
About this event
Registration for this 90-minute session closes on Monday 02/22 at 8:00pm EST / 5:00pm PST!
This event will take place on Zoom. The meeting link will be sent out the morning of the event.
With widening partisan gaps in trust of mass media, government, institutions, and each other; what can we, as leaders, do now and into the future to strengthen trust in our local communities and rebuild trust, collectively, as a nation? Does it matter?
Hear from national experts and trust-building practitioners before you engage with fellow alumni from across the country in small groups, applying theories to practice.
Registration for this 90-minute session closes on Monday 02/22 at 8:00pm EST / 5:00pm PST!

In his role as Director of Economic Development and International Trade for the City of Mentor, Ohio, Kevin Malecek's (OH) success extends across sectors and beyond our nation's border with "verifiable trust" always at the center.
Kärin Peabody (WA) is a small business owner in the Seattle area where she specializes in helping organizations navigate the challenges of change, develop high-collaboration low-ego workplaces, and practice clear and inclusive communication.
Mark Patinkin (RI) was Gatehouse Media's 2019 "Columnist of the Year" and a 2020 recipient of Gannett's "Best Story Telling" award. His decades of journalism success stems from his remarkable abilities to build trust with interviewees and readers alike.
NLN's recently published national alumni survey results reflect the opinions of over 4500 alumni regarding the aftermath of the pandemic in your communities. The results show that you believe trust is the foundation of effective community response in a time of crisis:
"The bottom-line is local leadership succeeded during the pandemic when there was an environment of mutual trust. The presence of trust allows people to be open to messages from their leaders, communicate about and collaboratively respond to the needs of everyone, and help each other. Problematic pandemic responses – which degraded trust – were evidenced in poor decisions (weak enforcement of safety measures, not prioritizing safety), communication (inconsistent, unclear, incorrect), coordination with other government entities and in deliberation (slow, denial of risks, too politicized, ignoring data-based expertise and not including segments of the community)." –Josh Starr, Starr Opinion Research
While effective leaders seem to know instinctively of the importance and value of trust for creating change, Gallup learned through asking 10,000 followers that trust is one of four basic needs that followers say the most key influential leaders contribute to their lives.
"In the book The Trusted Advisor, the authors David H. Maister and Charles H. Green put forth the "trusted advisor formula": the numerator of credibility + reliability + intimacy divided by the denominator of self-orientation, which Maister and Green define as a too-narrow focus on your own interests. Leaders have to have some self-orientation because, without a strong point of view, they bring no value. But too much self-orientation can seem highly self-serving."
After our first calendar year of National Leadership Network alumni programming in which over 2000 of you participated from 47 states in the first 12 sessions from May to November, we think it's rather fitting to begin 2021 on a topic reflected upon by our first featured guest on May 19, 2020:
"Rebuilding trust is a gradual exercise. First, you put your trust in your core group. You lean on them, and you protect them. Through the resiliency of those bonds, you're able to work through those initial challenges. If those connections are strong enough, you're able to extend that trust to ever-broadening circles to weather whatever setbacks you encounter because you are stronger together," says retired Navy Commander Mike Riordan.
About Discussions That Matter
Discussions That Matter, an ongoing virtual series by National Leadership Network, provides an opportunity for graduates of Community Leadership Programs to engage with their peers from across the nation. A panel of seasoned professionals in the private, nonprofit, and government sectors introduce and discuss relevant issues impacting our country. Along with expert panels, alumni are placed in small groups to engage in meaningful discussions with fellow leaders from across the nation.
National Leadership Network is committed to offering one quarterly session on each of the four basic needs of followers: Trust, Compassion, Stability, Hope.
Tuesday, February 23, 11:30am ET / 8:30am PT - Discussions That Matter: Trust
Tuesday, May 18, 11:30am ET / 8:30am PT - Discussions That Matter: Compassion
Tuesday, August 10, 11:30am ET / 8:30am PT - Discussions That Matter: Stability
Tuesday, November 9, 11:30am ET / 8:30am PT - Discussions That Matter: Hope
About National Leadership Network
NLN was formed with the belief that we are stronger together. It is designed to connect more than 700,000 community leadership program (CLP) alumni nationally from more than 800 CLPs. Through open, honest conversations and a willingness to listen to and learn from differing opinions, NLN participants are committed to finding common ground, addressing the most pressing needs of their communities, and fostering local economic opportunity and long-term change.
Find out more at www.NationalLeadershipNetwork.org