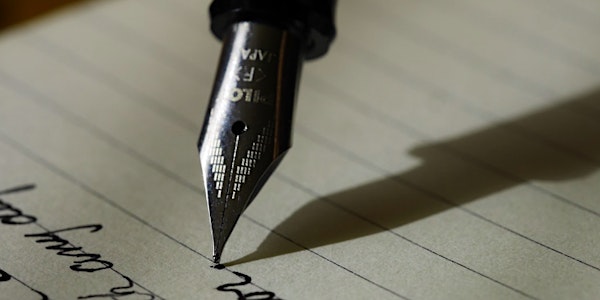 Discussion with CLEYVIS NATERA, LAN SAMANTHA CHANG, and JACQUELYN MITCHARD
Three established authors discuss writer-mom issues from various perspectives. A Pen Parentis Literary Salon with Q&A, all are welcome.
Refund Policy
Contact the organizer to request a refund.
Eventbrite's fee is nonrefundable.
About this event
Pen Parentis Literary Salons invites you to an exciting LIVECAST featuring short literary readings and intimate (and sometimes intense!) discussions. Three amazingly successful authors of various genres reveal all about their writing and parenting journeys.
Join us at the....
DECEMBER 2022 Livecast Literary Salon
by PEN PARENTIS
...open to the general public!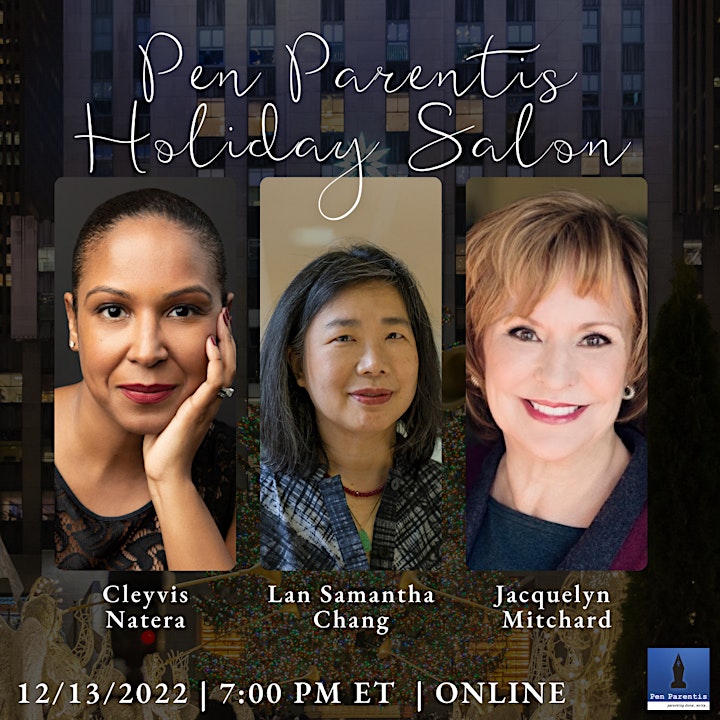 Our spectacular 2022 Fall Season continues with incisive readings by authors celebrating the fabulous CLEYVIS NATERA and LAN SAMANTHA CHANG and a return to our show from the wildly successful (22 published novels!) mom of nine kids, JACQUELYN MITCHARD
Short readings will be followed by Q&A moderated by award-winning authors M. M. De Voe and Christina Chiu.
Interactive! Audience participation via text chat is encouraged.
--
MEET THE AUTHORS:
--
CLEYVIS NATERA is an essayist, short fiction writer, critic and novelist. Her debut novel Neruda on the Park was an anticipated book of 2022 by TIME, the Today Show, Good Morning America's Zibby Owens, ELLE, Ms Magazine, Bustle, Goodreads, Book Riot, Entertainment Weekly, The Millions, Electric Literature, Lit Hub and The Rumpus. Upon publication, Neruda on the Park was selected as a May 2022 New York Times Editor's Choice and as the June 2022 pick for Nobel Laurate Malala Yousafzai's Fearless Literati Book Club.
Natera was born in the Dominican Republic and raised in New York City. She's received honors from PEN America, Bread Loaf Writers' Conference, Hermitage Artist Retreat, Virginia Center for the Creative Arts, and Voices of Our Nation Arts Foundation (VONA).
Her fiction, essays and criticism have appeared in The New York Times Book Review, URSA Fiction, Alien Nation: 36 True Tales of Immigration, The Brooklyn Rail, TIME, The Rumpus, Gagosian Quarterly, The Washington Post, The Kenyon Review, Aster(ix) and Kweli Journal, among other publications.
She holds a Bachelor of Arts from Skidmore College and a Master of Fine Arts from New York University. Cleyvis worked a corporate job in insurance for two decades ascending to the executive level before pivoting her career to become a full-time writer. She lives with her husband and two young children in Montclair, New Jersey. This is her first appearance at Pen Parentis. cleyvisnatera.com
--
LAN SAMANTHA CHANG is a novelist. Her new novel, The Family Chao, was published by W. W. Norton in February 2022. It was a Barnes & Noble National Book Club selection, and received starred reviews on Kirkus, Publisher's Weekly, and BookPage. Additionally: Vogue: "The Best Books of 2022: A Preview" Oprah Daily's "The 50 Most Anticipated Books of 2022" the "Lit Hub's Most Anticipated Books of 2022, The Millions Most Anticipated, Stylist (U.K.): "The Fiction Books You Can't Miss in 2022," The Week: "Nine Books to Read in 2022" and A Goodreads Most Anticipated Mystery of 2022.
She is the author of two previous novels, All Is Forgotten, Nothing Is Lost and Inheritance, and a story collection, Hunger. Her short stories have appeared in The Atlantic Monthly, Ploughshares, and The Best American Short Stories. She has received fellowships from the National Endowment for the Arts, the John Simon Guggenheim Foundation, and the American Academy in Berlin. Chang is the director of the University of Iowa Writers' Workshop. She lives with her husband and daughter in Iowa City, Iowa. This is her first time at Pen Parentis.
--
JACQUELYN MITCHARD: is the New York Times bestselling author of 22 novels for adults and teenagers, and the recipient of Great Britain's Talkabout prize, The Bram Stoker and Shirley Jackson awards, and named to the short list for the Women's Prize for Fiction. Her first novel, The Deep End of the Ocean, was the inaugural selection of the Oprah Winfrey Book Club, chosen to launch the now-famous series back in September of 1996, and now has more than 3 million copies in print in 34 languages. Mitchard's essays also have been published in magazines worldwide, widely anthologized, and incorporated into school curricula. She has nine children. We are so excited to have her back at Pen Parentis for the second time.
MODERATED BY co-hosts M. M. De Voe & Christina Chiu:
Former Columbia School of the Arts classmates, M. M. De Voe and Christina Chiu co host the Salons. Their friendship dates back decades, but each is a successful writer who also has two kids.
In addition to founding Pen Parentis, and writing the prize winning Book & Baby guide to writing while parenting, De Voe is an award-winning author of short fiction with a collection forthcoming from Borda Books in 2023.
Chiu has been Salons curator for eight years. Her first novel, Beauty, was published in 2020 after winning the James Alan McPherson Award. She is one of the originators of the Asian American Writers Workshop.
--
Audience members are encouraged to engage with the authors and moderators during the session via chat while logged into YouTube or Facebook accounts.
For ten years this series has shattered negative stereotypes of parents in literary careers by celebrating the creative diversity of high-quality work penned by professional writers who have kids. On the second Tuesday of each month September through May, join us online! Chat with our authors, be heard! Participate in discussions with writers in real time.
Come join the fun! You don't have to be a parent or even a writer to enjoy these events - all lovers of the written word are welcome to join us!
###
Interested in seeing these books before the show? Browse our featured books in advance - through this link - on BOOKSHOP.org -- the website which allows you to easily buy from your local brick-and-mortar bookstore and magically also supports Pen Parentis! Win-win!
###
Pen Parentis is a literary nonprofit that helps writers stay on creative track after starting a family. While the event is free and open to the general public, we would welcome a minimum $10 donation per attendee to cover costs.
See our work and join us as a sustaining member of our growing online and in-person community if you are a writer with kids: our website is penparentis.org
GRATITUDE: The 2022 year of Pen Parentis Salons are made possible by the New York State Council on the Arts with the support of Governor Kathy Hochul and the New York State Legislature
MAJOR SUPPORT FROM: the de Groot Foundation
TONIGHT'S SPONSOR: Other Parents Like Me: an online community supporting the parents of children who struggle with mental health issues.
If you have reached for a good movie or book at any time during this pandemic, thank a writer. Support the arts so they can support you.