How journalists can improve their coverage of the racial wealth gap
About this event
"Read this book [The Color of Money]. It explains so much about the moment…Beautiful, heartbreaking work."
―Ta-Nehisi Coates
NYU's Business & Economic Reporting Program, with support from the Marjorie Deane Financial Journalism Foundation, is pleased to present a lecture by Professor Mehrsa Baradaran, a leading authority on banking law and the racial wealth gap and the author of The Color of Money: Black Banks and the Racial Wealth Gap and How the Other Half Banks: Exclusion, Exploitation, and the Threat to Democracy.
When the Emancipation Proclamation was signed in 1863, the black community owned less than 1% of the nation's total wealth. More than 150 years later, that number has barely budged.
In her book, The Color of Money, Prof. Baradaran explains the stubborn persistence of this racial wealth gap by focusing on black banks, the generators of wealth in the black community. Her research challenges the long-standing belief that black communities could ever hope to accumulate wealth in a segregated economy.
Come hear Prof. Baradaran discuss how journalists can improve their coverage of this fundamental topic.
A Zoom link will be emailed to registrants on the day of the event.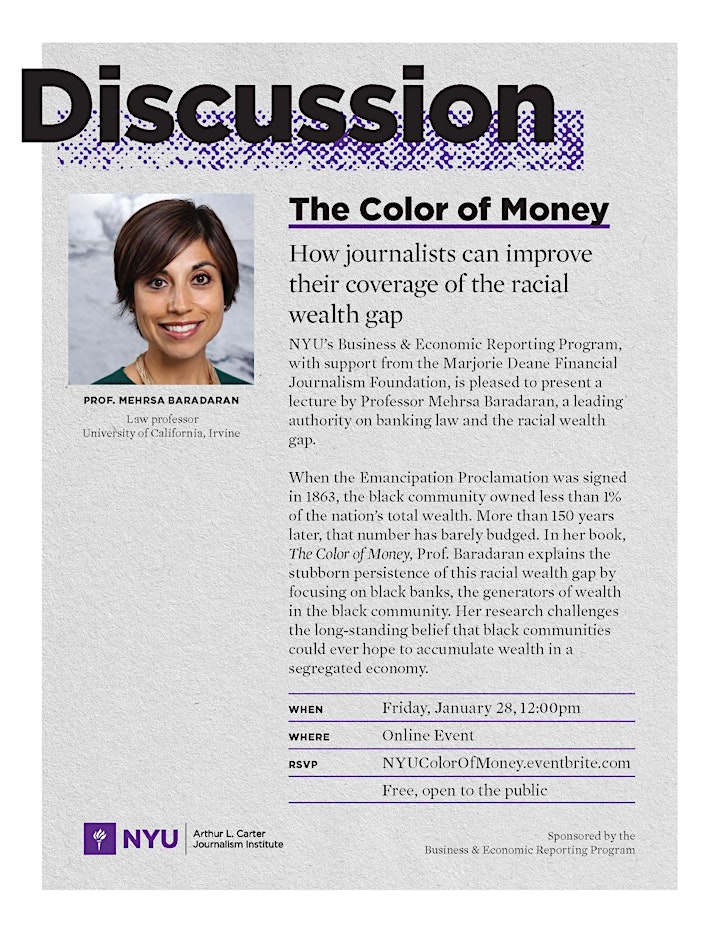 Organizer of Discussion: The Color of Money
At New York University, we believe that journalism has a serious public mission, and can make a difference in the world. We want to educate those who agree. Opportunities abound in the media world, but the opportunity to do compelling work that informs, engages, and matters to the societies in which we live—this is what drives our faculty, motivates our students, and shapes our basic approach.