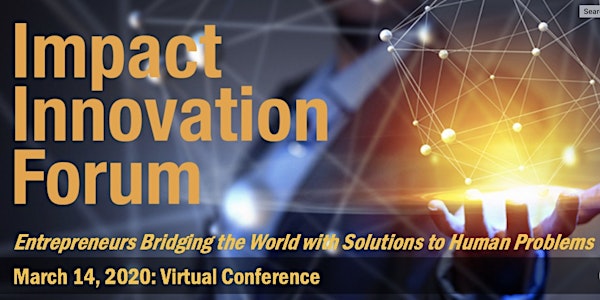 Discussion: Entrepreneur Success Across Bridges
Description
This Saturday, March 14 Tech Ranch, EFM Capital and Juice Consulting are proud to bring the Impact Innovation Forum 2020 to a computer screen nearest you.
Hundreds of people around the world planned on attending the event in person but due to the cancellation of many public events around town we are no longer meeting in person for this event. We know this is an important personal and professional development opportunity for our community and we are thrilled to have panelists and partners willing to work with us to deliver this as a virtual experience.
We can't wait for these discussions where our panelists will share their expertise and perspective on the intersection of entrepreneurship, tech, and impact innovation especially in the current economic atmosphere.
Impact Innovation Forum 2020 Agenda:
11:00am-11:10am: Welcome
Kevin Koym,

CEO and Founder of Tech Ranch

Kristin Ginter, PM of Venture Outfitter by Tech Ranch

Lindsay Powell,

CMO of Tech Ranch

Cindy Brio,

PM of Inter-American Educational Consortium
11:10am-11:30am: Celebrating Entrepreneurship Globally
Emmanuel Egbroko,

CEO of Innocul8 (Nigeria)

Daniel Fosado

, CEO of Biokaab (Mexico)

David Potes,

CEO of Apolo Health (Mexico)

David Rodriguez,

CEO of 3DThea (Mexico)

Allessio Capitanelli,

System Architech of Teseo (Italy)

John Higley,

CEO of EQO, Inc. (US)

Lamarque Polvado,

CEO of CareStarter (US)

Kim Johnson,

CMO of Managed Care Solution (US)

Alexander Deeb,

CEO of ClassHook (US)

Matt Johnson,

CEO of GunniSystems (US)

Igor Kurlykov,

CEO of WideCS (Russia)

Luk Pstrong,

CEO of Therapify (Poland)
11:30 -11:45 am: The Heart of the Entreprenuer (Live Panel)
Svetlana Morscova,

CEO of Venul (Russia)

David Potes,

CEO of Apolo Health (Mexico)

David Rodriguez,

CEO of 3DThea (Mexico)
11:45am -12:05 pm: Building Global Bridges
Antonio Rios,

Director of Entrepreneurship at Tec de Monterrey

Highlight,

Building Bridge in Mexico

Ripples of a Bridge,

How is GreenHug changing the world?

Baker,

CEO of Flowless (Palestine)

Yara,

CEO of Up-Fuse (Egypt)

Jaret Martin,

CEO of StarSpace46 (Oklahoma)
12:05 -12:25 pm: On the Front Lines: COVID-19
Dr. Andrew Nerlinger,

PandemicTech Accelerator

Allessio Capitanelli,

System Architech of Teseo (Italy)

Jorge Lopez,

CEO of Eosis
12:25 – 12:35pm: COVID Discussion Tech Ranch Team
Kevin Koym,

CEO and Founder of Tech Ranch

Kristin Ginter

, PM of Venture Outfitter by Tech Ranch

Lindsay Powell,

CMO of Tech Ranch