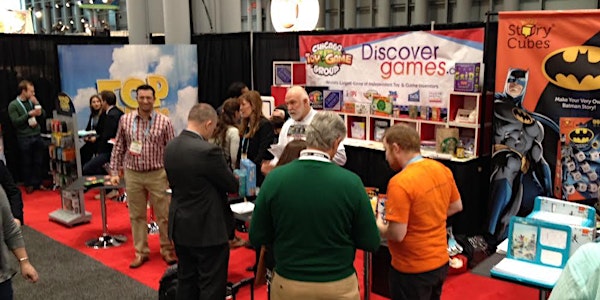 DiscoverToysandGames Membership
Refund Policy
Contact the organizer to request a refund.
Description
Discover New Toys & Games, Inventor Co-Op, Rep & Agent
DiscoverToysandGames.com (formerly DiscoverGames.com) is the world's largest co-op of independent toy and game inventors... since 1996.
We encourage new inventors to attend our Innovation Conferences and represent themselves, learn about the industry and meet movers and shakers in our industry. This is particularly true if you are looking to license your idea. You don't need an agent, you can pitch directly to the manufacturers. http://www.chitag.com/new-inventors-track If the conferences are not an option at this time or you are looking for exposure to retailers, membership in our co-op is an option and membership is on an annual basis and includes the following benefits:​
Product placement in the DiscoverToysandGames exhibit booth at three trade/media/consumer shows annually which include New York Toy Fair, American Specialty Toy Retailers Association (ASTRA) Marketplace, and the Chicago Toy & Game Fair (ChiTAG). (see picture above for an example of how booth is set up.
You do not need to attend the shows. We send you the lists of people we spoke to about your product for retail and/or licensing (depending on what you are looking for) and notes we've taken.
From time to time we send information that is helpful to you.
On retail placement, we do not charge additional rep fees.
On licensing your product, we charge 20% commission on your royalty, which is less than the industry standard other agents and brokers charge of of 40 - 60%.
There is a discount for renewing members of 20%.

​Have a question? Feel free to contact info@chitag.com
Thank You!