Description
WLounge is a partner with a great program START ALLIANCE which was created by Berlin Partner.
We are very excited to host 11 startups from all around the world that came to learn more abour Berlin innovation.
June 18th, 2018
9AM - 11AM
Wework
THIS TIME WE ARE ALL ABOUT SMART CITY, SMART MOBILITY & ENERGY!
We will host top names from the German ecosystem and will enjoy some networking time.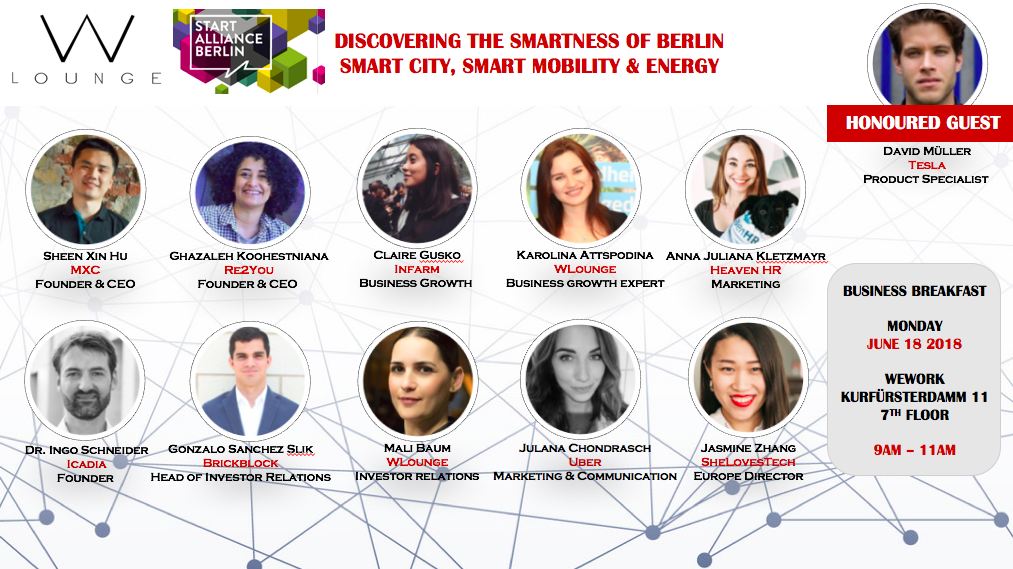 Discovering the smartness of Berlin!
Start Alliance Berlin is a two-week program taking place in June 2018 which is intended to help startups from BEIJING, DUBAI, NEW YORK, LONDON, PARIS, SHANGHAI, TEL AVIV, WARSAW and VIENNA to expand their business to Germany via BERLIN. As we want this program to be as valuable for you as possible, locations and partners that you could work with? The Start Alliance supports you in getting in touch with the local startup ecosystem. From June 11th - 22nd 2018 you will have the opportunity to explore the startup ecosystem and get an understanding of the trendsetting city.