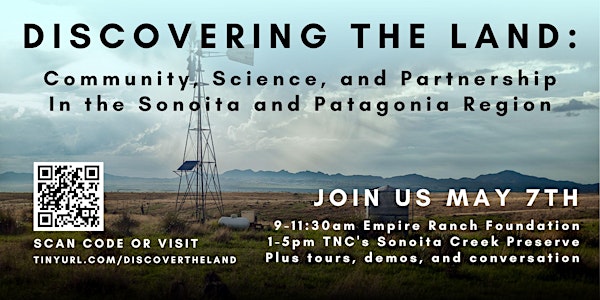 Discovering the Land: Community, Science, and Partnership
Event Information
Location
Empire Ranch Foundation
East Empire Ranch Road
Sonoita, AZ 85637
Join local and regional partners, stakeholders, and community members in a day of outdoors exploration and presentation!
About this event
Discovering the Land: Community, Science, and Partnership in the Sonoita and Patagonia Region
The Cienega Watershed Partnership and Friends of Sonoita Creek are co-hosting the Science on the Sonoita Plain Symposium, but with a new twist from the previous eleven symposia. This year, we are taking it outdoors and providing a wide network of regional partners the opportunity to highlight and learn about community science initiatives. The event will cover science and engagement across the Cienega and Sonoita Creek Watersheds from Vail to Patagonia and beyond.
You are invited to share your experiences on the land with local and regional partners, stakeholders, and community members in a day of exploration and presentation!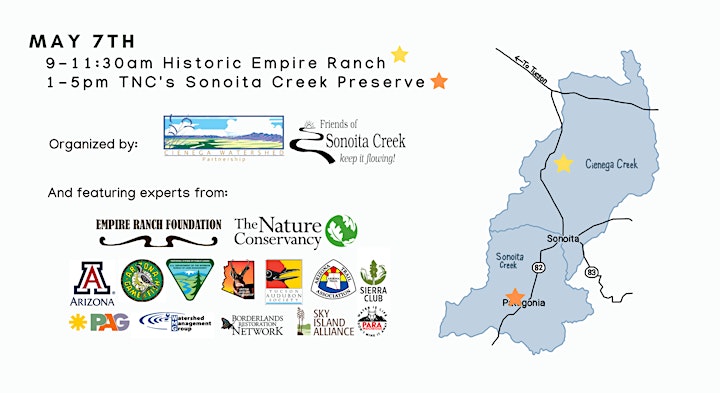 OVERVIEW:
The day is divided into three parts:
9:00am–11:30am -- At the Empire Ranch Headquarters
Listen and discuss with experts about water, wildlife, and land preservation efforts across the watershed.
11:30am–1:00pm -- Lunch
Open exploration of local Sonoita, Patagonia, or Elgin restaurants, vineyards or picnic areas
1:00pm–5:00pm -- At The Nature Conservancy's Sonoita Creek Preserve
Presentation by restoration, trails, and citizen participation leaders across the region until 3:00pm
Afterwards, we invite everyone to continue to stay at this beautiful site to relax and enjoy festivities at the end of the day
In addition to these events there are several guided tours in the morning from 7- 10 AM at Empire Ranch and engagement events in the afternoon from 3-5 PM at the Sonoita Creek Preserve in Patagonia. The morning tours are available to a limited number of guests - please reserve your place using the "ADD-ON" options when you secure your ticket.
At 7:00 AM: Members of Tucson Audubon will lead a birding walk around the Empire ranch House.
At 9:00 AM: There will be two touring opportunities
TOUR 1: Members of the Empire Ranch Foundation will lead tours of the historic Empire Ranch headquarters house.
TOUR 2: Watershed Management Group will lead a tour to recent restoration projects in Empire Gulch.
At 3:00 PM: In the afternoon following the presenters there will be an opportunity to see a demonstration of citizen water monitoring with representatives of the Arizona Department of Environmental Quality and the Sky Island Alliance at the Sonoita Creek Preserve.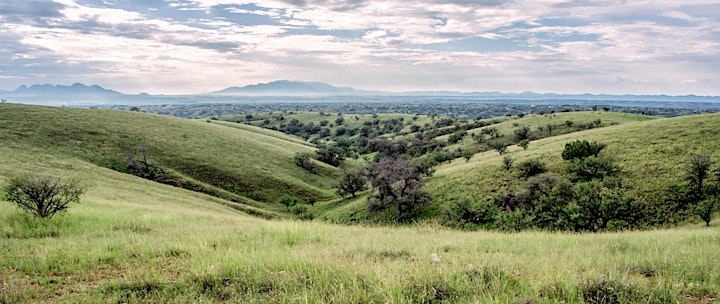 A CLOSER LOOK:
Kicking off this special day of enjoying the watershed lands are 3 tours:
7 AM a guided birding hike along Empire Gulch with Tucson Audubon;
9 AM tour of recent restoration projects along Empire Gulch by the Watershed Management Group; and
also at 9 AM a docent-led tour of the Empire Ranch House.
For those not touring early, plan to arrive between 9-10 AM.
At 10 AM There will be a welcome from the Cienega Watershed Partnership and the Friends of Sonoita Creek, as well as the local hosts the Bureau of Land Management and the Empire Ranch Foundation.
From 10:00-11:30 participants will move through three sets of speakers. Participants will be divided into three groups each of whom will rotate among the three presenter pods:
Austin Rutherford and Scott Jones of the University of Arizona discuss mesquite removal and range management;
Mead Mier of Pima Association of Governments and Thomas Meixner of the University of Arizona discuss the water resources and hydrology of the Cienega Creek Watershed; and,
Jennifer Pressler and Gerry Berthelette of Arizona Game and Fish, Darrel Tersey of the Antelope Foundation, and Dennis Caldwell will talk about frogs, antelope, and prairie dogs in the watershed.
Lunch and Travel: At 11:30 AM participants will have 90 minutes to travel to Patagonia and the Sonoita Creek Preserve. On the way, enjoy a picnic lunch, stop at a local restaurant or visit the Borderlands Plant sale.
Events at The Nature Conservancy's Sonoita Creek Preserve - Location of TNC Preserve
At 1 PM We will reconvene kicking off the afternoon at the with welcome presentations from the event conveners, followed by presentations by:
German Quiroga, president of the Patagonia Museum, board member of Mountain Empire Assoc. and representing Arizona Trails on Patagionia regional history and trails;
Sarah Truebe from Sky Island Alliance discussing the Spring Seeker program and opportunities;
Denisse Ortega of Borderlands Restoration Network on education and environmental stewardship;
Martin Lawrence and Taylor Hanson of the Nature Conservancy on TNC's roles and collaborations throughout the watersheds;
David Robinson and Howard Buchanan from Tucson Audubon discussing birding, habitat conservation, and TA's impact in the region;
Tricia Gerrodette from the Sierra Club on the Water Sentinels Program;
Carolyn Shafer from Patagonia Area Resource Alliance will discuss environmental impacts of mining and response through community organizing and activism; and,
David Christiana and Kathy Pasierb of Friends of Sonoita Creek will share the FoSC Water Health Program and ADEQ Protocols
Afterwards a Special Presentation will be held to announce the latest recipients of the Cienega Watershed Partnership's Wall of Honor.
From 3:30-5 PM the program continues: there will be field demonstrations of water monitoring and sampling of Spring Seeker procedures by Sky Island Alliance and an ADEQ water quality data collection demonstration by FoSC among other activities to wrap up the day.

Meet our speakers: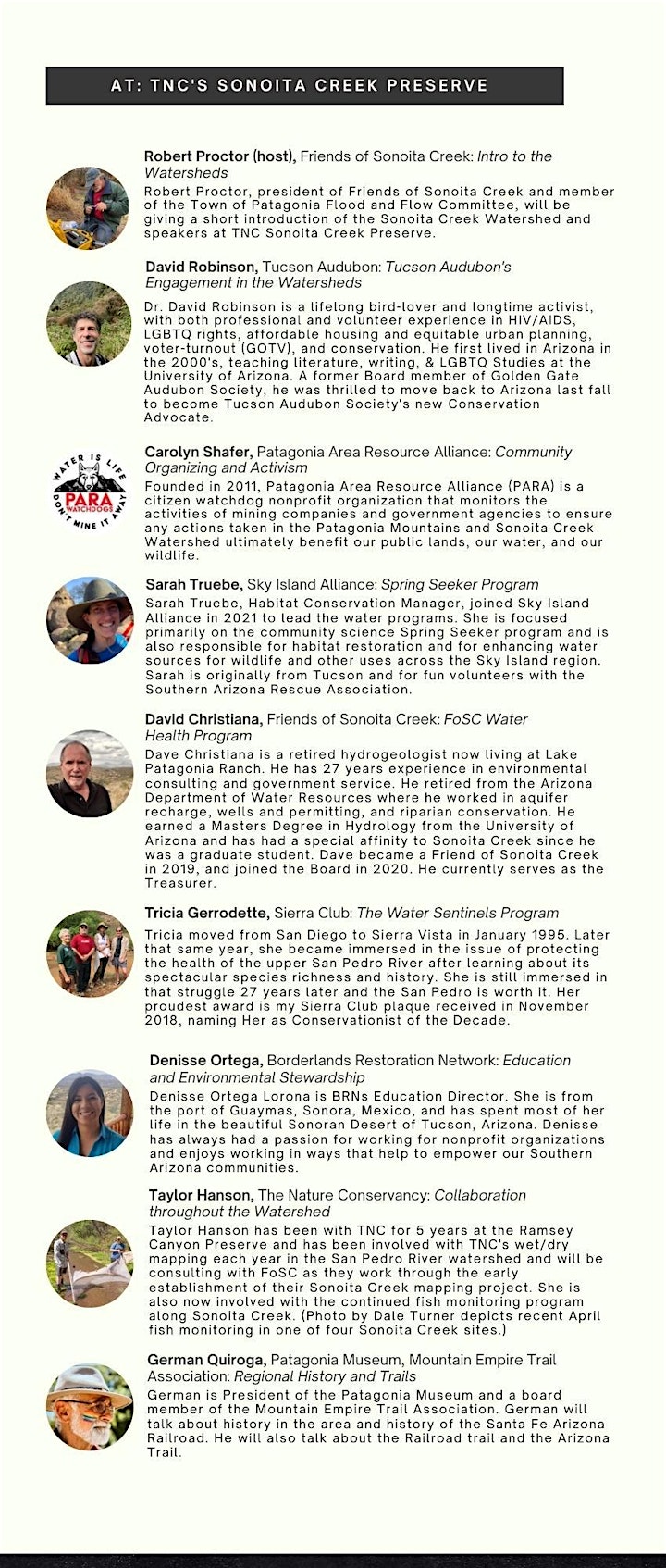 Date and time
Location
Empire Ranch Foundation
East Empire Ranch Road
Sonoita, AZ 85637