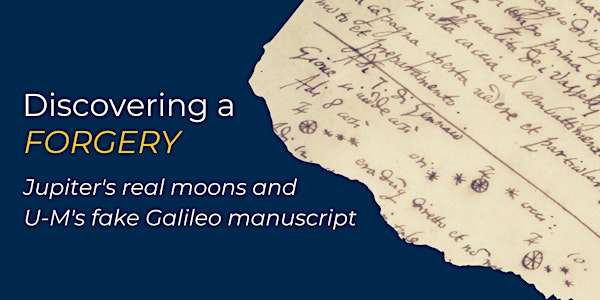 Discovering a Forgery: U-M's fake Galileo manuscript - Virtual
Join us for panel on a manuscript that was masked as the work of Galileo Galilei and how that manuscript was determined to be forgery.
About this event
In 1610, Galilei made a revolutionary discovery: moons orbiting Jupiter. One of the first astronomical discoveries made using a telescope, this event was critical to reshaping human understanding of the cosmos. Galileo drafted notes on his observations of the moons, for later publication in a work called the Sidereus Nuncius. In 1938, in a meeting that took place at U-M's Detroit Observatory, that draft was gifted to the University, becoming a treasured holding of the University Library. Or so everyone long believed. Now, thanks to the work of historian Nicholas Wilding, and the collaboration of U-M librarian Pablo Alvarez, the University's "Galileo Manuscript" has been exposed as a 20th-century forgery. Join us at the Detroit Observatory for discussion with Wilding and Alvarez of the purported significance of the manuscript, how its authenticity came to be questioned, and what went into the determination that it was a fake. The manuscript itself will be on display as part of this event, as will be the Library's copy of the first edition of Sidereus Nuncius. Following the panel, weather permitting, we will observe Jupiter and its Galilean moons using a telescope similar in size and power to the one Galileo used and using the historic 12.5" Fitz refracting telescope in the Observatory's dome.
Nick Wilding is professor of history at Georgia State University and a scholar of early modern Europe, history of science, and book forgery. Pablo Alvarez is curator in the Library's Special Collections Research Center and a specialist in pre-1700 manuscripts and printed books.
Registration for the in-person event can be found here: https://myumi.ch/WJ45r