Discover YOUR Creative Rhythms - Arts & Rhythm Workshops
Sales Have Ended
Ticket sales have ended
This is a monthly drum circle. Every 3rd Friday of the month. If this registration shows that dates are missing, we might be traveling. Feel free to call or email us to check on specific dates. (315)234-9333 liverpoolartcenter@gmail.com
Sales Have Ended
Ticket sales have ended
This is a monthly drum circle. Every 3rd Friday of the month. If this registration shows that dates are missing, we might be traveling. Feel free to call or email us to check on specific dates. (315)234-9333 liverpoolartcenter@gmail.com
Description
Discover YOUR Creative Rhythms - Arts & Rhythm Workshops
Expressive Art: 2hr workshop,

Meditation practices: 2hr workshop,

Discover your rhythms: 2hr workshop
This is a full day of self-care, inspiration, fun and motivation! The day is designed to help us lift the marble out of the groove it's been stuck in and feel some momentum towards feeling what fires you up!
Meet new friends, bring friends with you! Explore, express and experience new ways to discover your pathway....not a new one....not abandoning the "old" you.....Embracing all that we are and discovering the rhythms within.
Through expression, guided meditation and rhythm, we offer tools for managing stress, anxiety and depression. Through self-awareness and self-expression, we discover our playfulness and strengths
This is NOT an art class....This is NOT a drum class...This is the art of letting go of expectation.
Everything is included in the fee....all you need to do is SHOW UP!
Ready to explore with your eart guiding the way?
Ready to melt away the walls and fears that keep you from sharing your sparkle?
Ready to explore what community and belonging feels like in a creative space?
Then you're ready to sign up!
THIS FULL DAY WORKSHOP IS SCHEDULED MONTHLY IN 2019!
Save the Dates: 2/23, 3/16, 4,13, 5/18, 6/22, 9/21, 11/2, 11/3
We travel in July and in August....Join us at the Great Rhythm Revival!! (yes this counts as training credits!)
This event is amazing if you want to come and check it out! But if you LOVE it as much as we think you might?...Consider being part of our team!
BE A "CREATIVE RHYTHMS" FACILITATOR......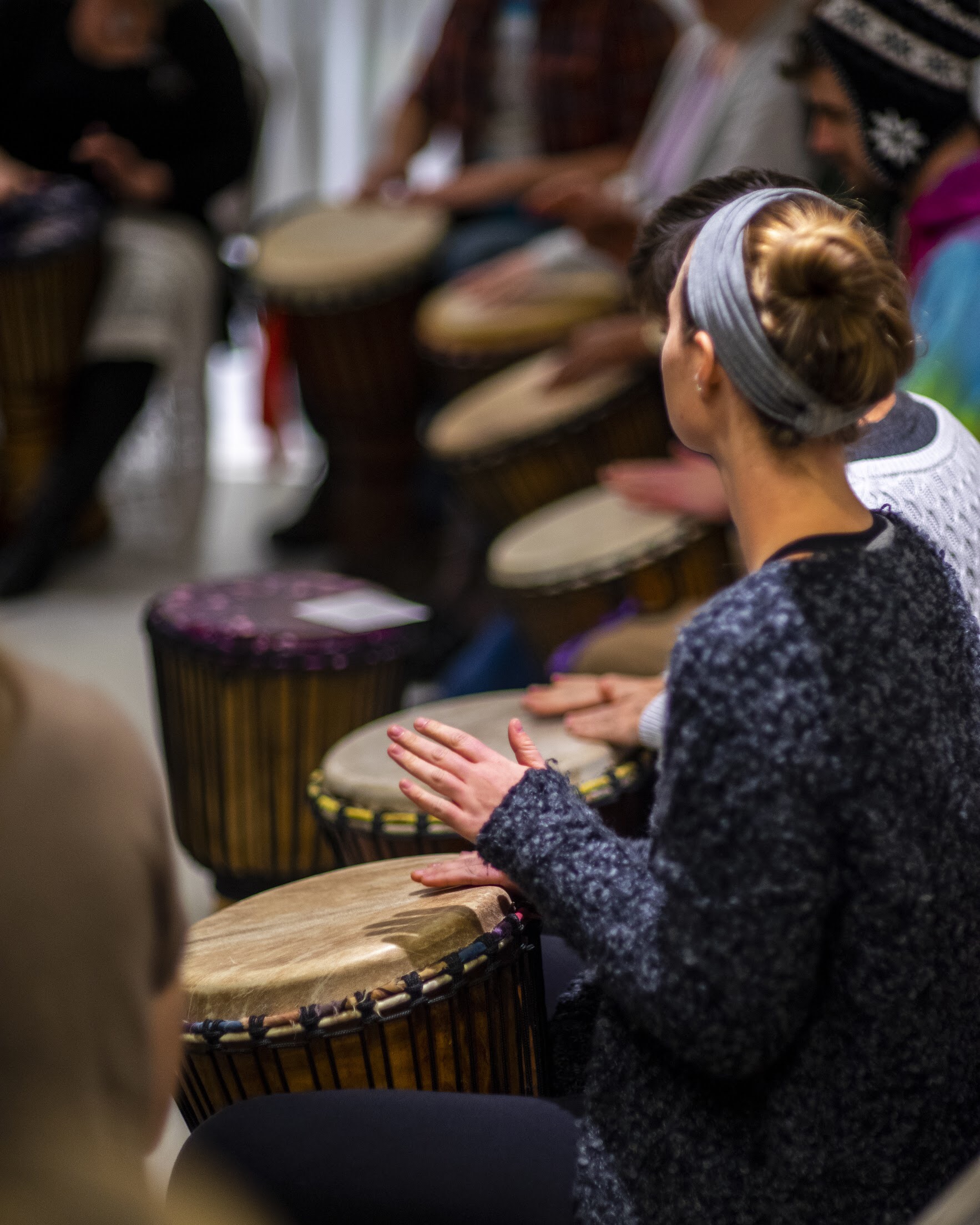 These workshops complete the certification programs required to become CRFT listed on the programs for hire listing (read below). This certification lists your name and availability for our Programs for Hire. After the completion of this retreat and all pre-qualifications, get ready to inspire creative connections! We will be sending jobs your way!...they are waiting right now!
WHAT is CREATIVE RHYTHMS tm
HOW can my community, my career benefit from become a part of the CRF TEAM?

Self expression programs inspiring and strengthening community connections through art, rhythm and meditation experiences.

These are nothing like your standard art and music class. Creative Rhythms offers a variety of experiences designed to inspire non-verbal communication and self exploration. These programs offer motivational and innovative approaches for self expression, self awareness and self accountability.

Creative Rhythms: 3 components

• Meditative Painting and Creative Jam Session Workshops: Teaches the art of letting go. Energizing/ relaxing/ interactive expressive arts group activities blending art, music and active meditation.
• Creative Rhythms drum program: non-verbal communication for team building/ leadership skills
• Meditation: simple EB tools for managing anxiety, stress and depression

*Each program stands on it own. When combining one or more of these experience, the results are clear: more community connection and self discovery benefits, more potential for integration and self care practices.

*Each component offers creative tools, fun events and interactive group experiences.

*Each program is easily custom designed around the group's needs or a themed event inspired by peer support and leadership.


Peer driven events evolve into ongoing, community based growth:
-Regular drumming events
-Expressive arts events
-Creative clubs
-Ongoing community events
-Peer development programs
-Support groups with focused fellowship



Research and evidence based data available upon request.

Become a Creative Rhythms Facilitator and start leading these events in our communities and yours! We have a listing of facilitators for hire. We promote the potential of the programs and send your availability to organizations hiring for schools, senior centers, wellness centers, community centers, sober living centers, and more.


Contact founder, Sandra Sabene at : 315-440-2278

Visit: www.artsandhealing.com for more details


Ready to learn more about the CR Facilitator training Program? CLICK HERE FOR DETAILS