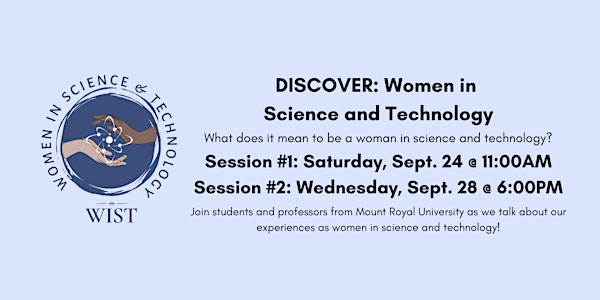 DISCOVER: Women in Science and Technology
CALLING ALL FUTURE WOMEN IN SCIENCE AND TECHNOLOGY!
About this event
We are the Women in Science and Technology (WIST) Club from Mount Royal University! As women in science and tech, we know the struggles of finding your footing in male-dominated fields. As a club, we have provided social and academic opportunities for current Bachelor of Science/Bachelor of Computer Information Systems students at our institution, and NOW WE WANT TO HELP YOU!
Are you a high school student in Alberta who is thinking of apply for a degree in science and technology? Are you questioning whether you're making the right choice or not? Do you feel that science and technology fields are unwelcoming?
Then this event is for you!
Join us for one of two panel sessions where current science and technology students and professionals will talk about what it means to be a woman in science and tech and the amazing experiences we have had in our fields! This event is free for all high school students to attend!
NOTE: This event is purely for the purposes of spreading awareness and knowledge about women in science and technology, and is not a promotional event for Mount Royal University.