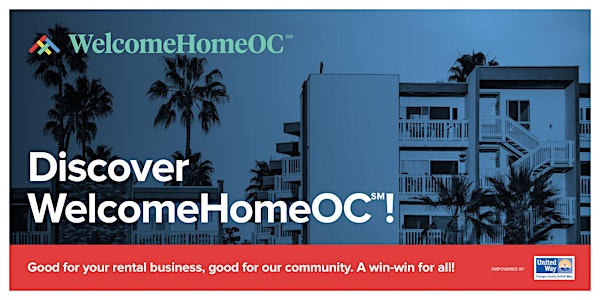 Discover WelcomeHomeOC for Your Rental Property
Learn about WelcomeHomeOC, empowered by the United Way—the easiest way to benefit your business and the community through your rental unit.
About this event
If you own, manage, or lease out a residential rental property in Orange County, you need to know about the innovative tenant referral program WelcomeHomeOC, empowered by the Orange County United Way.
As a solution designed to streamline the leasing process, increase financial advantages, and decrease the potential risk for landlords, WelcomeHomeOC brings together property owners and managers throughout the multifamily housing industry to take the lead in ending homelessness in OC.
Sign up for this quick, 30-minute informational session to discover all the ways that WelcomeHomeOC can reduce rent losses, provide extra protection and assurances, and quickly fill your vacancies.
Whether you have a single rental or manage a portfolio of 1000s, you can take advantage of the many perks of being a member of the WelcomeHomeOC Property Network. We are able to work with ADUs, single rooms, and more in our efforts to fill your rental and end the homelessness of our OC neighbors.
Want to learn more before the next scheduled event? You can sign up for a quick call from our property engagement team right away here: https://bit.ocuw.org/meetwhoc
Already a member of the WelcomeHomeOC Property Network? Join the next Property Network Orientation to get the scoop on the unit intake process, and the differences between the 3 teams at WelcomeHomeOC.
Do you have questions about how housing choice vouchers work? We offer a monthly webinar that covers public housing authorities, payment standards, approvals, and inspections. It's everything you need to confidently work with our program. Link coming soon.