Event Information
Location
Memphis Office of Youth Services
315 South Hollywood St.
Memphis, TN 38104
Description
Do you want to put your altruistic values into practice, build relationships with youth, and network with other adults? Don't wait!
Learn more now so you can participate in this opportunity before it kicks off in JANUARY 2018.
---
You are invited to join us for light refreshments and to learn about how you can volunteer to help the youth of Memphis as a tutor-mentor!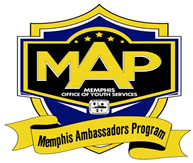 We are located in the building with the american eagle between the Children's Museum and the Liberty Bowl. You can park in our front parking lot and come in through the front door.
Contact Morgan Opgenorth at morgan.opgenorth@memphistn.gov or 901-636-6037 if you have questions. If you want to fill out the application prior to this orientation, you can do so here.
Jim Strickland, Mayor
Ike Griffith, Director
Date and Time
Location
Memphis Office of Youth Services
315 South Hollywood St.
Memphis, TN 38104