Event Information
Location
Memphis Office of Youth Services
315 South Hollywood St.
Memphis, TN 38104
Description
Build relationships with youth.
Network with Memphis professionals.
Tutor a child.

Make a difference for Memphis.
---
The City of Memphis Office of Youth Services is seeking tutor-mentors for January-March 2018!
This Volunteer Tutor-Mentor Orientation will help you make an informed decision about whether to participate in the MAP 8th Grade Pilot as a volunteer tutor-mentor. By setting clear expectations, we help to ensure that those who decide to sign up have a clear understanding of tutor-mentoring and its obligations.


MAP 8th Grade is the Memphis Ambassador Program (MAP)'s new after school-based tutoring/mentoring program for 8th graders that pairs one volunteer tutor-mentor with 1-3 students to work on subject areas that students need assistance in.

*Light refreshments will be provided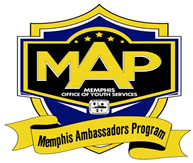 We are located in the building with the american eagle between the Children's Museum and the Liberty Bowl. You can park in our front parking lot and come in through the front door.
Contact Morgan Opgenorth at morgan.opgenorth@memphistn.gov or 901-636-6037 if you have questions or if you can't make it but would like a "one-on-one" orientation.
If you want to fill out the application prior to this orientation, you can do so here.
Jim Strickland, Mayor
Ike Griffith, Director
Date and Time
Location
Memphis Office of Youth Services
315 South Hollywood St.
Memphis, TN 38104